9 Books That Will Keep You Hooked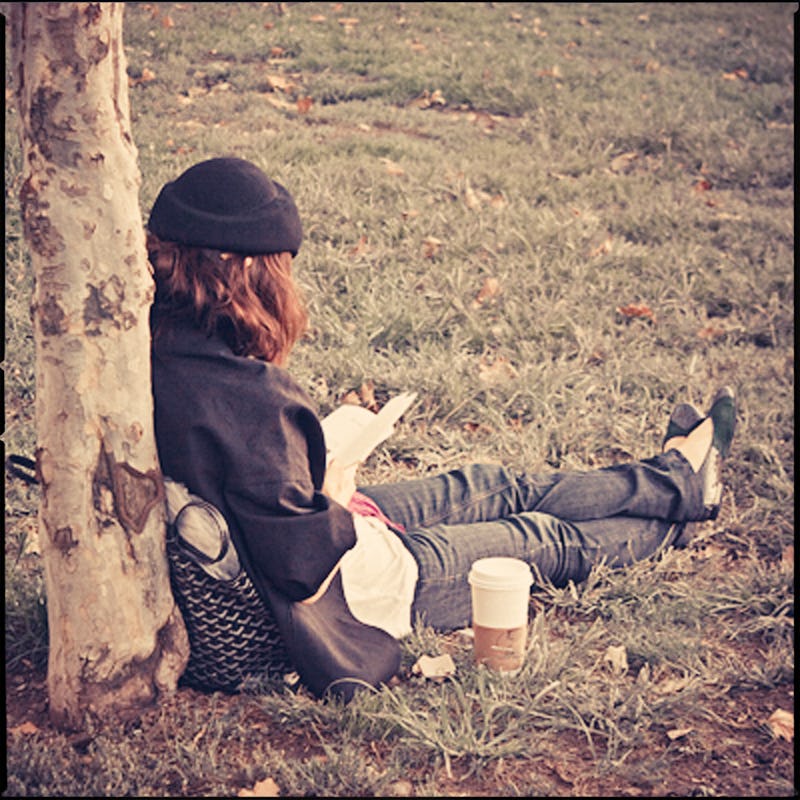 Look, I love reading as much as the next person (probably more), but I do have to admit that just sometimes, when I'm really tired, I find myself slightly drifting off halfway through a page. I might have to read the last few sentences again because I wasn't paying attention. Or, you know, I might just put on Netflix instead. Is this OK? Am I in trouble? Reading is my passion, but it does require that little bit more work than it does to watch Gilmore Girls, and sometimes, I just don't have the energy.
But then comes along a book so gripping, so enthralling, so utterly unputdownable that I suddenly find I'm totally awake. I'm talking about the kind of book that you'd stay up all night for, even if you had an important meeting in the morning. The kind of book that would distract you even if a full-on earthquake started up. The book that could keep your attention no matter what. Ryan Gosling could wander into your living room and ask if you'd like to reenact The Notebook with him, and you'd be like, "Nah, I'm cool sitting here with my book." Those books exist. And here are nine of them.
I don't know about you, but I never get tired of novels about memory loss. Jane Whittaker finds herself in a grocery store, wearing a bloodstained dress with $10,000 in the pocket and having no memory of how she got there. In fact, she has no memory of who she is at all. When the police reunite her with the handsome doctor they say is her husband, she hopes he'll help her recover. Instead, she uncovers some pretty horrifying memories ...
A woman is taken to intensive care, and her husband and two children are found dead. It seems simple: The husband — a victim of the recession — tried to kill himself and his whole family, and failed. But the evidence doesn't quite add up. It's safe to say you won't be sleeping until after you've got to the bottom of this mystery.
Sorry for another memory loss novel, but they're just too good! Cadence Sinclair is rich, spoilt, witty, selfish — and can't remember what happened to her two summers ago. The novel is beautifully written and gently eerie; you know there's something wrong, but can't figure out what it is. You definitely won't be switching to Netflix until you've reached the twist ending.
You By Caroline Kepnes
This is one of the most unsettling books I've read this year, but despite being thoroughly creeped out, I couldn't put it down even for a second. It's narrated by the villain, which makes for a rather unnerving read. I even found myself accidentally rooting for him as he was about to commit pretty heinous crimes. Whoops.
S.J. Watson is the author of Before I Go to Sleep, so bear that in mind before you start this one too close to bedtime. In Second Life, Julia Plummer is investigating the murder of her sister, and discovers that she was meeting men online for sex. Soon, Julia has fallen into the dark side of the Internet, and meets someone who's not quite what he seems.
This novel is so attention-grabbing because it has gives you zero clues as to what genre it is. What starts as a slightly weird romance quickly becomes compelling social commentary, before turning into something even more unexpected. You'll lose all interest in speaking to other humans until you've turned the very last page.
Her By Harriet Lane
The premise of Her seems so innocent. When the glamorous Nina meets Emma, a mother struggling to balance childcare and a freelance career, the two strike up a helpful friendship. But it turns out that Nina is still trying to settle the score for something that happened a long time ago — something that Emma doesn't even remember ...
Within a couple of pages of meeting the protagonist, Jodi, we are told that "she is deeply unaware … that a few short months are all it will take to make a killer out of her." What follows is the frighteningly believable disintegration of a marriage, and an even more frighteningly possible decline from forgiving wife to murderer.
And just when you thought I couldn't possibly suggest another memory loss novel, this one comes along and tears to shreds everything you thought you knew about the genre. The Memory Box's protagonist has no idea that her memories are missing until she Googles herself and discovers a shocking past she doesn't remember. And just when you think the book may have hit the limits of its genre, another sinister twist pushes it into serious Gone Girl territory.
Image: Ally Mauro/Flickr