YA Writers Are Stoked About Major 'NYT' Change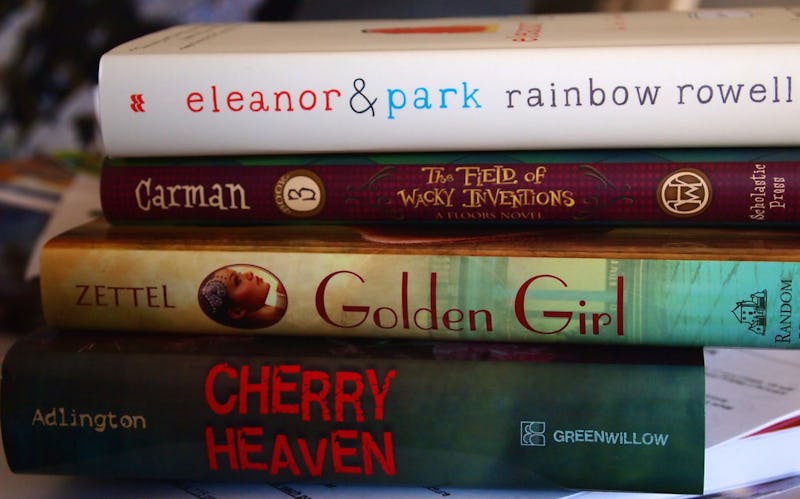 The eternal question for us book-loving folk is always: What should I read next? We turn to friends and our favorite blogs for ideas, but there's always the standby of checking out the trusty New York Times bestseller list. After all, paying attention to what everyone else seems to be reading will keep you in the know with all the best 'ships, books that desperately need sequels, and the hot authors hiding behind every e-reader on the subway. And lucky for us New York Times bestseller list changes mean the list will become even more effective at pointing out the most exciting, talked about new books to put on your must-read list. But this isn't just about us; young adult authors are positively stoked about this grand new plan.
Without getting too "inside baseball," The New York Times previously made one list that combined both middle grade and young adult books. In addition, the list had not only new hardcover titles, but paperbacks, too. With the new changes going into effect August 21, middle grade and YA will be two separate lists. And, perhaps more importantly, hardcover lists will be separated from paperback lists — as it currently is for adult bestsellers — with the paperback lists appearing online only. Further, middle grade and YA series will be together, but will appear in a separate list from standalones, and each individual book in the series will combine into one listing.
But, sure, what does this mean really? In the current system, paperback titles were overwhelming new hardcover titles, and often, the same authors were dominating the list for weeks at a time, despite the book being several years old. To put it in perspective: John Green appears at No. 2 right now for Paper Towns. OK, fine, well the movie is coming out, you say. But add this: the bestselling books of 2014 looked like this:
The Fault in Our Stars by John Green (Paperback)
Divergent by Veronica Roth (Paperback)
Insurgent by Veronica Roth (Paperback)
Allegiant by Veronica Roth (Paperback)
Diary of a Wimpy Kid: The Long Haul by Jeff Kinney (Hardcover)
The Fault in Our Stars (Movie Tie-in, Paperback)
Gone Girl by Gillian Flynn (Paperback)
The Fault in Our Stars by John Green (Hardcover)
Killing Patton: The Strange Death of World War II's Most Audacious Generalby Bill O'Reilly (Hardcover)
Looking for Alaska by John Green (Paperback)
Look, I adore The Fault in Our Stars. But it's taking up a whopping three places on the top 10, pushing out other incredible YA books that could have made a place if we were just counting paperback, or hardcover, or movie tie-in paperback. And Veronica Roth's killer Divergent series dominated the top five in paperback. Who can compete?
Pamela Paul, editor of the New York Times Book Review, agrees, saying to Publishers Weekly:
...Given the relative unit sales of paperbacks, they would overtake the [bestseller] lists. New authors would find it hard to break into the list, and it was difficult for readers to discover new writers from those lists. So it made sense to return to the model we use in adult.
The New York Times even gave us a peek at the modified list, implementing these changes and they are just plain thrilling:
Rainbow Rowell, Jenny Han, Sarah Dessen, Tommy Wallach, Colleen Houck, Rick Yancey, Victoria Aveyard, and E. Lockhart? This is a YA lover's heaven. And plus, we still get to see Melissa de la Cruz killing it with her Descendants series, and you don't have to worry because Roth is still standing strong with Divergent.
If Twitter is any indication, YA authors are just as excited as I am.
(Oh, we definitely noticed, Leigh.)
Game changer, indeed. But what are you all still doing reading this post? Go, go start crossing off the entire new top 10 from your TBR list.
Image: caligula1995/flickr