Crazy 'Mean Girls' Trivia Facts You Might Not Know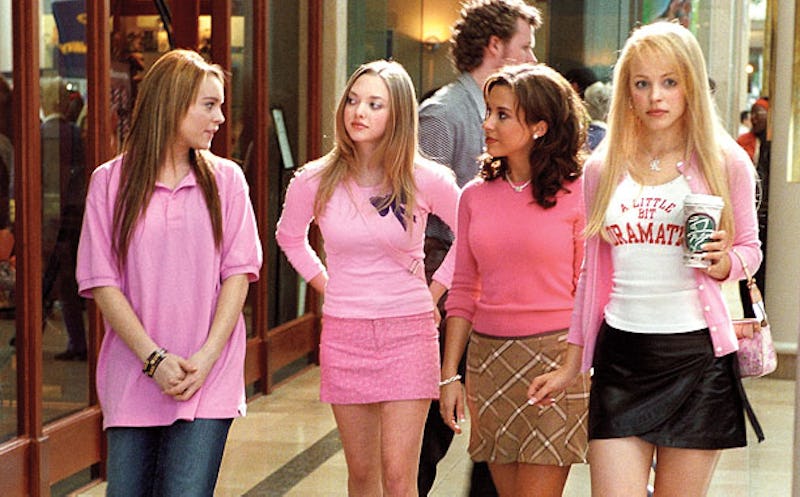 We all know the quotes: "Stop trying to make 'fetch' happen." "She doesn't even go here!" "I saw Cady Heron wearing army pants and flip flops, so I bought army pants and flip flops." I don't even have to mention the title of this movie for you to understand what I'm referring to: Mean Girls is just that super-quotable of a movie. The 2004 Tina Fey-penned pic defined a generation, and the more you learn about it, the more interesting it gets: From the actors' pasts to some logical fallacies in the film, there are some crazy Mean Girls trivia facts — both on-screen and off.
The movie, with it's perfect screenplay by Fey, gave us all an empowering message about being ourselves, with memorable characters that drive the point home. It's crazy to think that this movie came out 11 years ago, because it still feels so present in pop culture. I mean, I still celebrate "Mean Girls Day" every year on Oct. 3, in honor of the date on which Aaron Samuels asked Cady Heron what day it was — and it's not just me! Even the White House made a Mean Girls joke, tweeting in Aug. 2013, "Bo, stop trying to make fetch happen!" Though the movie, with the fact that it starred Lindsay Lohan and featured Amy Poehler in Juicy tracksuits, is like a perfect time capsule of the year 2004, the script and the message are so timeless.
While this near-perfect movie continues to resonate to this day, there are some facts about the movie and its production that are actually super bizarre:
Rachel McAdams, Who Played Regina, Is Only Seven Years Younger Than Amy Poehler, Who Played Her Mom
Amy Poehler (born in 1971) is only seven years older than Rachel McAdams (born in 1978), but they still played mother and daughter onscreen. Plus, the age difference between Lindsay Lohan (born in 1986) and McAdams is significant — Lohan would have been in fourth grade when Adams was a high school senior.
Gretchen Wieners Is Also Eliza Thornberry
Lacey Chabert, who plays Gretchen, is also the voice actress who voiced Eliza on Nickelodeon's The Wild Thornberrys. If you close your eyes, it's almost like the adorable little girl who can talk to animals "totally wants to stab Caesar."
Jason Is Carlos From The Magic School Bus
Daniel DeSanto, who plays Gretchen's ex-boyfriend, Jason — aka, the guy who asked Cady if she wants someone to "butter her muffin" and the dude who gets hit in the face by the stereo after "Jingle Bell Rock" — is also a voice actor. Like his on-screen girlfriend, this guy lent his voice to a popular children's cartoon too: He was Carlos on The Magic School Bus. unfortunately, imagining Carlos saying Jason's dialogue is not as fun as picturing Eliza as Gretchen.
Poehler Put A Wiener In Her Bra For One Scene
In Entertainment Weekly's celebration of the film's 10th anniversary, McAdams told a story about how the scene when Mrs. George's chihuahua feasted on her fake boobs was filmed:
They, like, pinned a piece of a cocktail wiener into her bra. I thought this dog was going to tear her apart. It was very effective. She was such a pro through it. She's trying to do her lines and being so professional, and this dog is chomping on her fake boob. I'll never forget that.
Movie magic.
Amanda Seyfried Was Almost Regina
As director Mark Waters told Vulture in 2014, "She tested for Regina and was kind of brilliant, and very different than Rachel's approach... she played it in a much more ethereal but still kind of scary way. She was more frightening, but oddly, less intimidating."
Alternatively, in an interview with Indiewire, Seyfried said of the experience: "I was so innocent. I was so green... I look back and I'm like, 'Really, I thought I was doing a terrible job.' But it was written so well and so wonderfully directed. Mark Waters made me look good; he made me funny. And Tina Fey wrote the coolest script of all time."
Lohan Didn't Want To Play Cady
Lohan says that she initially wanted to play the Queen Bee. She didn't have to audition to be a part of the movie, but had to adjust to her part. She told Entertainment Weekly ,
I had finished Freaky Friday with Mark Waters not long before. I had gone to Toronto and I was doingConfessions of a Teenage Drama Queen. Mark came out to scout locations for Mean Girls and came to see me at my hotel and said, "Do you wanna do this movie?" I wanted to play Regina. I had just played—in Confessions and Freaky—not the cool girl in school. I was still 17 years old and I wanted to be the cool girl on set. So I had a war with him, and he goes, "No, Cady is the heroine, and that's who you are." Then I sat in all the auditions. Amanda auditioned to play Regina as well. It ended up being Rachel, and she's wonderful.
It's Based On A Self-Help Book For Parents
According to Entertainment Weekly , Fey was inspired to write Mean Girls, her first screenplay, after reading "Queen Bees & Wannabes: Helping Your Daughter Survive Cliques, Gossip, Boyfriends & Other Realities of Adolescence," the bestselling book by Rosalind Wiseman. She took the project to her Saturday Night Live boss, Lorne Michaels, who wanted to make sure that the movie was still cool, despite its parenting book origins. "When I first pitched it to Lorne, I was thinking I'd like to write a movie about what they call 'relational aggression' among girls," Fey said. "He was like, 'OK, but could they also still have cool cars and cool clothes?' And I was like, 'Oh, for sure!'"
It's interesting to ponder the alternative universe in which the cast was all shuffled up. But, I love the finished product just the way it is, so it's always Oct. 3 in my heart.
Images: Paramount Pictures, Giphy (7)