'Mean Girls' Secrets From the Plastics' Reunion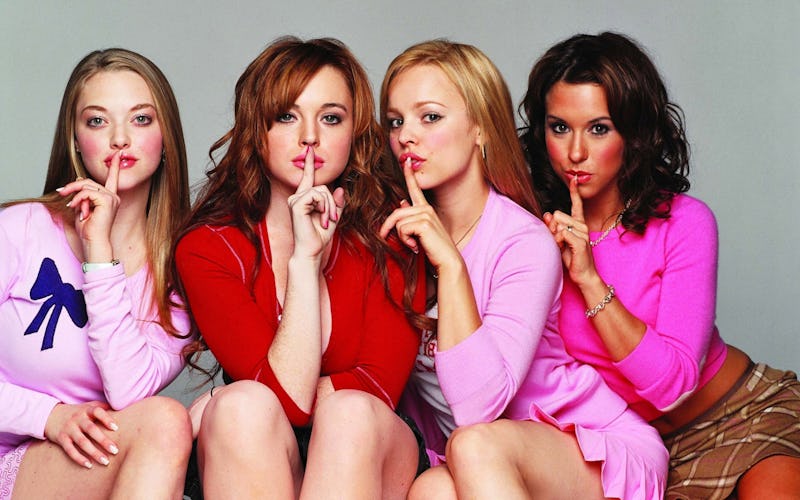 You may be able to quote everything Regina George says, but there are still plenty of secrets from the Mean Girls reunion that will surprise you. When Entertainment Weekly gathered up all of the Plastics and Ms. Norbury, they all revealed some grool stories from behind the scenes — including how Tina Fey said no to a sequel immediately. "At the time we did want to start the conversation about the sequel, and for whatever reason I was like, 'No! We shouldn't do that!'" she explained. "Now I look back and I'm like, 'Why?' But now, no — it's too late now."
Lindsay Lohan (Cady), Rachel McAdams (Regina), Amanda Seyfried (Karen), and Lacey Chabert (Gretchen) all had interesting insights about the movie's success and some hilarious moments to share, but the best tidbit of all is probably how they imagine who the Plastics are now, more than 10 years later. One other big theme from their reunion was the role swaps and shuffles from the audition room. It's so strange to think about McAdams as Cady, Lohan as Regina, or anyone but Seyfried and Chabert as Karen and Gretchen, but all of those things almost happened. Now, get ready to take a trip down memory lane with these three totally fetch fun facts.
Seyfried and Chabert were adorable baking BFFs
Chabert and Seyfried became fast friends and were super close on set. Chabert also cooked an entire Canadian Thanksgiving feast for the cast and crew, during which she taught Seyfried how to make pecan pie. Is butter a carb? Here's what Seyfried said of their sweet (pun intended) friendship:
"I don't know what I would have done without Lacey Chabert. She was my angel. She took me in, and we'd hang out in her trailer and listen to Dido . . . she made my experience so magical and so safe for me."
One of the most hilarious moments involved Poehler's fake boobs.
The scene that cracked everyone up was when Regina's dog is chomping on her mom's nipples post-boob job. Here's how McAdams explained it:
"They, like, pinned a piece of a cocktail wiener into her bra. I thought this dog was going to tear her apart. It was very effective. She was such a pro through it. She's trying to do her lines and being so professional, and this dog is chomping on her fake boob. I'll never forget that."
The Plastics' lives would all be very different now
When EW asked all of the ladies where their characters would be now, they had very specific answers that seem spot-on:
Seyfried: "Karen would manage or own a store that sells really cool dog attire, like Swarovski dog collars and Halloween costumes for animals. She's probably really focused."Lohan: "Cady's with Oprah in Africa working at children's schools with a family, teaching girls to be nice to each other."Chabert: "Gretchen is probably running the Toaster Strudel empire. She is probably married and has, like, seven babies right now. She and Jason worked it out. She has very big curly hair."McAdams: "Regina is a Real Housewife. She'd have too much time on her hands, for sure. She's probably found all her other Reginas."
Images: Paramount Pictures (3); Getty Images