11 Best Cheeses For The Perfect Mac And Cheese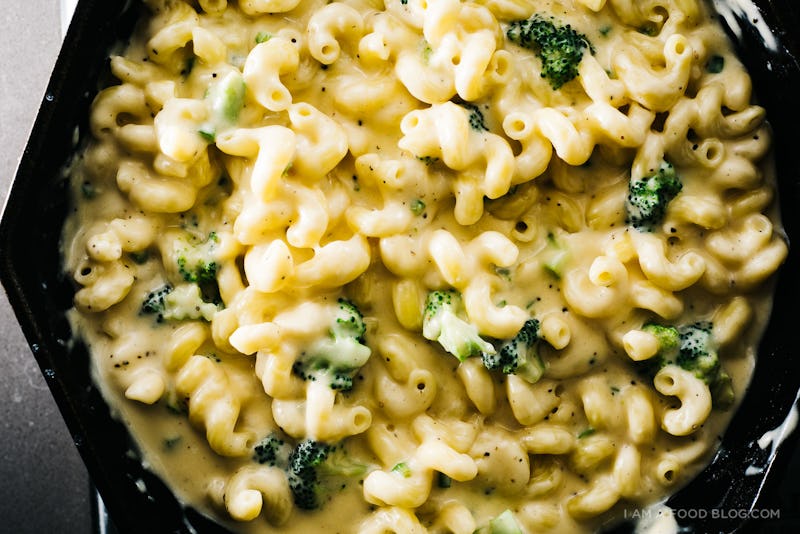 While we may keep a couple boxes of instant macaroni and cheese on hand for emergencies, we know that making mac and cheese from scratch is the best way to make the most of this comfort food. When we're not using instant mac, we can't help but wonder what may be the best cheese to use in macaroni and cheese. And to no one's surprise, there isn't really one right answer.
You could say that we like mac and cheese better than people, but really, we're just dedicated to this perfect food. Honestly, your cooking skills are not up to par unless you have a horde of comforting, cheesy recipes in your arsenal. But you don't have to be a master chef to make the creamiest, gooiest dish ever. All you need are a couple of mac and cheese hacks that will lead you down the right path.
It may take some experimentation for you to find the perfect mac recipe for your taste buds, but we can guarantee that these 11 cheeses all make the dish great in their own way. Whether you're looking for some mac and cheese with a kick, or you want to make a creamier casserole, one of these delicious cheeses is sure to do the trick.
1. Parmesan: Spinach And Artichoke Mac And Cheese
When paired with Greek yogurt, parmesan makes a creamy bowl of mac and cheese. Damn Delicious mixes in spinach and artichokes to mimic your favorite cheesy dip.
2. Feta: Fire-Roasted Mac And Cheese With Feta
This crumbly cheese may seem an odd choice, but when it's whisked into a white sauce with white cheddar and Monterey Jack, it's just right in Mel's Kitchen Cafe's Mediterranean-inspired mac.
3. Cottage Cheese: Gooey Baked Mac And Cheese With Chorizo And Peppers
Surprise! Cottage cheese can totally be comfort food, especially when The Crepes of Wrath combines it with cheddar for the creamiest baked mac and cheese ever.
4. Gouda: Gouda And Spinach Shells And Cheese
The sharp, unique taste of gouda makes Naturally Ella's veggie mac and cheese taste like a grown-up version of your favorite shells.
5. Brie: Creamy Brie Four-Cheese Mac And Cheese
Of course the creamiest cheese of all makes Half Baked Harvest's four-cheese mac taste otherworldly. Fontina, havarti, and white cheddar round out the dish.
6. Gruyere Bacon Mac And Cheese
This hard yellow cheese melts into the most mouthwatering gooey sauce, so Damn Delicious' bacon mac and cheese is pretty much the definition of comfort food.
7. Cream Cheese: Tuscan Mac And Cheese Bake
Don't save your cream cheese for bagels and cheesecake. Use it instead to make Mel's Kitchen Cafe's wonderfully creamy mac and cheese. Mozzarella and parmesan top off the Italian-inspired dish.
8. Monterey Jack: Creamy Stovetop Jalapeño Mac And Cheese
A classic in the mac and cheese game, Monterey Jack is slightly sweeter and creamier than cheddar, making it the perfect complement to the hot jalapeños in I Am A Food Blog's mac.
9. Cheddar: Ultimate Mac And Cheese Casserole For Two
This one's a no-brainer: Table for Two knows that you simply just can't go wrong with cheddar.
10. Pepper Jack: Emma's Favorite Baked Macaroni
Pepper Jack makes it easy to add just a slight spicy kick to your favorite mac and cheese recipe. A Beautiful Mess' baked version is a classic.
11. American: Stovetop Macaroni And Cheese
Paired with cheddar and Monterey Jack, American cheese helps make Brown Eyed Baker's stovetop mac and cheese a simple, creamy meal with its easy-to-melt consistency.
Looking for more great food ideas? Check out Bustle on YouTube.
Images: I Am A Food Blog (2); Damn Delicious (2); Mel's Kitchen Cafe; The Crepes of Wrath; Naturally Ella; Half Baked Harvest; Table for Two; A Beautiful Mess; Brown Eyed Baker