Haleb Might Not Survive The 'PLL' Time Jump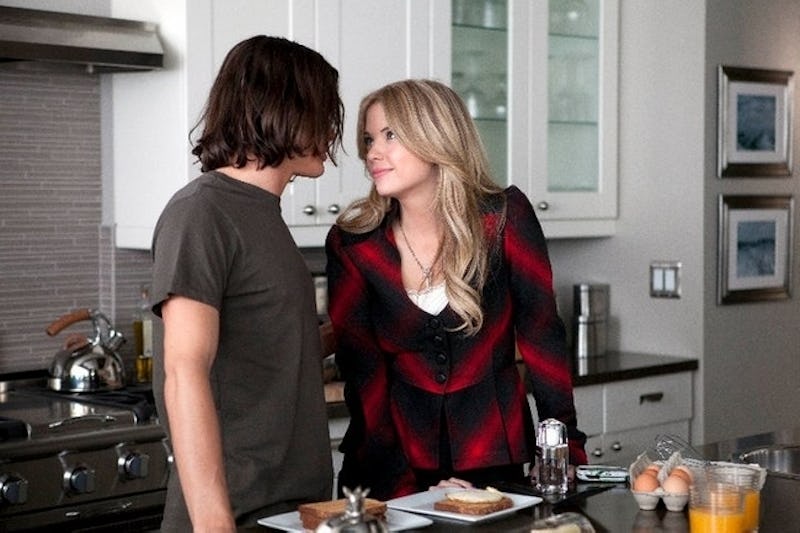 Whether you were disappointed by the Season 6A finale or were stoked that you totally called the Big A reveal, there is one thing on the new season of Pretty Little Liars that could unite us in our misery. Take a deep breath, Haleb fans, because I'm about to drop some super sad news on you — there's a chance that Hanna and Caleb will be broken up on Pretty Little Liars when the series returns for Season 6B. So far there hasn't been a confirmation as to whether Hanna and Caleb actually will be done when we see the girls again after a five-year time jump, but there's plenty of reason to suspect that it's the case. The biggest clue that Hanna and Caleb called it quits at some point over five years? The fact that Hanna might be engaged to a guy named Jordan on PLL.
Yep, cue the tears — there's a real possibility Jordan is in and Caleb is out. Who is this new Pretty Little Liars character Jordan? According to TVLine, Jordan is a "27-year-old working in the fashion industry," which naturally puts him in line with what Hanna wants to do. If Hanna is still living in New York after the time jump, it seems only natural that she'll be the one connected to Jordan — but there's a reason to believe that their connection isn't solely professional.
Though neither ABC Family nor anyone associated with Pretty Little Liars has yet to release a statement about how Jordan fits into the show, an alleged leaked audition tape does reveal something major about Hanna and Jordan's future — and in turn, Hanna and Caleb's. Though there's no way to prove that this YouTube video is an authentic audition tape (and not just someone attempting to mess with the fandom, à la those Drunkgate spoilers) what the audition reveals is certainly alarming for fans.
If the tape is from a real Pretty Little Liars script, then it shows that Jordan and Hanna are in a relationship — and that Hanna and Caleb have been done for a while. In fact, in the script, Hanna is nervous about having Jordan meet Caleb for the first time, which means that Hanna and Caleb likely haven't seen one another much after their breakup.
(Warning: While this tape isn't verified, I should also note that it reveals something huge about the plot of Season 6B and could contain potential spoilers of the non-Haleb variety. Watch at your own risk.)
I hate to do this to you, fans, but it gets worse. There's also a very real chance that Hanna might be (sobbing) engaged to this Jordan character. Actress Ashley Benson posted this SnapChat back in June which shows off some serious bling on her left hand (remember: SnapChat is a mirror image of the photos) and some think she might be rocking Hanna's engagement ring.
Sadly, this SnapChat used to be good news: who wouldn't want a Haleb marriage on the horizon?! Unfortunately, it seems that this Jordan character is throwing a wrench into our fantasy wedding plans for Caleb and Hanna — and it might be Jordan who is planning on walking down the aisle with this little liar. Excuse me while I go cry in a corner.
If that's the case, let's hope that Hanna and Caleb find their way back to one another sometime before the Season 6B finale. Sorry, Jordan, you just can't stand in the way of true love.
For more PLL content and theories, check out Bustle's podcast Taking This One To The Grave below:
Images: screengrab/ABC Family; Giphy (2); prettylittleobsessedfans/Tumblr