21 Disney Princess Tattoos Every '90s Kid Needs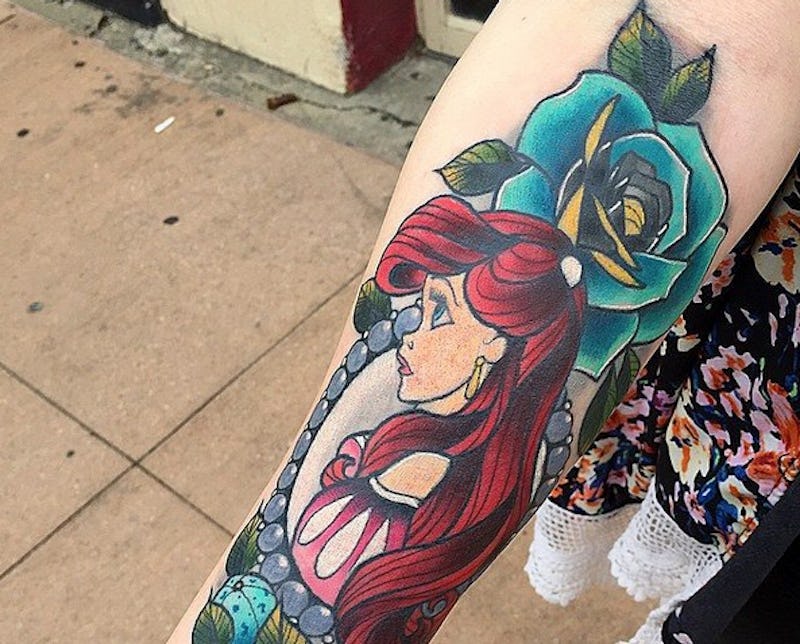 Getting a tattoo is definitely a huge commitment. Some choose a meaningful quote, while others come up with sick designs that symbolize who they are. If you're a '90s kid, though, and looking for some inspiration for your next (or first) ink artwork, Disney princess tattoos are where it's at. Seriously, just think about it—not only are the OG Disney princesses timeless, but they also taught so many great life lessons, too! Don't judge a book by its cover? Belle taught us that. Appreciate and be kind to nature? Pocahontas took care of that.
From the badass, feminist princesses like Elsa and Mulan to the intelligent, mentally-strong princesses like Jasmine and Ariel, choosing your favorite Disney princess won't be easy, but be sure to pick wisely! Just like any other tattoo, the Disney princess you choose to get inked will say a lot about you. Personally, I would narrow down my selection to Snow White, Cinderella, Ariel, Belle, Jasmine, and Mulan (still quite a long list...). In terms of design, well, that's totally up to you. However, after seeing a wide variety of different artistic interpretations of the princesses, can I just say that full sleeves look freaking amazing?
Just look at it!
For more Disney princess tattoo inspiration, just keep on scrolling.
1. Ariel
Love the depth in this piece.
Love your princess' sidekicks? Create a mashup of your faves!
Minimalistic, but powerful.
2. Pocahontas
"Can you paint with all the colors of the wind?"
The color usage is so beautifully done.
Could this be anymore perfect?
3. Cinderella
Full sleeves are amazing. I can't handle.
Love the font for this one.
A black-and-white sleeve would look so sick too.
4. Aurora
I love how vibrant the colors came out.
OK, this sleeve looks pretty epic.
I know this one isn't of Aurora herself, but I mean c'mon—the girl was sleeping for a majority of the movie. This dainty tat of Flora, Fauna, and Merryweather is too cute.
5. Belle
The soft shadowing really makes this piece lovely.
Beautifully simple.
A super creative design!
6. Mulan
Strength, power, feminism—YAS.
"Who is that girl I see, staring straight back at me..." Can you hear it now?
Extra Ariel and Bambi inspo, too.
7. Jasmine
The details are perf.
A more cartoon-y interpretation.
So pretty!
Bonus
In case you can't choose just one princess, but let's be honest—who can?
Images: jositattoo/Instagram