14 Recipes To Have At Your Labor Day BBQ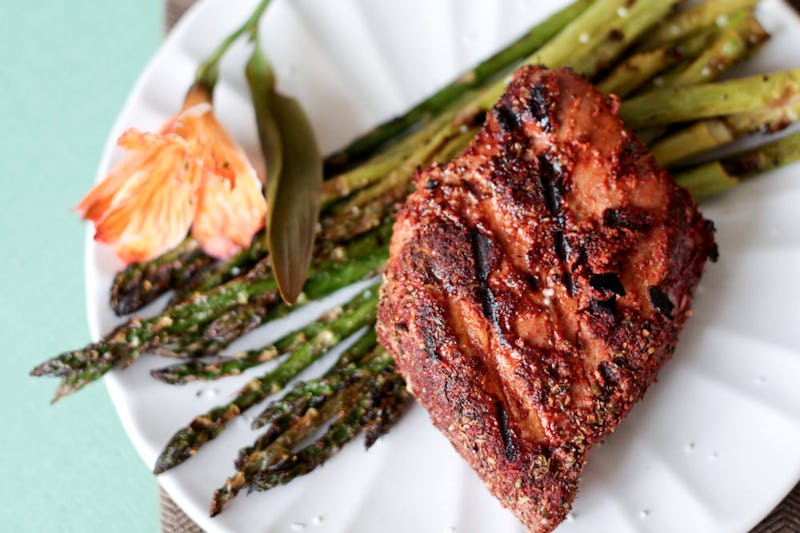 As Labor Day approaches, it means that summer is officially coming to an end. Whether you are crying sad tears for the beach days that won't come around again for another year, or tears of joy that your kids are going back to school, you should end the season with a bang — by stuffing your face with some amazing Labor Day barbecue recipes. Trust me, you will forget all about the end of summer when you have a full plate in front of you.
Some of us have spent summer soaking up all the UV rays at the beach. Some of us have spent it cooped up in our way-too-cold office. Some of us spent it traveling, camping, or preparing to go off to college in just a few short weeks. But however you spent this very hot summer (I'm from SoCal and believe me, it was a hot one), you deserve at least one more good night of friends, booze, and, of course, food. It'll be a good transition into fall, especially if you are going to be moving away and starting a new chapter of your young life.
Here are a few recipe ideas that are bound to please everyone on your guest list.
1. Fried Green Tomato Turkey Burgers And Tarragon Baked Shoestring Fries
This recipe by A Better Happier St. Sebastian is also a complete meal, since it comes with both a delicious and light burger, plus some amazing fries. Don't forget to enjoy with a beer!
2. Watermelon Salad With Queso Fresco + Pickled Onion
This isn't your mama's watermelon salad. Add this recipe by A Cozy Kitchen to your barbecue spread for a cool side dish to go with all that meat.
3. Grilled Blackened Tuna Steaks
This one goes out to all you fish lovers out there. Throw on a few tuna steaks to break up all the heavy red meat — your arteries will thank you! Back To Her Roots has the perfect recipe.
4. Lemon Rosemary Roasted Potatoes
If anyone needs me, I'll be over here serving myself a heaping plate of these amazing looking rosemary lemon potatoes, courtesy of Damn Delicious.
5. Basil Butter Roasted Corn On The Cob
You can't have an end-of-summer barbecue without enjoying some sweet summer corn. The basil in this recipe by A Pretty Life In The Suburbs really elevates this classic favorite, too.
6. Oven Ribs With Peach Bourbon BBQ Sauce
There are plenty of ways to enjoy the sweet flavor of peaches this summer, and one of them is with a mouth-watering peach bourbon-sauced rack of ribs. A Cozy Kitchen shows you how it's done.
7. Cheesy Stuffed Summer Squash
Squash is a great summertime veggie — and really, if you fill anything with cheese people will flock to it. Check out this recipe by Against All Grain.
8. Zucchini-Scallion Cakes
Zucchini cakes are an easy-to-make and easy-to-eat finger food to keep your hungry guests occupied while the rest of the food grills up. This recipe by Big Girls Small Kitchen is genius.
9. Slow Cooker Apple Butter Pulled Pork
BRB, drooling forever over this amazing pulled pork sandwich by Back To Her Roots.
10. Perfect Grilled Potato Wedges With Three Dipping Sauces
Make a few batches of these potato wedges by Back To Her Roots to go with everyone's burgers, steaks, and sandwiches.
11. Caramelized Pork Tacos
Set up a little taco bar for easy serving, and so your guests can make their tacos exactly how they like them — don't forget to add guac! I Am A Food Blog has the perfect recipe.
12. Blackberry Orange Sorbet
Don't forget dessert! Made with fresh blackberries and orange zest, this refreshing sorbet by Atkins tastes exactly like summer.
13. Baked Buffalo Spicy Chicken Drumsticks With Blue Cheese
Make sure you set out lots of napkins if you're planning to serve these finger-licking-good chicken wings by Climbing Grier Mountain.
14. Coconut Shrimp With Orange-Chili Dipping Sauce
Pretend you are hosting your barbecue on some tropical island where these incredible coconut shrimp are an everyday occurrence. Averie Cooks shows you exactly what to do.
Looking for more great food ideas? Check out Bustle on YouTube.
Image: A Better Happier St. Sebastian; A Cozy Kitchen (2); Back to Her Roots (3); Damn Delicious; A Pretty Life in the Suburbs; Against All Grain; Big Girls Small Kitchen; I Am a Food Blog; Climbing Grier Mountain; Atkins; Averie Cooks