6 Reasons Why Waiting For The PSL Isn't So Bad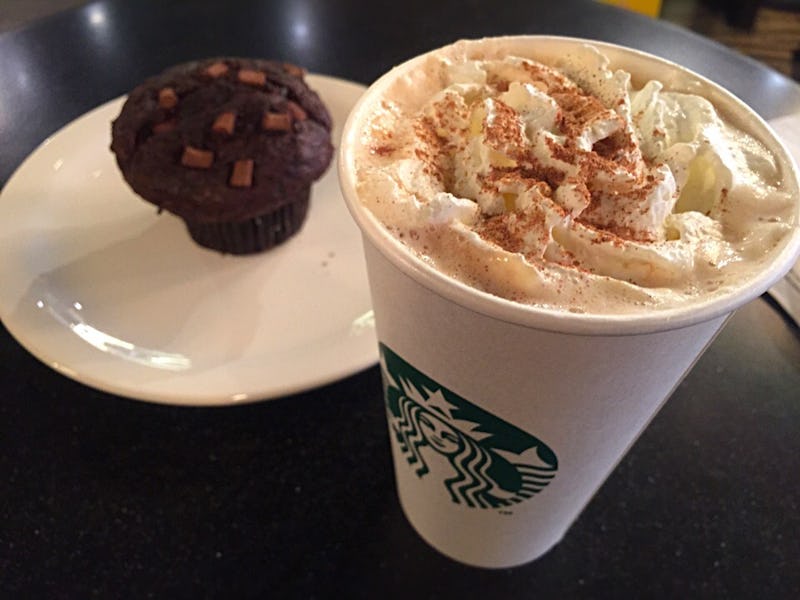 As summer winds down and temperatures slowly cool off, the world awaits the arrival of one drink with bated breath — when will the pumpkin spice latte come out? The coffee chain says the pumpkin spice latte's official release date is Sept. 8, but for many die-hard fans, that seems like a long time to wait. And with news that the PSL will be made with real pumpkin this year, people are even more excited than usual.
The pumpkin spice latte makes its 2015 debut just one day after Labor Day, aka the unofficial start to fall — and if you ask me, the drink's timing couldn't be better. After all, the pumpkin spice latte has pretty much become synonymous with fall, and I can think of no better way to kick off all the wonderful things autumn has to offer than with a warm, perfectly spiced PSL in my hand.
Still, for some coffee enthusiasts, Sept. 8 may seem like it's still ages away. I mean, last year we only had to wait until the end of August to imbibe Starbucks' signature fall beverage. However, I'm actually kind of thrilled the coffee chain is making us wait a bit longer this year. While I certainly can't wait to take my very first PSL sip of the season, I can't help but think Starbucks couldn't have picked a more perfect time to re-release the beloved pumpkin spice latte to the world. Here are six reasons why it's a good thing Starbucks is making us wait.
1. It's still summer
Technically, the first day of fall is Sept. 23. While there is never a bad time to drink a pumpkin spice latte, the seasonal beverage is a signifier that summer is basically at an end. We spend so much of the winter looking forward to summer, so why cut the season off before it's actually over?
2. It's still iced coffee season
To reference my first point, it's still summer. Summer = iced coffee season. When temperatures and humidity are still at a high, it's time to get your coffee cold. Iced coffee fans are just as ardent as PSL fans. Let them savor every last minute they have with their favorite beverage.
3. Pumpkin flavor doesn't always mix well with hot weather
Delicious as a PSL is, no one wants to eat or drink anything pumpkin-flavored when they're sweating in August heat.
4. Anticipation makes your first sip of the season feel extra special
The longer we have to wait for the PSL, the more we'll actually enjoy it when it's here.
5. Having the pumpkin spice latte for a limited time only makes it feel more like a national treasure
Part of the reason why we love the PSL so much is because it doesn't last forever. If Starbucks releases them too early, then you'll be bored by October, which is a shame because...
6. The PSL truly shines later in fall
October is the best month of fall, thanks to Halloween, color-changing leaves, and sweater weather. The pumpkin spice latte is just the delectable cherry on top. Sipping on a warm PSL just makes sense later in fall. In summer? Not so much.
Images: hirotomo t/Flickr; Giphy (6)