Julia Garner On Why Her Film 'Grandma' Is Special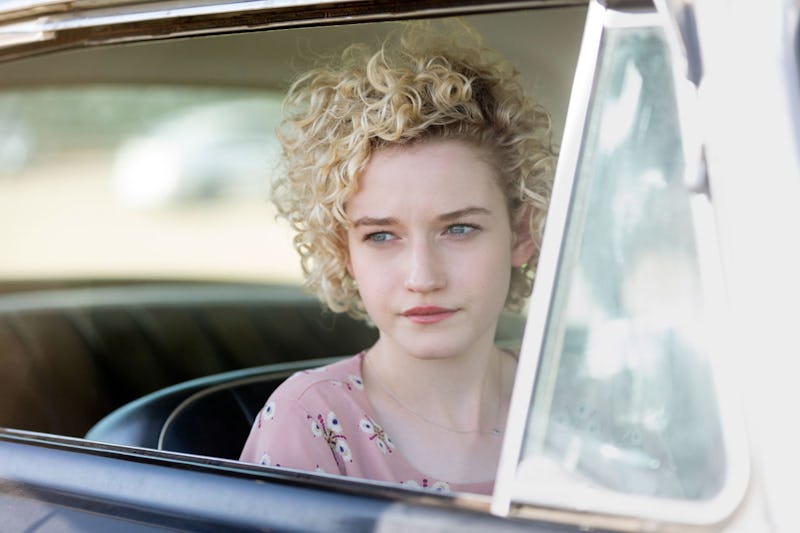 When you meet the youngest star of this year's Grandma , Julia Garner, it's difficult to believe she's only 21 years old. With her calm disposition and completely badass résumé, the young actress instantly seems well beyond her years — something that, no doubt, secured her the role of Sage in the Lily Tomlin-starring, Paul Weitz written/directed film. As Garner told Bustle, being apart of the project is something she couldn't be prouder of.
"It wasn't just the role, it was also the fact that Lily Tomlin was attached to it, and that Paul Weitz wrote it," Garner says of what drew her to the role of the pregnant teen. "I knew it was gonna be great because I think he's so talented, I love — I've been a big fan of Paul's and Lily's even before I started acting four years ago... just the synopsis, just everything attracted me. Then I read the script and I was like, 'oh, it's also phenomenal, I really wanna do it.'"
And "phenomenal" is exactly what Grandma is. Starring Garner as an 18-year-old who seeks out her grandmother Elle (Tomlin) for help after an accidental pregnancy. Sage needs money for an appointment to get an abortion she made at a women's health clinic that evening, and though Elle doesn't have it, she leads Sage around Los Angeles seeking out figures from her past to secure the money. The journey isn't easy for the grandmother/granddaughter duo, but the film approaches it — along with everything else, including characters' differing gender identities, sexual orientations, and personal choices — in the most inclusive, honest, feminist sense possible.
Simply put, there's a lot to take away from this film. "[In] the film — things change, there's changes," Garner says. "And [the film approaches] how there's certain situations in life that will change you."
It's a great observation from someone so clearly wise beyond her years. After getting her big break in the acting world four years ago with a role in 2011's Martha Marcy May Marlene, Garner's seen great success with a variety of differing projects: Electrick Children, The Perks Of Being A Wallflower, We Are What We Are, and Sin City: A Dame To Kill For. All deeply different characters and films — especially when compared to the role of Sage.
"I look for something different to what I did the last time. I don't want to do the same thing. The part that I did just now [in Tomato Red ] is very different from Grandma, and the part in Grandma is very different from the part that I did before," she explains. "I feel like this part in particular is the most similar to me. It's the closest to me, because all of my other roles that I've done in the past, they've all been very weird and things that I wouldn't do every day, and people that I'm really not — and Sage is like any normal girl."
(For the record, her next role certainly sounds different, too, from the way she describes it: "Tomato Red, it's [from] the same writer who wrote Winter's Bone, the book. And it's from a book called Tomato Red, and I am Tomato Red. But the whole point of the movie, my hair isn't supposed to look natural... she has fake, reddish hair. It's very obvious.")
As for how she joined Grandma, it was a little different than your average audition/score part story — in fact, Garner auditioned for an entirely different show first. "So originally, two months before I met Paul for Grandma, I auditioned for [his show] Mozart in the Jungle, and I was too young for it... the role said 28 year old, and I remember being like, 'I'm not going to get this role.' And then luckily, god bless my manager and agents, they always know — they're like, 'no, I think he might have another project, just do it,'" she explains.
"I was so upset, I was like, 'why are they making me audition?' But they are always right. And then two months later, Grandma came, and I guess [Weitz] saw my tape from Mozart in the Jungle, and they're like yeah, he wants to meet you."
And of course, after that, the rest was history — and thankfully so, too, because it's hard to imagine anyone else in the role of Sage. As Garner states, the role is close to her — in preparation, she went over Sage's backstory with both Tomlin and Weitz, and discussed Sage's "relationship with each person in the script," — and it's also one that she seems almost meant for. Even Nat Wolff, who plays her uncaring boyfriend Cam in the film, is a good friend of Garner's, something that definitely makes the dynamic between the two characters that much more layered.
Says Garner, "He's a great actor and he's a wonderful guy, I've known [Wolff] since I was 17 because he grew up in the city as well, and I was in a movie with his brother Alex Wolff I wanna say three years ago... he's so good in everything, he's just a brilliant actor."
As for what's coming up next, Garner states she's unsure. The Americans Season 3 is still coming up, she just finished shooting Tomato Red, and now that Grandma's in theaters, the sky's really the limit. One thing's for sure, though: Whatever it is, Garner's sure to take Hollywood by storm with it.
Check out Grandma, in theaters August 21.
Images: Sony Pictures (3)