This 'Grandma' Star Steals The Show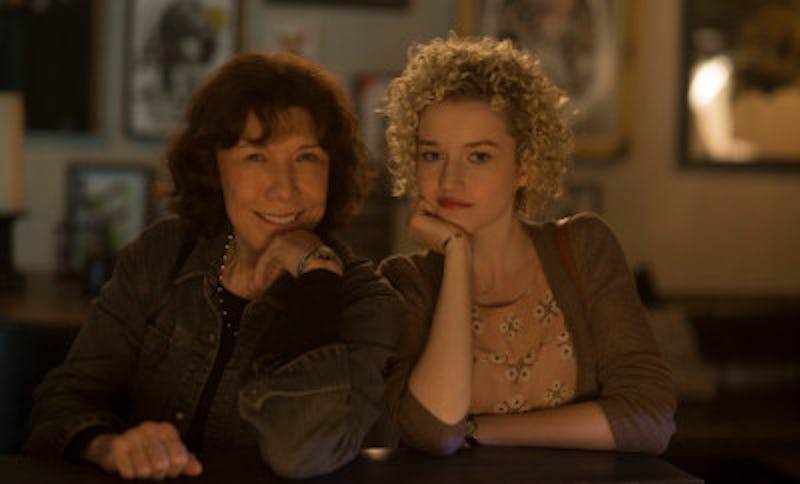 In Grandma, Lily Tomlin stars as Elle Reid, the titular grandmother who has but a single day in which to help her granddaughter raise enough money to get an abortion (you know, that tired old plot). The movie is drawing a lot of praise not only for its strong feminist message and for being the latest entry in Tomlin's comeback tour (see also: Netflix's Grace and Frankie ), but also for the powerhouse performance from the actress portraying Sage, Elle's granddaughter. So, who plays Sage in Grandma ?
In Grandma, Sage is portrayed by Julia Garner. Garner is no stranger to film, having appeared in The Perks of Being a Wallflower, Martha Marcy May Marlene, and Sin City: A Dame to Kill For, but her role in Grandma is by far the biggest of her young career. I say "young" because Garner is just 21, and you'd be crazy not to think that she's going to build off her performance in this film on her way to crafting a long and successful legacy in Hollywood.
Garner isn't the only young and talented budding star to have gotten their big breaks by being in a film with Tomlin; not by a long shot. Here are six other young actors Tomlin caught on the upswing of their careers, all before any of them turned 25.
Jeff Goldblum
Yes, Goldblum was young once. The 90s blockbuster king made his third film appearance in Nashville back in 1975 alongside Tomlin when he was just 22. He was so unknown at the time they even mispronounced his name in the trailer as "Goldblumm."
Seth Green
Before Austin Powers and Family Guy, Seth Green was a child actor. He appeared as Tomlin's nephew (and Bette Midler's son) in the 1988 film Big Business at the tender age of 14.
Peter Dinklage (Maybe)
He may be the biggest TV star in the world right now thanks to Game of Thrones, but everybody's gotta start somewhere. IMDb lists Dinklage's first on-screen appearance as an uncredited, and unconfirmed, role as a circus performer in the 1991 Woody Allen film Shadows and Fog, which also starred Tomlin. Was a then-22-year-old Dinklage really in the movie? Maybe, maybe not, but if he was, he then his first experience in show business would have been alongside Tomlin. That's enough to inspire anyone to go on to great things.
Jonah Hill
This one is confirmed. Hill's first movie credit was in the 2001 ensemble film I Heart Huckabees, when he was only 20. Tomlin was of course a member of the ensemble, along with other big stars like Dustin Hoffman, Jason Schwartzman, Jude Law, Naomi Watts, and Mark Wahlberg. No wonder Hill became a household name.
Colin Hanks
Being Tom Hanks' son surely has its advantages for any aspiring actor, but Colin Hanks still had to struggle for years to get noticed before landing his first starring film role at the age of 24 in Orange County. Helping the youngster carry the movie were comedy luminaries Jack Black and, that's right, Lily Tomlin.
Lindsay Lohan
Tomlin caught Lohan at the height of Lindsay-mania before it all came crashing down, appearing with the young actress in the musical ensemble A Prairie Home Companion when Lohan was still a relatively innocent 19-year-old. Lohan's career imploded the next year after her first arrest went on the books, and she's never fully been able to get back on track. Consider her story a cautionary tale: Being young and in a movie with Lily Tomlin does not necessarily guarantee future success.
After Garner's star-making turn with Tomlin in Grandma, let's hope the rest of her career looks less like Lindsay Lohan's and more like Jeff Goldblumm's... I mean, Jeff Goldblum's.
Images: Sony Pictures; Buena Vista Pictures; giphy (2)