5 Shows To Stream While You Wait For 'Rectify'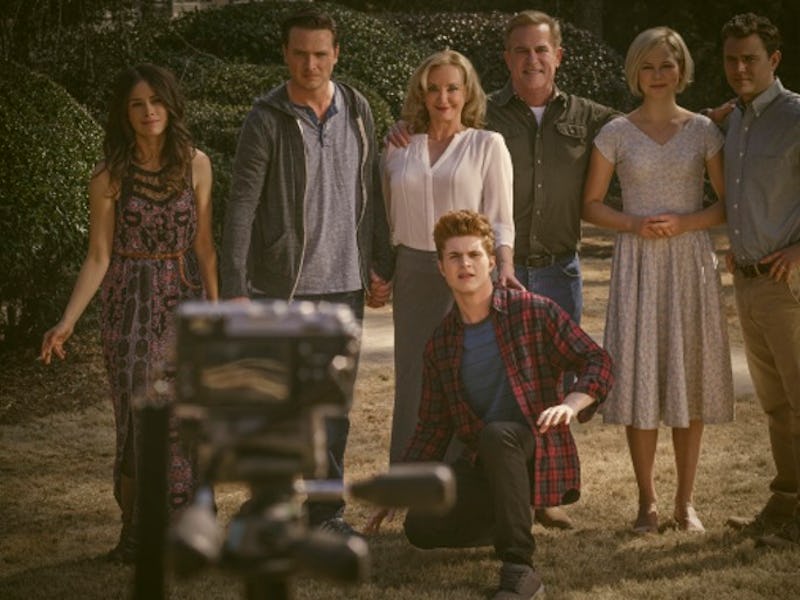 SundanceTV's critically acclaimed but seriously underrated drama Rectify has been renewed for Season 4, and I couldn't be happier. The thought-provoking drama, which focuses on a man who has been released from prison after spending 19 years on death row due to a wrongful conviction, combines human interest with mystery and the occasional dose of unexpected deadpan humor. The entire cast delivers amazing performances, and I have to ask — where the heck is the love from the Emmy and Golden Globe committees? Although a Season 4 premiere date hasn't been set, it will air sometime in 2016. Seasons 2 and 3 premiered in June and July (respectively) and concluded in August, so we're likely looking at another summer season. Since not everyone's cable package includes Sundance, many fans are dying to know when Season 3 of Rectify will come to Netflix, so they can catch up before that deserved fourth season.
As is the case with most TV shows, we probably won't have a definite Netflix date until Sundance confirms the timing of the Season 4 premiere. Seasons 1 and 2 came to Netflix the March after their finales, so if that trend continues, there's going to be a bit of a wait. Although Rectify is an undeniably unique show, there are other series currently available to stream on Netflix that are equally compelling, gritty, and well-acted. Check out these five marathon-worthy shows that will tide you over during the long (but worthwhile) wait for more Rectify.
1. The Fall
Before Jamie Dornan was Christian Grey, he played a horrifically sadistic serial killer on BBC's detective drama The Fall. Don't worry, I'm not giving anything away — this series is unique because viewers know the killer's identity the whole time. Each episode depicts both Paul Spector's life (grievance counselor by day, killer by night) and the murder investigation headed up by Stella Gibson, played by the always amazing Gillian Anderson. There are currently two seasons on Netflix and, like Rectify, it has unforgivably been snubbed by major awards shows.
2. Top Of The Lake
With the breathtaking beauty of New Zealand as its backdrop, Top of the Lake explores the monstrous side of humanity. When Detective Robin Griffin (played by Elisabeth Moss) returns to her remote hometown for what is supposed to be just a visit, she is drawn into the disappearance of a pregnant 12-year-old girl who happens to be the daughter of a local drug lord. Although Top of the Lake was originally marketed as a miniseries, it was later announced that there will be a Season 2, with director Jane Campion and writer Gerard Lee returning as showrunners. So hurry up and watch Season 1 on Netflix!
3. Damages
This legal drama, which stars Glenn Close and Rose Byrne as a ruthless lawyer and her young protégé-turned-rival, makes all other law shows seem like a snooze. Each season focuses on one case and the show becomes increasingly thought-provoking as lawyers use unethical tactics in the name of justice. My favorite part of Damages is its nonlinear storytelling and use of flash-forwards that keep us guessing until each finale. Every season features a standalone case and a new supporting cast, but I highly recommend watching all five seasons in order, because Close and Byrne each play characters with interesting and complex arcs.
4. The Killing
The Killing has jokingly (but fittingly) been called AMC's true zombie show because it was cancelled and then uncancelled not once, but twice. On her last day of work as a homicide detective in Seattle, Sarah Linden discovers the body of a 17-year-old murder victim in the trunk of a mayoral candidate's campaign car. She teams up with Stephen Holder, who is supposed to be her replacement, and finds herself unable to walk away from Seattle and the murder case. Although it has a few too many red herrings each season, the cases are compelling and the interactions between Linden and Holder provide some much-needed comic relief in this otherwise gloomy crime drama.
5. Bloodline
Although it's just as gloomy as The Killing and Top of the Lake, the Netflix original series Bloodline takes place against the sunny backdrop of the Florida Keys. The Rayburn family owns a hotel there and all is seemingly well until the black sheep of the family shows up for his parents' 45th wedding anniversary. His return sparks a criminal act and dredges up dark family secrets. Like Rectify, Bloodline is slower paced than most crime dramas and mysteries, but you won't regret the time you spend watching it. In fact, it was so well-received that Season 2 was given the greenlight just 11 days after Season 1 began streaming.
By the time you get through all of those intense dramas, Rectify Season 3 should be hitting Netflix in no time, ensuring you're never without a thriller to sink your teeth into.