2014 Golden Globe Nomination Snubs Include Oprah Winfrey, 'Game of Thrones,' and More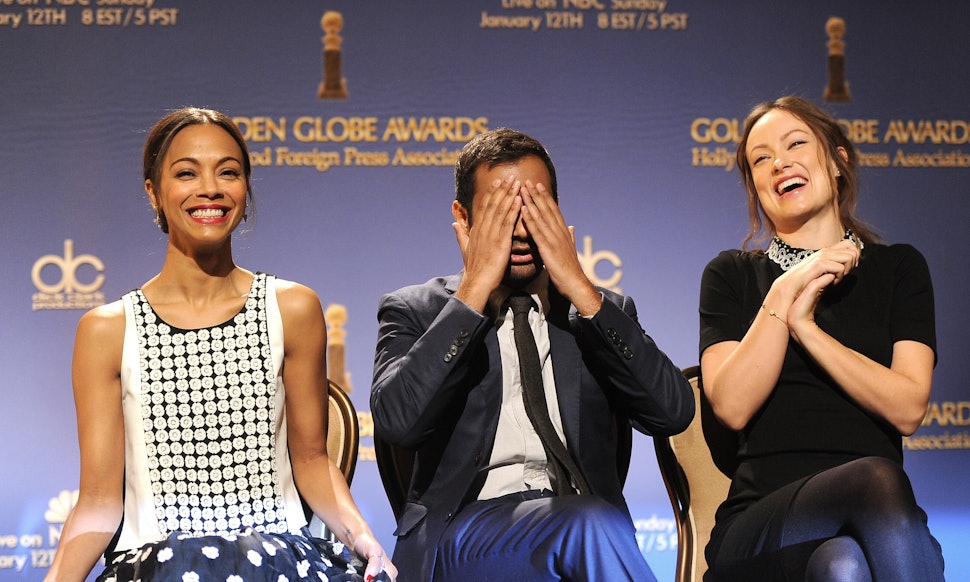 Kevin Winter/Getty Images Entertainment/Getty Images
Early this morning, Aziz Ansari, Zoe Saldana and Olivia Wilde got together and broke our hearts. The random trio announced the nominees for the 2014 Golden Globes, and while we were hoping one of them just forgot to read some of the notecards, it turns out the Hollywood Foreign Press Association snubbed some of our favorite actors, directors, movies and TV shows.
The list of nominees just isn't complete and is missing some of the year's best performances. Here are the Golden Globes' biggest snubs, who may not get any awards but get all of our love and sympathy.
'The Butler'
Lee Daniels' film was loosely based on a true story about a butler who serves multiple American presidents. The film itself deserved a spot in the Best Motion Picture—Drama category, but seems to have been edged out by a surprise nod for Ron Howard's Rush.
Image: The Weinstein Company
Forest Whitaker, 'The Butler'
Whitaker should have been recognized for his role as Cecil Gaines, the titular butler who watches the biggest events of the 20th century unfold from within the White House.
Oprah Winfrey, 'The Butler'
Everyone's favorite talk show host delivered an impressive performance as Gloria Gaines, the butler's wife. It was Winfrey's first film role since voice work in 2009's The Princess and the Frog, and definitely deserved some recognition.
'Game of Thrones'
Seriously? After a season that intense and with a cast so large, Game of Thrones was still completely overlooked in every TV drama category. The HFPA has one angry fandom to deal with.
Image: HBO
Anna Gunn, 'Breaking Bad'
Though the Golden Globes only has a crowded Best Supporting Actress in a Series, Mini-Series, or TV Movie category, Gunn should've been recognized as Supporting or Best Actress in a Television Series—Drama for her consistently amazing performance on Breaking Bad. At least she won the Emmy.
Connie Britton, 'Nashville'
Maybe we're still bitter because Britton was never recognized for playing Mrs. Coach, but she surely earned a nomination for her music-filled role on Nashville.
'Fruitvale Station'
After winning both the Grand Jury Prize and Audience Award at this year's Sundance Film Festival, we thought Ryan Coogler's drama was a sure thing for the Globes. Apparently the HFPA disagreed.
Image: The Weinstein Company
Michael B. Jordan, 'Fruitvale Station'
Even if the film itself couldn't land a spot on the list, its star certainly should have. Jordan has received nothing but praise for his portrayal of Oscar Grant. The Globes may have forgotten about him but hopefully the Oscars won't.
Brie Larson, 'Short Term 12'
The 24-year-old actress proved that she's Hollywood's next big thing with Short Term 12, in which she plays the supervisor of a foster care facility. She may have been snubbed this year, but we'll likely see her name on the list in the next few years.
Lizzy Caplan, 'Masters of Sex'
Sorry Michael Sheen, but Caplan is the Masters of Sex star who really got snubbed. Her impressive performance as sex researcher Virginia Johnson should've earned her a spot among the other amazing TV actresses who made the cut this year. At least the show itself was nominated.
'Homeland'
This may not have been Homeland's best year, but usually the series and its actors dominate the nominations for every awards show. Can someone go check on Claire Danes and her chin?
Image: Showtime
'Mad Men'
Maybe Matthew Weiner got into a fight with he HFPA, because there's no other explanation for awards show heavyweight Mad Men to not receive a single nomination for a great season. The show wasn't nominated, and neither was anyone from its pretty large cast.
Image: AMC
'Veep'
Julia Louis-Dreyfus was nominated as Best Actress for her role in the show, but the series itself was overlooked. Brooklyn Nine-Nine has had a pretty good first season, but Veep really should've taken its spot for Best TV Series—Comedy or Musical.
Image: HBO