11 Meghan King Edmonds Twitter Revelations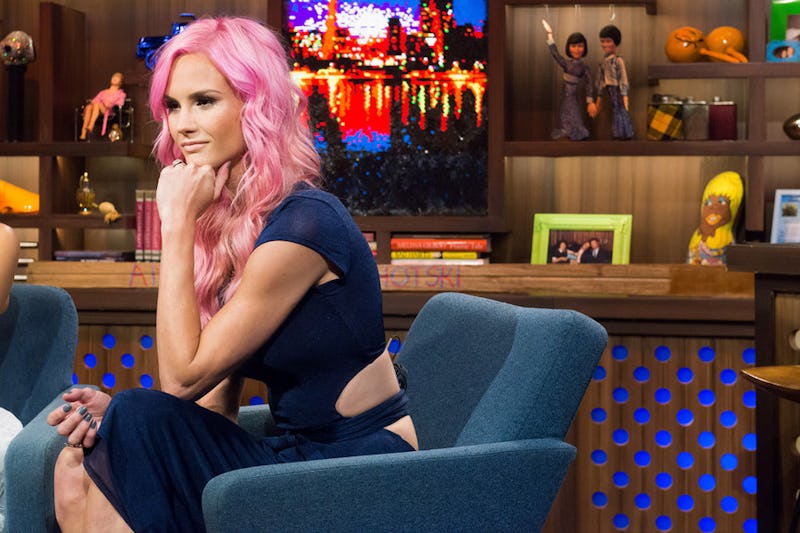 Meghan King Edmonds has already revealed a lot about herself during her first season on The Real Housewives of Orange County. She's shown her unwillingness to back down when in the middle of a fight and how much she loves her stepchildren in front of the cameras, but there are some things about the reality star that only Meghan King Edmonds' Twitter can reveal. There's more to her social media presence than messages to fans and promotion of the show. Meghan and her husband, Jim, are very open on social media — and the pair have revealed plenty about their relationship on Instagram and Twitter, showing their more intimate and more charming sides, even though their relationship looks more awkward and uncomfortable onscreen. They've shown family moments, hinted about their hopes to add to their family, and cleared up their relationships with other Housewives and people like Jim's ex wives with a quick joke. Twitter is an opportunity for reality TV stars to emphasize the unreality of how they're portrayed, but its also a place for them to admit that fans' generous readings of their behavior can also be untrue.
Meghan, in particular, can be revealing online, showing both her best side and, sometimes, her worst, on Twitter. And, while some of her Tweets may not cast her in the best light, she's still one of the more likable women on Real Housewives of Orange County because her charm always winds up shining through in another emoji-filled message.
She's A Safe Driver
Thankfully, RHOC cuts out most of the long scenes of people driving to meet up. Even though Meghan is a St. Louis native, she chides the bad drivers (though not without ironically taking out her phone while driving herself).
She Might Be Sporting Purple Hair Soon
Despite how much criticism Meghan has received for her brightly colored hair, a tribute to LeAnn, she's still enjoying the fun of having cotton candy hair, and suggests that she might be switching to purple, which will undoubtedly annoy just as many people, but look just as fabulous.
She's Been Working Out Rain Or Shine
Meghan already seems pretty confident about her body, so she's probably trying to keep up with her family full of athletes. Those family pickup softball games have got to be competitive.
She Does Have A Businesslike Side
Meghan often gets dinged by the other ladies for not having a serious career, but to see her on Twitter tells a very different story. She posts frequently about products she works on (Sweat Cosmetics and her hashtag hats, for example) and about the challenges of being a wife, stepmom, traveling constantly, and trying to work.
She Sets The Record Straight
On the show, Meghan can wind up putting her foot into her mouth, but on Twitter she often clarifies what she meant or specifies how she was feeling.
She's Pretty Cool With Shannon Now
After a rocky start to the season, Shannon and Meghan seemed like they would never get along. But Meghan is quick to point out when Shannon has a good moment on RHOC (which is frequently!) and they've posted a few pictures together. Does Shannon feel the same way? That's a question for the reunion.
She Shows Her Inner Sunny Optimist
Meghan's always looked like the type of girl to have a bright and sunny point of view, but that doesn't necessarily come through on RHOC, where most of the time, she's playing defense. But to her Twitter followers, she gives the sort of guru meditations you'd expect from a Midwestern girl living in sunny CA.
She Has A Serious Smoke Detector Problem
To be fair, those "new batteries" chirps that smoke detectors do (always in the middle of the night) are very annoying. But it sounds like they may have prompted a nervous breakdown for Meghan.
She Had A Bravo Crossover
Meghan met up with some stars of Million Dollar Listing: San Francisco for a night out, and looks like the newest Bravolebrities are already getting along.
She Shares Very Strange Jim Edmonds Facts
Who knew Jimmy loved vacuuming?
More Than Anything, She Loves Her Life
No matter how Meghan comes across on Real Housewives of Orange County, if you follow her on Twitter you can easily tell that she is not a jealous, mean person. Meghan has been through some ups and downs on RHOC, but her Twitter proves that in the end, all she's trying to do is show her family how much she loves them.
Images: Charles Sykes/Bravo