Nick, Joe, & Sam Collide On 'Bachelor In Paradise'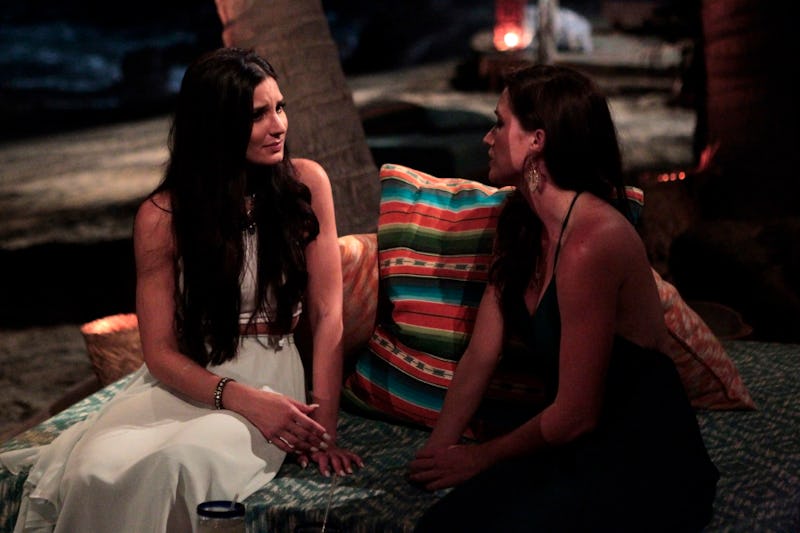 While her time on The Bachelor could be missed from a blink of the eye, it seems like Samantha Steffen has every intention to be known on Bachelor in Paradise, because girlfriend is becoming infamous. A new arrival joined Paradise on Sunday — Nick Peterson from Ashley's season of The Bachelorette , and don't worry, you're not the only one who doesn't remember him — and surprise, surprise, it turns out Nick and Sam knew each other before Bachelor in Paradise . But how long have these two been communicating? Well, it might not matter because it seems like Nick has moved on from Sam after some shadiness occurred upon his arrival.
So, when Nick joined the show — and basically introduced himself to the world — we learn via his quick conversation with Chris Harrison that he has been talking to Sam before joining the cast. SOUND FAMILIAR? The answer is yes, yes it does sound familiar. It appears that Sam has essentially stacked the deck in her favor by communicating with two Bachelors on Bachelor in Paradise before they ever hit the beach. OK, OK, that might not be fair. I mean, everyone in this cast knows each other basically. It's probably not Sam's fault that the show brought every guy who was into her along for the dramatic ride.
According to Nick, he and Sam have been talking for a few months, and they supposedly talked every single day. EVERY SINGLE DAY, YOU GUYS. So, when Nick arrived and received a date card, he invited Sam on the date. Very publicly, she declined. Great TV, but a rough blow for our new boy Nick. Nick told the cameras that Sam told him she would accept a date with him if he asked her in Paradise. So I'm sure homeboy was like, What's that?
If these two have been talking for a few months — which is longer than Sam has supposedly been talking to Joe, just saying — I think we can officially say that either Sam is terrified she isn't going to find love in Paradise or she is just terrified she is going to leave this season and people are still going to say, "Who is Samantha?" Well, I'm not sure about the love part, but she's going to be hard to forget after all this.
Images: ABC/Rick Rowell