7 Lazy Girl Hacks For Greasy Hair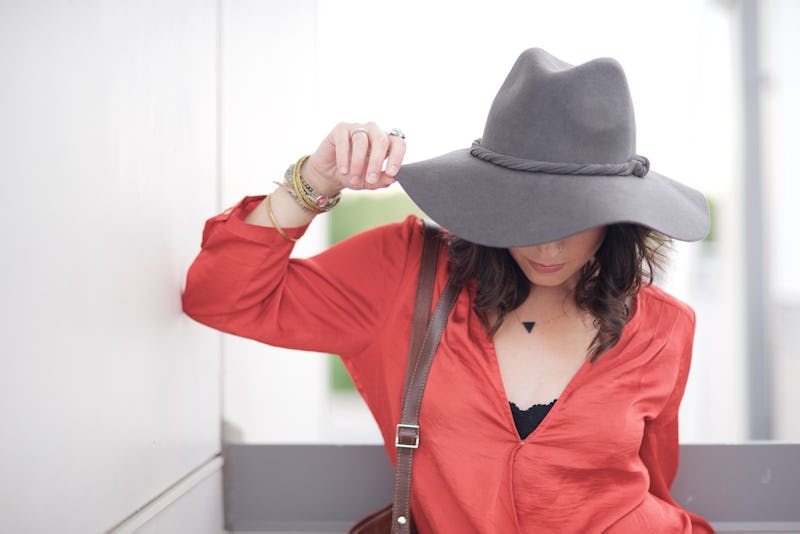 Sleeping through your alarm and not having time before class or work to shower does not automatically mean you're suddenly required to have the worst hair day ever. When a good shampoo and blow dry just isn't an option, try these no-fuss lazy girl hacks for greasy hair. They're quick, easy, and no one will ever notice your hair is actually super greasy. Muahaha.
Doing your hair should never be a giant stressor, so don't freak out over a little grease. Whether you're intentionally trying to make a blow-out last longer or just straight up have to race out the door, these tips are for you.
If you find your hair to be consistently greasy though, learn about ways to manage oily hair in the longterm. The hacks below are mainly for those days you just gotta get through until the next shower!
1. Baby Powder
SheKnows recommends hitting up baby powder as an instant dry shampoo solution. I used to do this all the time in college during finals week, and it really works! Just flip your head over, sprinkle baby powder on your roots, and shake it through with your fingers. Make sure to really shake it through so you don't end up with any funky white spots, though! Want something more natural? Try arrowroot powder, a la Bustle's Kristin Collins Jackson.
2. Bangs Only Wash
Since oil is most obvious right around your face, if you are rocking bangs, you can get away with just washing and blow drying them quickly according to StyleFox. Just pop the rest of your back into a top knot or sleek pony tail!
3. Curling
To hide grease, adding volume and texture is better than going for pin straight hair. Follow SheKnows' suggestion of blow drying quickly, and then curling. Give it a little extra boost with hairspray and you're good to go!
Not Your Mother's Beach Babe Sea Salt Texturizing Spray, $7, Amazon
For a slicked back, textured look, reach for sea salt spray. The oil will not only enhance the look, but the spray will keep it looking wet and sexy instead of overly greasy.
5. Top Knots
Top knots were practically made for greasy hair days. Just pull your hair up into a messy bun for Brooklyn-bound hipster perfection.
6. Braids, Braids, Braids
WeWomen is all about braiding hair to cover grease. Whether you go French, fishtail, or reverse, a braid is fast way to deal with greasy hair and the oil will actually help it stay better. Win.
7. Grab A Hat
When you're in the ultimate hurry, just throw on a hat or hair scarf to hide greasy roots, suggests Brit + Co. For inspo, check out all these awesome hats for 2015.
Image Credit: Unsplash