Kate Promises 'Below Deck's Craziest Season Yet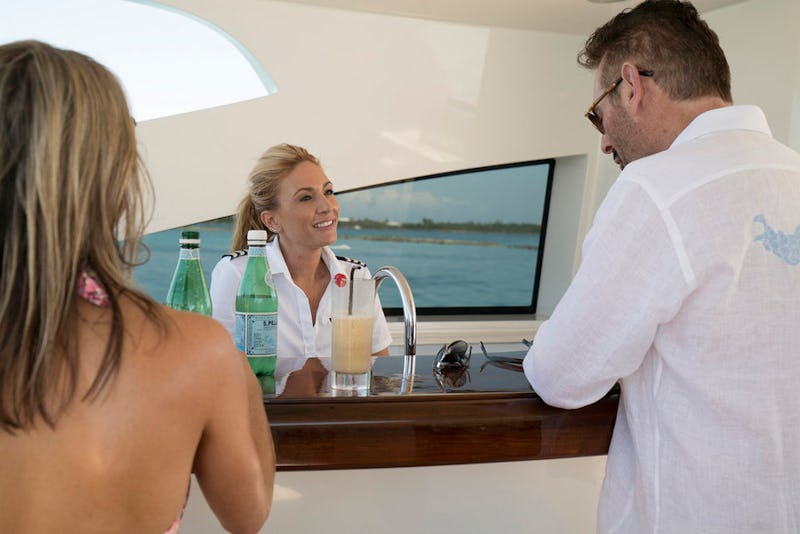 What comes to mind when you think of Below Deck? If you ask chief stew Kate Chastain, she promises "craziness" from Below Deck Season 3. And even though there's always some craziness to be had in a charter season on Bravo's resident yacht, it sounds like the third season, premiering on Tuesday at 9 p.m., was even more outrageous than the last. "This season, if there was one word to describe it, it was just crazy," Kate says. "It was the craziest yachting season I've ever had in my life. The crew members, the charter guests, the weather conditions … it was just crazy." That is a lot of crazy.
And I have to say, I believe her. The trailer for Season 3 suggested that just about everything that could go wrong would, from a fire in the galley to a potential unadvised hookup between coworkers. But what makes this season of Below Deck so "crazy"?" It's a combination of everything Kate mentioned, from the uncontrollable variables of being out at sea (like the lack of connection to the outside world), to the restrictions of living on a yacht (like the close, close quarters the whole crew is forced to keep). Together, these disasters add up to what looks like a hell of a TV season — one that Kate has plenty to say about.
The New Crew Members
Kate's description of Rocky makes her sound like a powder keg waiting to explode. "Rocky is a very unique individual ... but I've never worked with someone quite so difficult on a boat, because she just didn't want to be there," she says. "And it's not an easy job, so you actually have to want to be there." As for her own disagreements with new chef Leon, Kate says, "He was also very difficult to work with, so I had a very hard time this season having a third stew who didn't want to work with me, and also my chef."
The Returning Crew Members
While most of the returning crew gets along, there are going to be some extra familiar faces joining the cast throughout the season. According to bosun Eddie Lucas, "You're going to see some old faces coming in from previous seasons." And Kate also says, "after the first week of working with Rocky I suggested and begged and pleaded that I could call Kat to come and save us. Same thing with Ben." The constantly rotating staff must have been a whirlwind, even when old favorites like Ben return... and let's not forget that last season Ben and Kate had their own feud as well.
The Weather
There's nothing that can control whether the seas are friendly. But Kate also describes this season as crazy partially because of the "weather conditions." Sounds like a challenge for the good Captain, but I'm sure he's up to it.
The New Boat
Eros, while a gorgeous boat, was the perfect pressure cooker for the drama of the season. Kate explains, "there was no windows and it was boxy and that's what drives people crazy." Cabin fever is real.
The Charter Guests
"My charter guest soulmate actually makes an appearance again," promises Kate, so there's going to be at least one demanding guest. And there's surely going to be more when celebrities like The Real Housewives of Atlanta cast books a charter.
And Their Crazy Demands
If I ever had the money for one of these expensive charters, I'd like to think I'd be super accommodating. But there's just something about being on a boat that makes just about everyone turn into a demanding jerk. "They wanted to go swimming with sharks, some of our guests, and you know, that's a little bit more difficult to provide because they're wild animals, can't exactly just find a shark," Kate says. I can't wait to see how she handles that and every other challenge that comes her way on Below Deck Season 3.
Images: Virginia Sherwood (3), Screengrab/Bravo; Sidewindervx, Reality TV Gifs/Tumblr