7 Reasons To Knit Or Crochet Your Own Accessories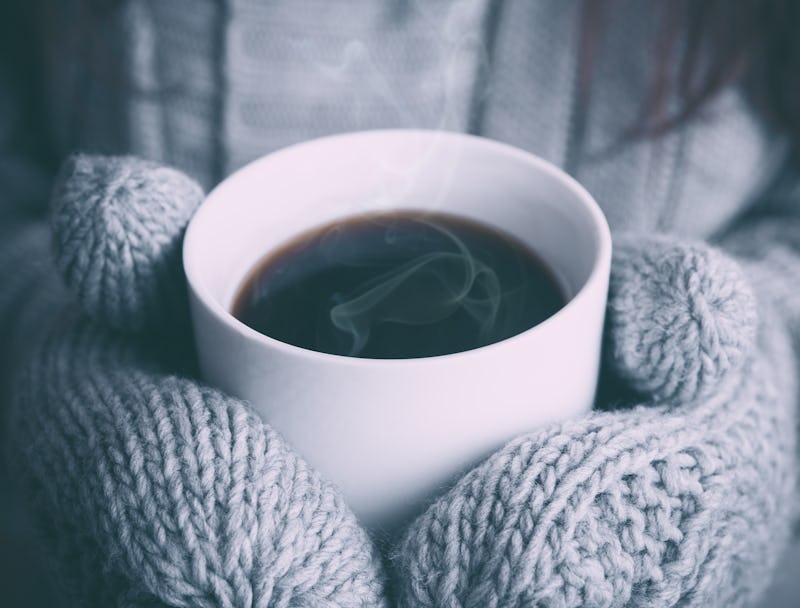 Having the perfect scarf as the weather turns cool is akin to walking around with a beautiful, statement-making, mini comfort blanket. If you truly want the best of both worlds — something snugly and uniquely you, but also lovely and stylish — then learning how crochet your own accessories (or knit them!) might just be your best bet. Does that sound a little too quaint to you? Well, it might be. But it also may be one of the more rewarding tasks you complete for yourself this season.
It's no secret that knits are one of the quintessential staples of fall fashion. They're warm, comfortable, and can range from elegant to chunky and fun. The benefits of creating your own knit pieces go beyond what you might imagine, though. From bolstering your health to ensuring your accessories are entirely custom, there's a lot to be said for crocheting and knitting the newest pieces of your fall wardrobe. If you've been considering picking up your long-forgotten knitting needles or eyeing a shiny new crochet hook at the craft store, the time has come to find your perfect yarn and get to it. There's no reason not to channel a little bit of DIY wardrobe magic, and there are plenty viable of reasons you should.
1. The Color Choice Is Endless
Choose any 24 colors you like Cotton Yarn, $85, etsy.com
Have you ever stumbled across the perfect hat — just the right fit, adorable lines, and a soft texture you could take a nap in? How about the perfect hat, in exactly the wrong color? Sure, there are plenty of splendid options out there, but what if you're looking to compliment the color of your newly dyed hair, or find a match for the gloves your grandma knit you late last spring?
Opting to create your own accessories means full color control, and if you've ever stepped inside a yarn shop, you know that can actually be pretty exciting places. It's like being able to touch and wear the rainbow!
2. You'll Find Unique, Easily Accessible Patterns
Cesta Cowl (F39) Pattern, Free, fairmountfibers.com
If you're delving into the world of knit and crochet patterns online, your mind is about to be blown. There are a myriad of resources out there, many of which are quite avant-garde. Many wool merchants provide beautiful free patterns, and there are swarms of Etsy stores with an array of lovely, well priced patterns available for download.
If this will genuinely be your first attempt at knitting or crocheting, consider finding a local class. Often, you can bring in your own patterns and seek guidance from your teacher and classmates — and meet a handful of new craft buddies along the way.
3. There Are Health Benefits
Akin to meditation, knitting and crocheting have a tendency to facilitate peaceful states of mind within their practitioners. Like other artistic endeavors, knitting and crocheting often create a state of flow, which is described by psychologist Mihaly Csikszentmihalyi as the secret to happiness. But even beyond creating a sense of overall well being, these activities have been used by occupational therapists to alleviate depression and assist in maintaining motor and mental functions with Parkinson's and dementia patients, according to The Washington Post. So if you're looking to keep your mind alert but at peace, taking fashion into your own hands can have major long term benefits.
4. The Custom Pieces
Fair Isle Tam (F3) Pattern, Free, fairmountfibers.com
Whether you stick to the pattern you've found, or choose to adapt it slightly to fit your style and sizing requirements, one thing you're less likely to encounter when making your own fall accessories is the cookie cutter effect. You're not purchasing the same hat that every single one of your friends found at Charming Charlie, and you can exercise far more discernment when you're choosing from thousands of patterns than just a dozen varieties of hats or scarves at a local or online store.
5. All The Textiles Of Your Choice
Yarn Pack for Knitting, Crochet, Weaving or Felting, $28.75, etsy.com
Everyone has personal preferences when it comes to textiles. Some of us gravitate towards big, chunky knits, others rather abhor them and find fine, ultra soft knits more pleasing. In the end, your accessory's texture, weight, color, and purpose are defined by its textile content. When you're knitting or crocheting your own pieces, you have the end say in how warm and thick the wool is, or how delicate and soft the cashmere.
6. Eco Friendly
Hand in hand with choosing the ideal texture and weight of your DIY fall fashion textiles comes the option of purchasing eco friendly and sustainable textiles. With a little research, you can ensure that not only is the labor going into the final production of your fall fashion ethical (you're personally in charge of that aspect), but also that the labor and environmental practices behind the textile production are ethical.
There are many options out there, but depending on what you're looking for, spinnery.com and fairmountfibers.com are great places to start.
7. The Sense Of Accomplishment
When you've finally tied off the final stitches in your stunning new Herb, Desert Sage, and Marsala hat, or lovely gray mittens, you may find yourself savoring the feeling of each row between your fingers. Do you feel that? The soft, strong wool, the recognition of a project completed, and time well spent? That feeling is a sense of accomplishment.
The process of knitting or crocheting allows you time to contemplate your life, to slow down and recognize the value of the garments you wear every day, and form a greater appreciation for the time it takes others to create your wardrobe. And that sense of accomplishment at the end? Definitely worth your while.
So, next time you're wandering through your favorite boutique, admiring the selection of knit scarves, hats, and gloves, consider taking a trip to your local crafting store. If you do, you could be in for a genuinely fulfilling experience.
Images: skeeze-272447, Foundry-923783/Pixabay; worthyofelegance/Unsplash; Courtesy Brands