6 Signs The Book-Nerd You're Dating Is A Keeper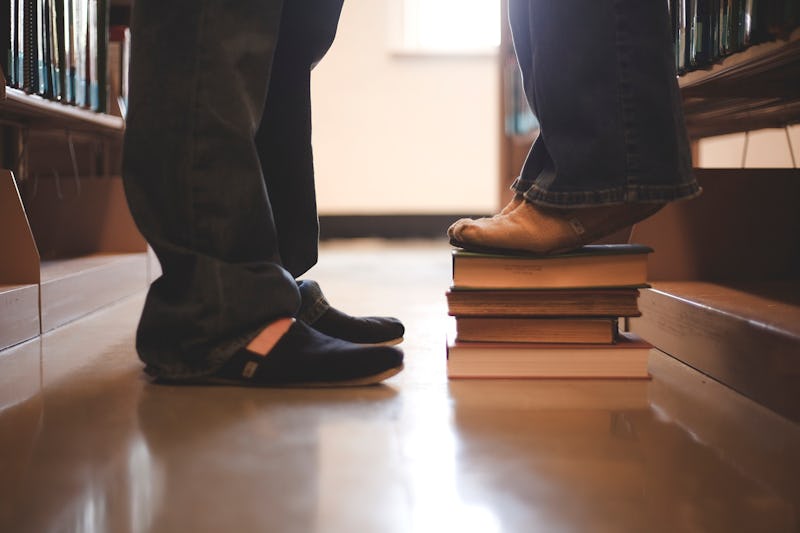 Finding a fellow book-nerd through dating apps, blind dates, or even just the old-fashioned meet and greet on the street can be difficult. It isn't often you meet someone who has the same dedication and passion for reading as you do. And even though opposites attract, being in a relationship with someone who doesn't enjoy reading (or actually hates it) is a rough time for any book-nerd, believe me.
So, when you do meet someone who has similar interests, and with whom there is a mutual attraction, you're in good shape! Beginning a relationship with a mutual favorite book or character is a great first step. But like in every other relationship, growing together (and becoming closer book-nerds, naturally) takes time.
If you're already in a relationship and wondering if you've hit that point where a Harry Potter-themed wedding is in the near future, then you've come to the right place. For those of you who are in a new relationship, or on the lookout for a partner like Peeta Melark or William Darcy, here are six things to look for in a book-nerd soul mate, which just might tell you if he or she is a keeper:
You Both Learn From Fictional Couples
Reading about characters falling love can help solve conflicts and spark new ideas within you and your partner when it comes to your relationship. Finding new ways to show that you love and appreciate each other can sometimes be difficult after being together for a few years. But for the two of you love to read, and you're constantly learning from couples in books on how to show love in unique ways. Like Augustus and Hazel's "Okay", you two have your own words and sayings that have just as much meaning.
You Both Love Sharing Books With Each Other
Reading books together makes your relationship stronger, and after you finish a really fantastic book, you instantly give it to your partner. And, while your soul mate is off reading, you can't help but sneak glances at his or her reactions to big plot twists. As you watch your partner fall in love with your favorite books, you can't help but fall in love all with him or her over again.
You Respect The Other's Book Interests
Even if you're lucky enough to find your book-nerd soul mate, chances are you probably won't love every single type of book your partner does, and vice versa. Just because your partner loves love sci-fi and you love young adult books doesn't mean you aren't perfect for each other. The important thing is you both love reading and that you respect his or her interests.
You Both Love Reading Before Bed
One habit strong and happy couples have in common is going to bed at the same time, but you two take it to a whole new level. Reading before bed gives both of you time to unwind from the day, while also still being near and spending time together. When your partner reaches out and grabs your hand in the middle of a chapter, there's no better feeling as far as you're concerned.
You're Both Comfortable With The Silence Of Reading...
When you're committed to be with someone for a lifetime, you're going to have to get used to some silence if you aren't already. For me, there have been times while reading around a significant other felt slightly awkward, like we were supposed to be talking or watching a movie instead. But that's normal, and the strongest book-nerd relationships will eventually cross this bridge and find an admiration for the silence as you both delve into new worlds side by side.
...But You're Not Afraid To Interrupt Each Other's Reading Time For The Right Reason
As much as you both love reading, you have to take breaks and goof around once in a while. Your partner knows how to make you smile, and neither of you mind when the other interrupts reading time... at least, not too much.
Images: Timothy Marsee/flickr; Giphy (7)