How To Pull Off Purple This Fall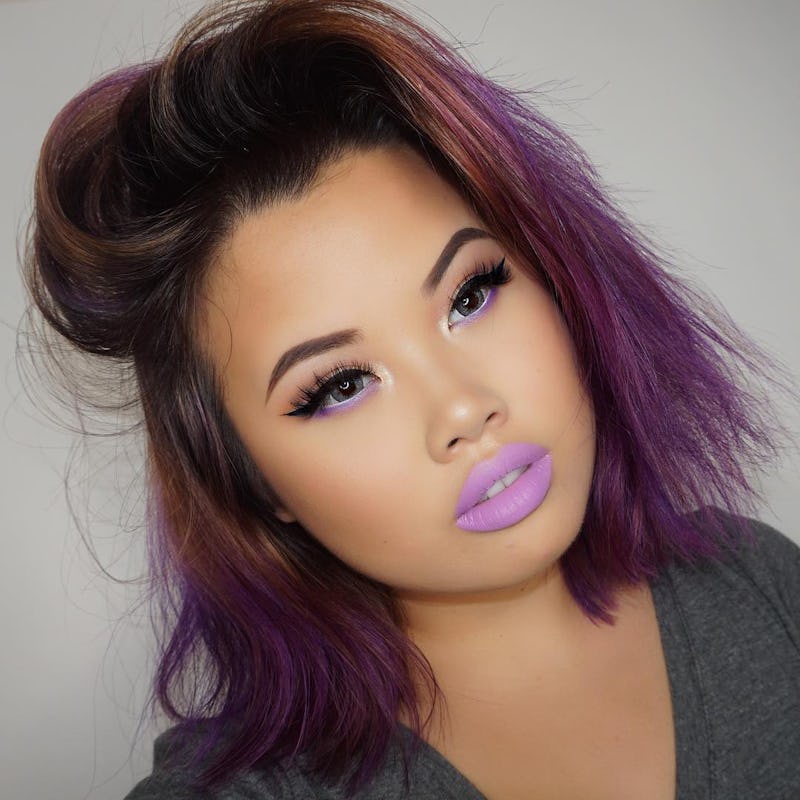 Purple is one of fall's on trend colors. Like cobalt blue, olive, and camel, purple is rich and moody and looks fabulous, whether you're wearing it as a dress or a polish on your nails. If you're looking for tips on how to wear purple in the fall, you've come to the right place. And if you're intimidated by the bright color, know that anyone and everyone can rock this violet shade.
Purple makes me think of Prince and royalty, and really killer lipstick a la Lorde. It's a bold color, so definitely not for the times you want to blend in with everyone else. But why would you want to do that? Even though it's a statement color, purple is universal and can still be worn by anyone, anywhere. Yes, even you super pale types. Wearing purple well is all about knowing your skin tone (whether its warm, cool, or neutral) and choosing the right shades.
When it comes to wearing purple makeup, it's important to pick one feature to highlight in purple glory. A pop of purple on the eyes, or a bold purple lip, should be paired with more neutral makeup on the rest of your face.
When it comes to fashion, treat a deep purple like a neutral. After all, black is a neutral and almost-black is just as great (if not better). Dark, dramatic nails give a chic feel, while a bright violet is best left for statement pieces.
Here are eight purple makeup products you can wear this season, because this really is the color for everyone.
1. Nail Polish
This is my go-to polish for the colder months. OPI Polish in Lincoln Park After Dark, opi.com
2. Lipstick
A cool-toned lipstick like this can work with most skin tones. Lipstick Queen Silver Screen Lipstick in Stella!, $50, spacenk.com
3. Lipgloss
If you want to prolong those summer vibes, a glossy purple is springlike and still in season. Color Your Smile Lighted Lip Gloss in Wild Orchid, $24.00, gerardcosmetics.com
5. Eye Shadow
Gorgeous, high pigmented color that looks great in the center of a smoky eye. Makeup Geek Foiled Eyeshadow Pan in Caitlyn Rose, $9.99, makeupgeek.com
6. Blush
This blush is one of my favorites: super sheer and buildable, it won't make you stand out in the wrong ways. Clinique Cheek Pop in Pansy Pop, $22.00, clinique.com
7. Mascara
Not to totally bring back the '80s, but colored mascara is making a comeback this season. Sephora Collection Full Action Extreme Effect Mascara in Purple, $12.00, sephora.com
8. Eyeliner
Smoke out a purple eyeliner with a rich brown or black eye shadow for a richer, more defined eye look. M.A.C. Technakohl Eye-Liner Kajal in Image Conscious, $16.50, maccosmetics.com
Image: @kimthaingyuen/Instagram