MAC's Vamplify Lip Gloss Will Be Your New Favorite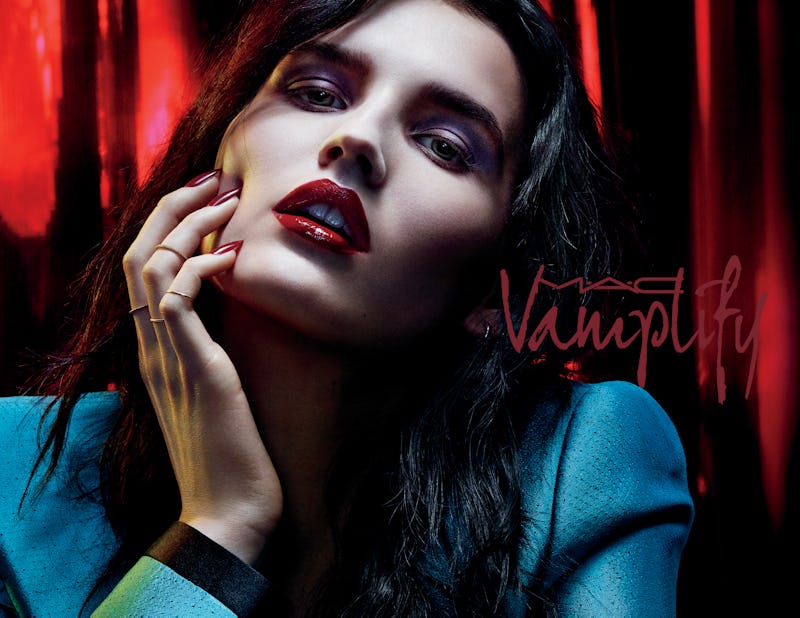 Attention makeup lovers: there is a new liquid lip pigment on the market, and it comes in the form of MAC's newly released Vamplify collection. While the glosses aren't matte like a typical liquid lipstick, they're definitely just as pigmented. These new baes will wear comfortably for hours, according to the press release sent to Bustle, and I definitely believe it based on the photos.
Each tube comes with a matching lip liner, so this your chance to get a Kylie Jenner-esque pout with a bit of shine. While many lip glosses stay in the safe realm of sparkly pinks and soft reds, these colors are definitely no joke. Everything from a fire engine red to neon violet to an intense, dark bluish purple is included, and with 17 shades, you're guaranteed to find one that matches your mood on any day.
These new products look to be every bit as opaque as a lipstick while remaining moisturizing and glossy. It's the perfect hybrid. Unfortunately, these bad boys don't launch in the U.S. until September, but Chilean beauty vlogger Pau Peña got her hands on them before everyone else. Although her video isn't in English, she swatches every color for our viewing pleasure.
Here is the full video, if you're interested.
In the meantime, I'm plotting how I'll wear these vibrant colors. Although they are highly pigmented, they're still glosses, and glosses wipe off quite easily as opposed liquid lipstick. Luckily, MAC has a full range of lippie colors, and it's extremely easy to mix and match the new Vamplify collection with their existing mattes.
By wearing the matte lipstick under the gloss, plus the lip liner it comes with, you'll not only intensify the color even more, but you'll get the long lasting benefits of a liquid lipstick.
Check out a few of the pairings below, and don't blame me for your empty wallet come September.
Vamplify Lip Gloss In Tuned In, $12, MAC
MAC Matte Lipstick In Mehr, $17,Nordstrom
Vamplify Lip Gloss In Flash Drive, $12, MAC
MAC Matte Lipstick in D For Danger, $17, Nordstrom
Vamplify Lip Gloss In How Chic Is This?, $12, MAC
MAC Matte Lipstick In Heroine, $17, Nordstrom
Vamplify Lip Gloss In Modern Drama, $12, MAC
MAC Satin Lipstick In Media, $17, Nordstrom
Vamplify Lip Gloss In She-Rebel, $12, MAC
MAC Matte Lipstick In Matte Royal, $17, Nordstrom
Images: MAC Cosmetics (12); Pau Peña/Youtube (1)