11 More 'Friends' Deleted Scenes You Have Never Seen Before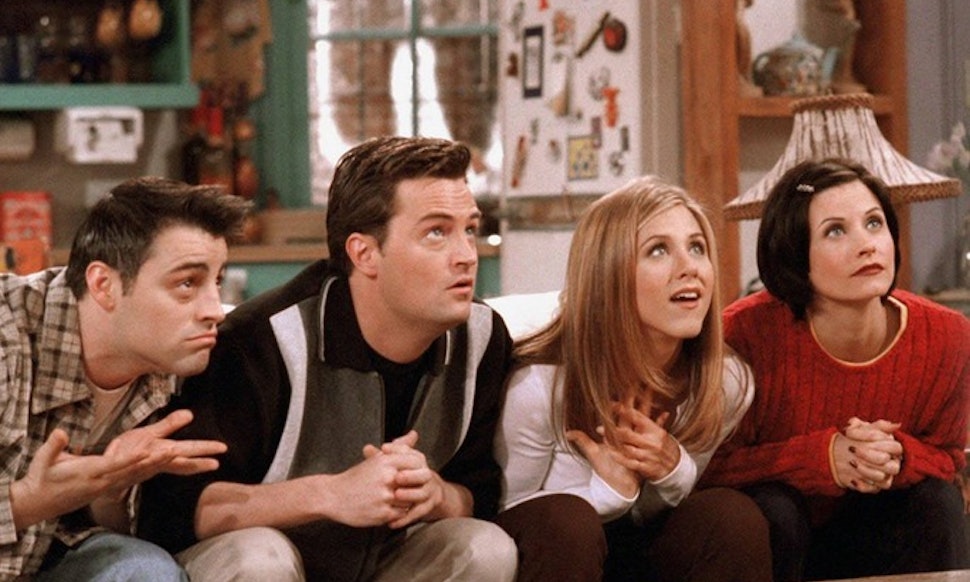 A deleted scene from Friends recently made the rounds after being discovered years after it was uploaded to YouTube in 2007. In this Friends deleted scene, from "The One Where Rachel Tells Ross," Monica and Chandler get into a bit of trouble with TSA when they are leaving for their honeymoon — Chandler just can't keep his bomb jokes and comments to himself. The storyline was pulled due to 9/11 and fans probably remember the replacement story arc where another honeymooning couple gets all the perks because they are ahead of Monica and Chandler in line. But, with this untimely gem being rediscovered, what other Friends scenes and extras were stripped from the airwaves?
Perhaps there are other clips that even the most avid Friends fans may have missed? Who knew a 10-season show, that's constantly syndicated on TV and streaming on Netflix, could still surprise us? Here are 12 hilarious Friends deleted scenes, with jokes you probably have never heard before.
1. The Recently Trending Airport Scene
bagurka on YouTube
2. Joey Just Has To Find Out The End Of Emma's Book
Suus 17-1 on YouTube
3. Hurry! Emma Is Crawling
SuperMWake2 on YouTube
4. Whatever Happened To The Geller Cup?
Sunshinedu78 on YouTube
5. Chandler's London Condoms (So, There Was Foreshadowing?!)
pingflood on YouTube
6. Carol Does Not Want To Move To London
Sunshinedu78 on YouTube
7. Phoebe's Extended Baby Shower Tantrum
Aner Cohen on YouTube
9. Chandler Mocks The "Kidney Stones" Doctor
Aner Cohen on YouTube
10. Something Sinister Is Going On
Sunshinedu78 on YouTube
11. Ross Scares Phoebe
karzan10 on YouTube
12. Phoebe Battles The Pink Robots
Maquei Monteiro on YouTube
OK, this last one isn't a deleted scene. The clip is a DVD extra from disc four of the Season 9 DVD set. But, it is just as surprising as a deleted scene. The Flaming Lips re-wrote and re-recorded "Yoshimi Battles the Pink Robots" to "Phoebe Battles The Pink Robots" for this DVD extra. It's totally bizarre and amazing.
And now, you're the one with all the Friends knowledge. You're welcome.
Image: Warner Bros. Television