If You Loved 'Summer Sisters', You'll Love These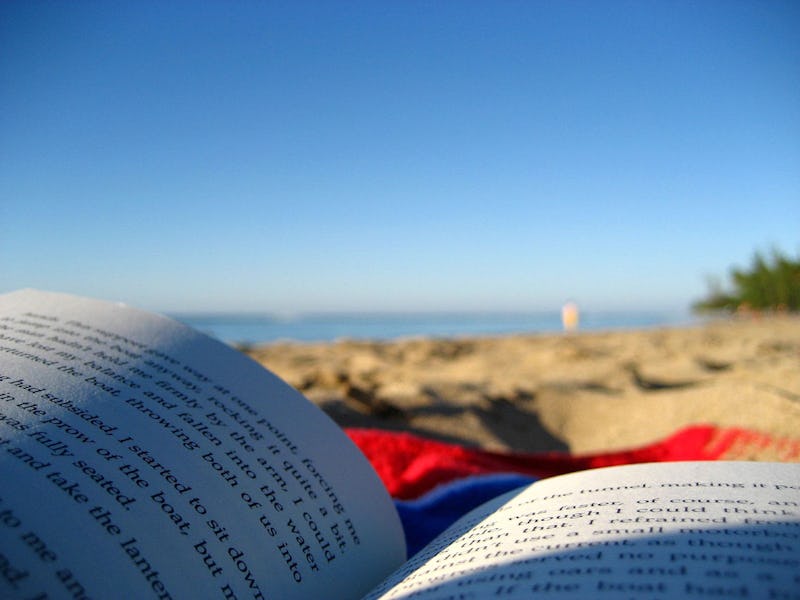 I can't remember the first time I read Judy Blume's classic Summer Sisters , but I do remember how much it made me be able to taste, feel, and touch everything about summer. I hope you know the feeling — the one that's born in your stomach and feels like completely endless possibility. It's the same feeling you get while lying on a hammock under a tree, watching the sunlight break through the leaves, or listening to the sound of the ocean while you laze on a beach, the afternoon stretching out before you in that wonderful, perfect knowledge that it will be ages before the sun goes down. Yes, Summer Sisters brought out that feeling in me every time I picked it up to read and reread.
Summer Sisters, $7, Amazon
You and I know that that there were other things about Summer Sisters that made it such an incredible read, too. There was something completely special about the relationship between Vix and Caitlin, the excitement that out of everyone in that class, Caitlin had chosen her to have that special bond. I loved the open and honest communication about sex prevalent in the novel, knowing that such things weren't strange made me feel normal. I cared about every character in the book, from The Countess to Sharkey, from Trisha to Gus. Summer Sisters made me miss a time period that I had never actually experienced, which is pretty impressive for a Judy Blume beach read.
Sure, summer is about to slip away, but I think it's actually the best time to rekindle all of the best parts of the book. I've compiled a list of 12 books like Summer Sisters full of summer, friendship, sex, love, and betrayal. Go on, open yourself up to that Summer Sisters feeling once again!
On the island of Nantucket, four incredibly close couples live out their perfect lives as pillars of the community until one of the couples dies tragically after their boat capsizes while sailing on their wedding anniversary. While the other three couples mourn, terrible secrets come to light not only about their deceased friends, but about each other. For those who liked the impenetrable mystery of Caitlin's motivations, here is a tale about a group of friends trying to understand each other and those they had left behind.
It's 1956, and Sissy LeBlanc has been trapped in a loveless marriage with her husband Peewee since she was 17. Stifled and dying for some adventure, her prayers are answered at the arrival of her old high school boyfriend, Parker Davidson, who never stopped loving Sissy. Darker and more mature than the cover would have you believe, this book is nevertheless a delightful summer read. For those who liked the history and allure of the past in Summer Sisters, this book is for you.
If you loved the unlikely friendship between Caitlin and Vix, this book is here for you. It's 1973 in Oberlin College and working class Protestant Clare Mann never thought that she would ever be friends with the likes of her new roommate, Sally Rose. Sally is wealthy, beautiful, Jewish, and incredibly sheltered. Their friendship endures through years of hardship and triumph, until the day that Clare accidentally stumbles upon a terrible family secret that may destroy her idyllic view of her best friend's family.
For those who loved Judy Blume's unflinching look at sexuality in Summer Sisters, there's Forever.... Katherine and Michael meet at a New Years Eve party and immediately hit it off, growing to love each other in an exclusive and very intense relationship. Notable for its practical views on teenage sexuality, Forever... is a beautiful and true view of the rush of first love and sexual awakening.
Addie Downs and Valerie Adler were eight years old when they decided to be best friends forever, but after a terrible betrayal in their teen years, they went their separate ways. Fifteen years later, Valerie shows up on Addie's doorstep covered in blood and it's up to Addie to decide whether or not to help her "best friend forever" one last time. For those who wished that Vix and Caitlin could have had a little more closure than they had, this book won't do that, but it might help.
Did you love the strength of the women in Summer Sisters, and the message that you don't need to be blood to be family? If so, you'll love Where the Heart Is . Seventeen-year-old Novalee Nation was seven months pregnant and on her way to California when her boyfriend abandons her at a Walmart in Sequoyah, Oklahoma. Taken in by the kind people of the town, Novalee not only learns the true meaning of friendship and family, but also learns that she is capable of far more than she ever imagined.
In the Summer of 1974, six teens become inseparable at a camp for the arts. Over the course of over fifteen years, we follow the group as some give up their artistic dreams, while others embrace them and thrive. The Interestings is a study on friendship and how it can last in spite of so many things changing, while also looking at the shifting dynamics of these friendships over time. Set in the same time periods as Summer Sisters, this book is perfect if you were fascinated by Vix and Caitlin's divergent paths as they grew up.
Like Vix, Belly measures her life in summers. Every season in between is just a waiting period between the summers that she shares with her mother, Susannah and the two boys that she met during her first summer there. For those who enjoyed the earlier summers that Vix and Caitlin shared with Von and Bru, this book captures the innocence and pain of growing up.
Something Borrowed centers on Manhattan lawyer Rachel as she struggles with committing one of the worse best friend sins imaginable: she sleeps with her best friend's fiancé. Documenting her struggles with her blossoming feelings, as well as taking a second look at her so-called best friendship, this book blurs the lines of right and wrong the same way that Summer Sisters did. For those who thought that Caitlin might not have been the best of friends...
The "same sweet girls" aren't girls anymore for the bulk of the novel, but have grown in many different ways. There's the First Lady of Alabama, Broadway showgirl, and a woman who has lose custody of her children due to infidelity, but they all still faithfully meet twice a year to catch up and spend time together. The Same Sweet Girls is a story about lifelong friendships, betrayal, and terrible loss. If you liked the growth of Sharkey, Gus, Daniel, Vix, and Caitlin in Summer Sisters, you'll like watching the evolution of these six characters as they go through life.
For those who love the Martha's Vineyard setting of Summer Sisters, The Summer of Us centers on three different girls spending a summer together on the island. This is more than just a story of three city-oriented women finding love, this is also a story of how they grew to understand each other, it's a Summer Sisters for the here and now.
For those who loved the chick-lit-hiding-inner-darkness vibe of Summer Sisters, The Godmother has this in spades. Tessa King has seven best friends and four godchildren, but can't seem to find a life of her own. Envious of her married friends who all seem to live perfect lives, over the course of the novel she realizes that this might not be the case. This one is for all the unmarried friends out there... the grass isn't always greener.
Image: flickr/Anjum Malkana