You're Probably Using Your Highlighter Wrong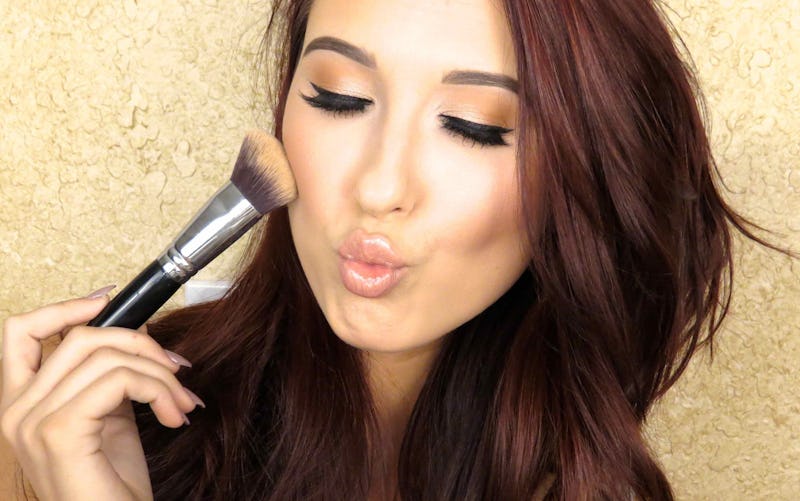 Strobing, highlighting, bathing in the dust of a thousand angelic fairies — call it what you want, this bright and dewy makeup trend has taken over the beauty world. But there are a handful of highlighter mistakes you're making that could be the reason you think this trend isn't working for you. Don't worry, I fancy myself somewhat of a highlighter expert and can teach you exactly how to correct those mistakes.
The highlighting or strobing trend can make us look like glowy, gorgeous vampires in the sun — if we do it right. Correctly done, a highlight on the face lifts, brightens, and improves the overall look of your skin and makeup. It's a great way to play up the features you love, while making your natural skin look more luminous and healthy.
If the trend isn't working for you, you may have an application or formulation issue. A great highlight is made to look dewy, not oily. It grabs attention, instead of spotlighting something you'd rather hide, like scar or uneven skin texture. But if you're having trouble achieving a perfect sparkling highlight that looks great on you, you may be making some serious highlighter mistakes.
Below are some common strobing snafus and how to avoid them.
1. You End Up Looking Oily
Instead of looking like a golden, mythical Greek goddess you wanted to, you came out looking like a grease ball. No worries. To achieve a more "glowing from within" look that doesn't play up natural oily skin, apply your highlighter after your foundation but before your blush. Doing this will minimize the shine while still giving you an illuminated appearance.
NYX Born to Glow Liquid Illuminator, $5, Amazon
Beaming like a lighthouse? If you're not into the extreme strobe look or just want to tone things down for a more daytime appropriate style, you can blend a drop of liquid highlight into your foundation. This is a great alternative if you prefer a "less is more" look, or aren't into packing on the products.
Becca x Jaclyn Hill Shimmering Skin Perfector in Champagne Pop, $38, Sephora
Light is great, but sparkles are best left for the '90s (unless that's your jam!). If your highlight looks like you just took a sparkly body roller to the face, you may be using a bad formulation. Drugstore dupes for higher-end products can work, but sometimes there's a reason they come at a lower price point: The formulation is chalky, patchy, or sparkly. If this sounds like you, begin the hunt for a creamier powder. My favorite is, of course, Jaclyn Hill's Champagne Pop. It's extremely creamy, so it blends seamlessly into my skin instead of sitting on top of it like a bad frosting.
Sigma Beauty Tapered Highlighter F35 Brush, $25, Amazon
Face looking a bit larger than usual? Yes, strobing can actually make your face look wider if you are not highlighting in the correct spot. It's important to highlight the cheeks and above, never sweeping highlight below the cheekbone. Remember: lifting up (literally, anything like bronzer, eyeshadow, blush, or highlight) will help the whole face look lifted, tighter, and younger. Dragging product down lower than it needs to go on your face will only make you look more tired.
5. You're Not Highlighting What Works For You
You tried the highlight trend, only to find every pore of your face visible? You may be highlighting in the wrong area for you. I love the highlighted look, but I often get uneven texture on the tops of my cheeks and have to skip highlighting in that area. Instead, I highlight my cupid's bow, nose, chin, and above the brow bone. If there's a particular area you have trouble in (let's say, you hate the bridge of your nose) then definitely skip highlighting that area. Just because you can, doesn't mean you have to. Find the highlight area that looks best on you and forget the rest!
6. You're Using The Wrong Highlighter Shade
Looking more Casper and less Cara Delevingne? You may be using a highlight shade that is too light for your skin tone. There are all kinds of highlighter shades on the market, some with peachy, pinky, bronze, or white undertones. If you are pale skinned, pinks look gorgeous on you. If you are medium, peachy highlighters are beautiful. If you have dark skin, you should rock peach to bronze highlights. As long as the powder or cream is two to three shades lighter than your foundation, you are good to go.
If you want to watch a highlight pro in action, check out Jaclyn Hill's makeup tutorial for how to properly use a highlighter cream.
Image: Jaclyn Hill/YouTube