Taiwan's New Fashion Trend Is All About Recycling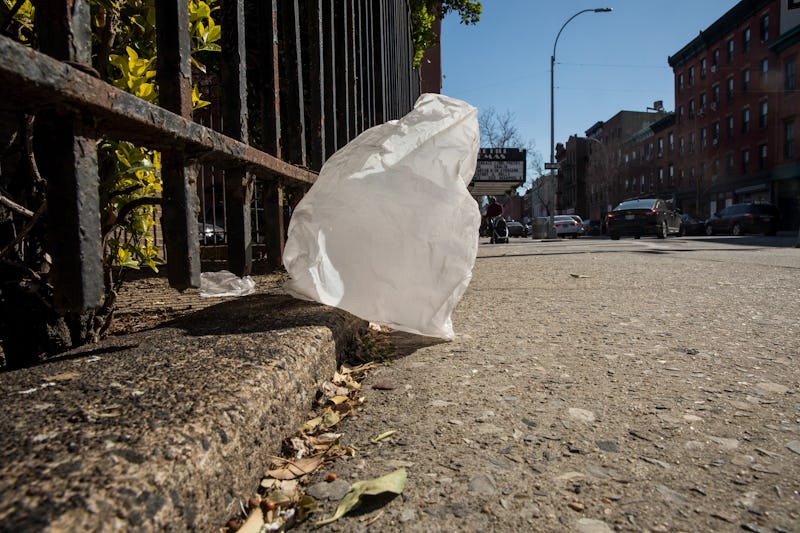 Drew Angerer/Getty Images News/Getty Images
Taking recycled fashion to a whole new level of head-scratching wonderment, plastic bag clothing is the latest "style" taking over Taiwan. According to the Daily Mail, people are stripping off their clothes and wearing bags from convenience stores in the name of fashion, and then posting it on social media. Not even Miley Cyrus at the 2015 VMAs could pull this off, but the "Dooo It" singer probably wishes she incorporated some 7-Eleven realness into her wardrobe on Sunday night.
But enough about Cyrus, or Lady Gaga, or any other pop star who will probably debut some version of the plastic-bag-as-swimsuit style that's sweeping across the tiny island nation of Taiwan. The DIY-ness of literally putting your head through a plastic bag with your arms sticking out of each handle is both genius and ridiculous at the same time, but hey, isn't fashion all about taking risks? Plus, there are plenty of fashion and beauty trends in Asia that have caught on in the mainstream.
Sure, disposable plastic bags that are turned into clothing might not look that polished yet, but there is something promising about this trend. There are already efforts in place on turning plastic waste into eco-friendly yarn and other materials, which will help to eliminate millions of tons of it being disposed in the ocean.
However, let's not all jump into the Taiwanese way of fashioning plastic bags into tops just yet. Here is a trio of eco-friendly fashion companies that use recycled materials or implement waste-free techniques into their stylish products.
1. G-Star RAW
CFDA Fashion Icon and lover of denim Pharrell Williams launched the RAW for the Oceans collection, which uses recycled plastic to make jeans like the ones Rihanna is wearing above.
2. Matt & Nat
The popular vegan handbag line is known for it's lining made from recycled plastic bottles.
3. Outerknown
For you or the stylish man in your life, pro-surfer Kelly Slater's menswear line is made from recycled fishing nets.
Image: Drew Angerer/Getty Images