Beyoncé's Visual Album is All High-Gloss Makeup, Blonde Bobs, and '80s Vibes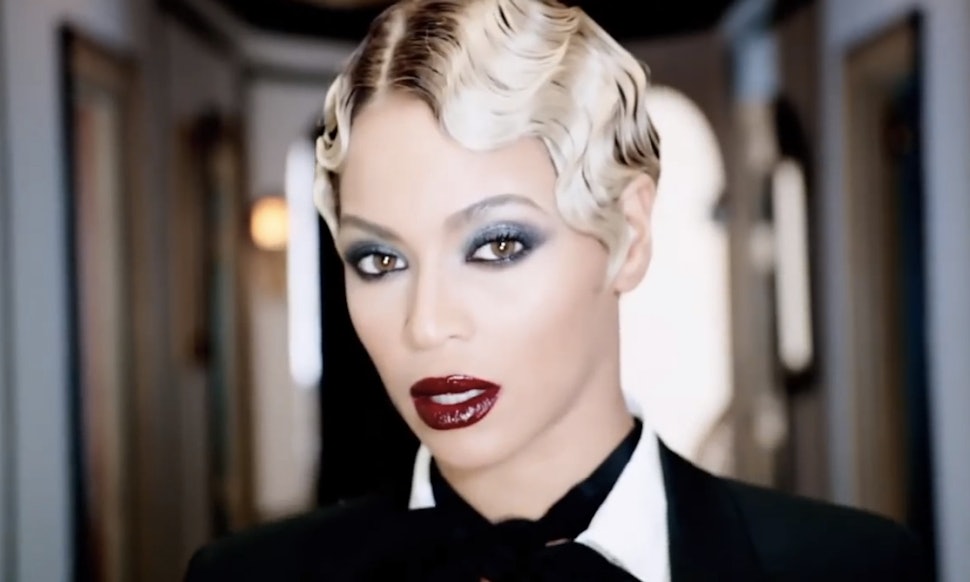 Well, um, Beyoncé dropped a surprise album on Friday, and my friend and I just watched all 17 of the music video previews, and we kept screaming and pausing the videos to talk about her hair, and her dance movies, and how she's now calling herself Yoncé, at least we think she is, and Jay Z's in at least one video, and it's just a lot to take in right now, okay?
As a society, we need to take this cultural monolith in bite-sized pieces; the sum of its parts is simply too much for our fragile psyches to absorb all at once. So here's something I think we can handle. 21 looks from the videos. No big. Just Beyoncé in a blonde bob. Just Beyoncé on a roller coaster. Just Beyoncé in 10 million outfit changes. We can do this. Hold my hand.
"Blow"
Just a coupla girls, hanging out at the roller rink in hotpants.
"Blow"
…and just like that, matte makeup is dead.
"Jealous"
When your woman is waiting for you in a corset, lace bolero, and sky-high red pumps, you better get yourself home.
"Jealous"
Freakum dress what? This revenge fantasy takes place in a one-of-the-boys t-shirt, sequined outerwear, and serious leg.
"Superpower"
This is how Beyoncé tends to run the world: slashed-up fatigue-inspired couture and a lot of necklaces.
"Superpower"
"Grown Woman"
BEYONCE AND HER MOM! Also, this is my 2014 theme song, if anyone was wondering.
"Grown Woman"
An infinite line of dancing Beyoncés, as if the world has room for more than one.
"Partition"
"Flawless"
Beyoncé kills it in Cobain-era grunge
"No Angel"
"Drunk in Love"
Literally the perfect smudgy eye.
"Mine"
Why is all her makeup so '80s and why does it all work? Also: *chops off hair*
"Yoncé"
Too much attitude for one screenshot to contain.
"Heaven"
Every now and then, Bey likes to remind us that she doesn't need to show skin to make an entrance (or, in this case, a superdramatic exit).
"Pretty Hurts"
You know what else hurts? GAZING AT PERFECTION.
"Ghost"
"Blue"
Back left: the luckiest man alive for about two more seconds.
"XO"
Roller coasters are for dates and dates are for baseball caps and this is so cute I can't go on.
"XO"
This is my favorite look of the entire visual album. The air-dried hair! The casual layered tank tops! The gaggle of amazingly gaudy necklaces! And last but not least, the giant pink bow-headband. On anyone else, it would look Minnie-Mouse-lite; on Bey, it's flawless.