6 Reasons 'American Hustle' Star Amy Adams is Hollywood's Most Overshadowed Actress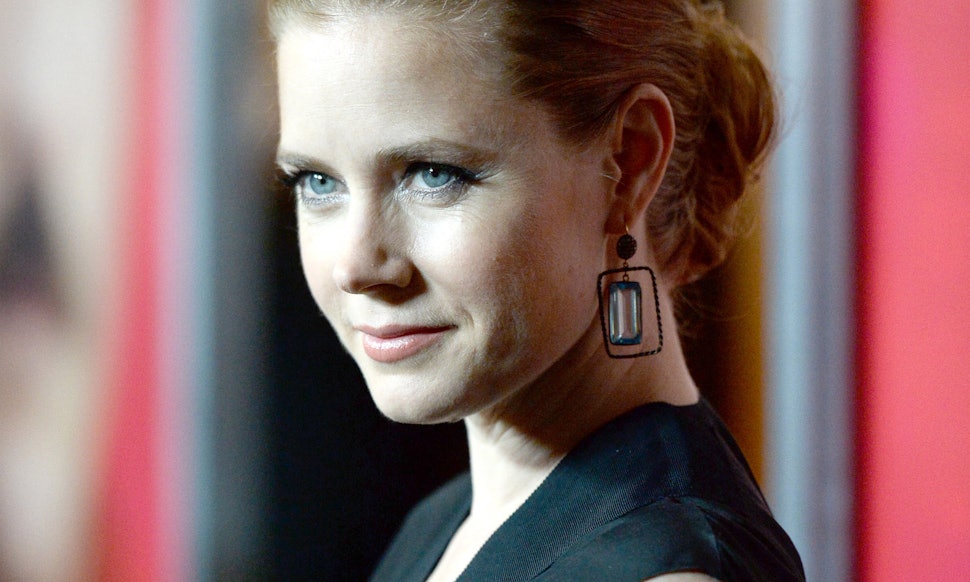 Frazer Harrison/Getty Images Entertainment/Getty Images
We said it: Amy Adams is underrated. While that might seem ridiculous for a four-time Oscar nominee, it's the best word to sum up Adams' 14-year career. Over her time in Hollywood, the actress has garnered huge acclaim for her films, yet her work has been constantly overshadowed by the more showy, in-your-face acting of her co-stars. This has never been clearer than in her newest film, American Hustle, in which Adams gives a show-stopping performance as the partner and lover of Christian Bale's conflicted con man. Yet while critics have noted her amazing acting, they've paid far more attention to the work of her co-stars, like Jennifer Lawrence and Bradley Cooper.
The problem is that Adams' performances are great because of how natural they seem. And subtlety, unfortunately, tends to get overlooked when compared to loud, passionate performances. This is a real shame, because Adams is a hugely talented actress who deserves to get just as much notice as her peers. Unfortunately, her overlooked performance in American Hustle is just the latest in a pattern for Adams. Here are seven films in which the actress has played second fiddle to her co-stars.
1

'American Hustle'
Acclaim: From The Wall Street Journal : Adams is "spellbinding in the intensity she brings to Sydney's passion and fierce ambition." From Rolling Stone : "Adams fully earns the spotlight she inhabits here." And, simply, from The Hollywood Reporter : "Adams is sensational."
Overshadowed By: Jennifer Lawrence. Compared to the bold, showy performance of current It-Girl Lawrence, Adams, yet again, fades into the background, a respected actress whose reliably great performances aren't enough to earn her the same buzz as her co-stars.
Image: Columbia
2

'The Master'
Acclaim: Adams earned her third Oscar nomination for her role as Peggy Dodd, wife of spiritual leader Lancaster Dodd, in The Master.
Overshadowed By: Joaquin Phoenix and Philip Seymour Hoffman. Both of these men were wonderful in the film, but it's Adams who should have stolen the spotlight.
Image: The Weinstein Company
3

'The Fighter'
Acclaim: In her first collaboration with American Hustle director David O. Russell, Adams masterfully played Charlene, the on-again, off-again girlfriend of boxer Mickey Ward (Mark Wahlberg). She earned an Oscar nod for the film.
Overshadowed By: Christian Bale and Melissa Leo. Both won Oscars (Leo beating Adams) for their transformative roles.
Image: Paramount
4

'Julie & Julia'
Acclaim: The movie itself may not have been a masterpiece, but the performances it featured were worthy of major acclaim. Adams' storyline was less developed than that of her co-star, Meryl Streep, but her performance was just as high quality. From USA Today: Adams was "consistently engaging." From Entertainment Weekly: Adams "nails the obsessiveness of Julie's devotion to her muse."
Overshadowed By: Streep. Thanks to Streep's better storyline and physical transformation, critics focused most of their attention on her, rather than on Adams. Just par for the course for the underrated actress.
Image: Columbia
5

'Doubt'
Acclaim: Like Julie & Julia, Doubt wasn't a wonderful movie, but the performances of its cast earned critical acclaim. As Sister James, a naive nun suspicious of a priest's actions, Adams gave a marvelous, understated performance.
Overshadowed By: Viola Davis and Meryl Streep (again). These two women received far more attention for their roles, despite Adams' performance being just as impressive, if much more subtle.
Image: Miramax
6

'Charlie Wilson's War'
Acclaim: Adams' first film after her mainstream breakthrough, Enchanted, featured her in a small but substantial role. Reviews called her "perfect" for the part.
Overshadowed By: Tom Hanks and Julia Roberts. If you're going to be overshadowed, these are probably pretty good people to come in second to.
Image: Universal
7

'Catch Me If You Can'
Acclaim: The movie was a huge success, garnering acclaim from critics and substantial winnings at the box office. Adams had a supporting role, but made an impact on critics with her moving performance as Brenda, the love interest of Frank (Leonardo DiCaprio).
Overshadowed By: DiCaprio and Tom Hanks. After a bit of initial praise for Adams, critics turned their focus to the movie's leading men.
Image: DreamWorks