Did Ashley I. & Jared Make It Post-'Paradise'?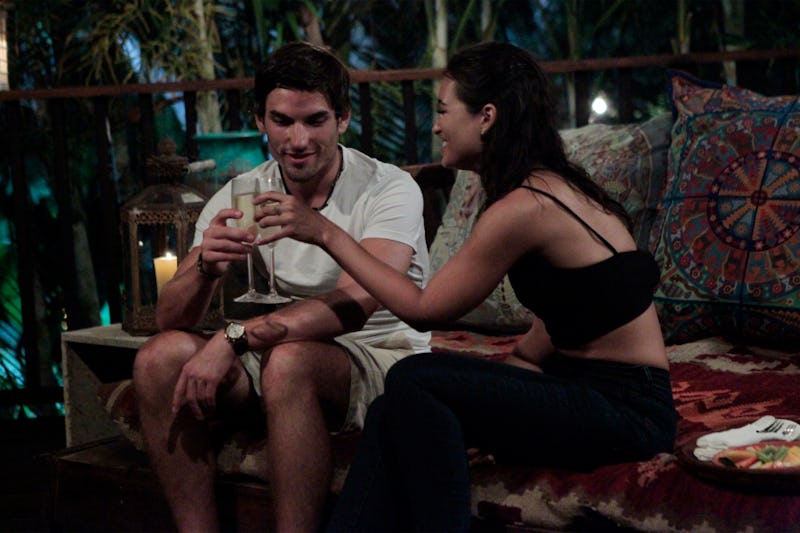 OK, so everyone has been super obsessed with Bachelor in Paradise contestant Ashley Iaconetti's virginity. Which is problematic, really. We get it, she's a virgin — so what? But that didn't stop Monday night's episode of BIP from really playing up the the theme of "virgin territory" after Ashley I. finally acted on her crush on Jared Haibon. So, after all of that hyper-focus on this couple and Ashley's sexual history, did anything come of the episode? And, more importantly, are Ashley I. and Jared from Bachelor in Paradise still together?
Jared (who still has a thing for Kaitlyn Bristowe, his season's Bachelorette) has repeatedly let Ashley I. down this season. But time in paradise is coming to a close and previews have teased that things between the two of them would heat up. So, did a hook-up happen? With a string of rejections in her wake, I'm thinking no.
We're not buying the clips of Ashley I. asking for an overnight, fantasy suite date with Jared, sorry. This is not the first time the Bachelor franchise has seriously fooled us with false, possibly staged, teasers. They've gotten us with pretend pregnancies, proposals, and professions of love. And, we are just not buying it anymore, thank you very much. We also feel a little icky about placing viewing habits and bets on whether or not a woman will lose her v-card.
So, are Ashley I. and Jared made for each other and could they last? In my opinion, no. Ashley I. and Jared just are not going to happen, and there's plenty of social media evidence — on both of their parts — that supports my theory about this relationship's success.
Her Twitter
Seriously, she could not be more clear.
Her Instagram Post Looks More Like A Crush
This romance has *crush* written all over it. With these innocent posts, I doubt this matures into something more.
Her Instagram Seems Like She Is Single, Too
This is a single girl's (who has a hint of heartbreak) post if I've ever seen one.
Jared's Instagram
Jared doesn't seem to have Ashley I. on the brain. I mean, he mostly just posts pics with other dudes.
Image: ABC/Rick Rowell