14 Female Performances To Look Out For This Season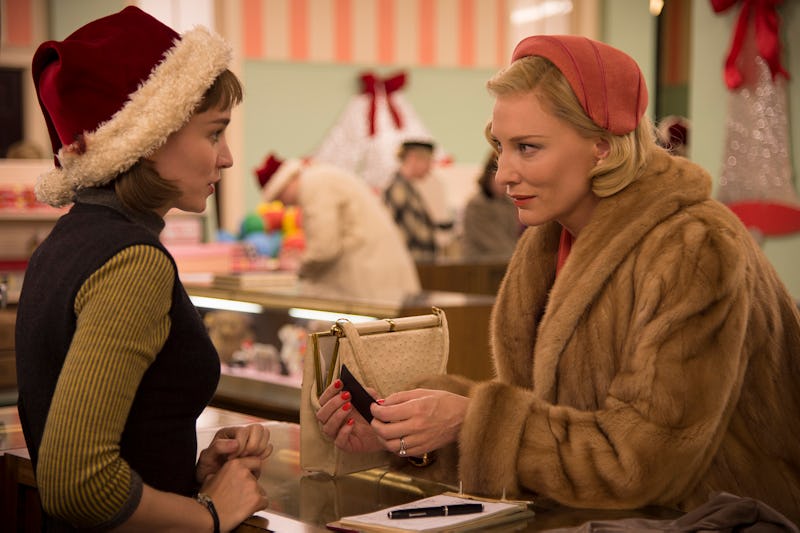 While saying goodbye to summer is never quite easy — particularly for kids, teachers, and inhabitants of the Northeast — there is a vivid silver lining to the arrival of fall. The change of seasons marks the beginning of any year's best string of big screen releases. This coming autumn and winter are likely to uphold tradition with entries featuring actors like Cate Blanchett, Maggie Smith, Nicole Kidman, Sandra Bullock, and Jennifer Lawrence. In fact, the forthcoming movie season seems to be a veritable treasure trove of terrific female movie performances.
Alongside those mentioned are a good deal more of our favorite veteran actresses — likewise, some especially exciting up-and-comers — headlining a diverse swath of feature films. Probing romances from Todd Haynes, genre epics from Quentin Tarantino, and a certain franchise revival from director J.J. Abrams all look to reap the benefits of talented female headliners. In case it's been tough to keep track of all the upcoming releases worth keeping an eye on, As such, here's a list of a few priority titles set to hit theaters throughout the remainder of 2015. Though varied in genre, tone, and theme, all of which promise female performances that we're excited to see play out in full.
1. Emily Blunt in Sicaro
If Emily Blunt hasn't already won your endorsement for the candidacy of our next big action heroine, then you're probably one of the many unfortunate individuals who has not seen Edge of Tomorrow. In Sicaro, Blunt plays a FBI agent compelled to crack down on drug trafficking over the Mexico-United States border. In theaters September 18.
2. Laia Costa in Victoria
Virtually unknown to American audiences, Barcelona-born actress Laia Costa will carry the weight of the trippy German picture Victoria over the span of a single two-hour-long take. In theaters October 9.
3. Jessica Chastain and Mia Wasikowsa in Crimson Peak
While director Guillermo del Toro can at best be called a hit-or-miss filmmaker these days, his casting of across-the-board impeccable Jessica Chastain and delightfully macabre Mia Wasikowska keeps the forthcoming ghost story picture on our radar. In theaters October 16.
4. Brie Larson in Room
Brie Larson has not headlined a movie since incepting her indie legacy with Short Term 12, instead playing second fiddle to Mark Wahlberg in The Gambler and Amy Schumer in Trainwreck. Frank director Lenny Abrahamson's adaptation of the haunting novel Room will be our next helping of Larson stardom, which alone warrants excitement. In theaters October 16.
5. Carey Mulligan and Meryl Streep in Suffragette
This one may as well have been crafted with the sole intent of making a list like this. Carey Mulligan (who is quickly and confidently earning her keep as a reliably vigorous performer) and Meryl Streep (who requires no laudatory parenthetical) teaming for a movie about women earning the right to vote? Yeah, seems like one we'll want to check out. In theaters October 23.
6. Sandra Bullock in Our Brand Is Crisis
So far, this list has been pretty drama-heavy. Such is the nature of the grave "Oscar season." But a few great comedies are bound to hit throughout the fall, and David Gordon Green's satire Our Brand Is Crisis, starring Sandra Bullock as a political campaign strategist, could well top that lot. In theaters October 30.
7. Saoirse Ronan in Brooklyn
We've seen any number of cinematic romances benefiting from the backdrop of the intrinsically enchanting New York City, but few lately have taken place in the 1950s and centered on a wide-eyed Irish immigrant. Saoirse Ronan, as adept at playing idyllic as she is at playing a sociopathic assassin (which she is rather good at playing, mind you), stars in what looks to be a perfectly charming adaptation of Colm Tóibín's novel. In theaters November 6.
8. Angelina Jolie in By the Sea
That the only Angelina Jolie performance we've seen in the past five years is Maleficent is downright astounding. The actress' screen reunion with husband Brad Pitt for a '70s Europe-set romantic flight of fancy is in species alone a Thanksgiving priority. In theaters November 13.
9. Nicole Kidman and Julia Roberts in Secret in Their Eyes
Nicole Kidman and Julia Roberts lead a government task force to take down a horrific killer in Shattered Glass director and Captain Phillips writer Billy Ray's latest grim thriller. Oh the "bad cop" shtick that awaits us... In theaters November 20.
10. Cate Blanchett and Rooney Mara in Carol
Among the most anticipated of films listed here is Carol, which pairs Cate Blanchett and Rooney Mara in a story of blossoming romance. Excitement about seeing a studio film tackle a homosexual romance with such earnest integrity aside, early word on the film is that it's as lovely as its lead players' past showcases of talent might suggest. In theaters November 20.
11. Marion Cotillard in Macbeth
Playing expertly in blockbuster cinema and down-to-earth indies (like last year's wonderful Two Days, One Night) alike, Marion Cotillard has earned just about everybody's approval. As such, her handling of what might be the most famously celebrated villain in the history of written fiction is in no small way thrilling. In theaters December 4.
12. Amy Poehler and Tina Fey in Sisters
We celebrate Amy Poehler and Tina Fey almost exclusively for their small screen work: Saturday Night Live, their Golden Globes hosting gigs, and their individual sitcoms Parks and Recreation and 30 Rock. But neither one, Fey especially, has yet to really make a mark on live action cinema. We're so deep in the bag for any Poehler/Fey partnership that we're nonetheless willing to expend hope, but Sisters does come with an degree of tempered expectation. In theaters December 18.
13. Daisy Ridley in Star Wars: Episode VII — The Force Awakens
Perhaps the most anticipated movie in recent cinema history, The Force Awakens will give us two things we've been waiting for since the 1980s: A return to the really interesting parts of the Star Wars lore, and the promise of a strong, central female action heroine in the form of Daisy Ridley's Rey. In theaters December 18.
14. Jennifer Lawrence in Joy
David O. Russell's last two pictures were instrumental in distinguishing Jennifer Lawrence from the community of YA-exclusive talent. Even if her performance in American Hustle was a bit too hokey, we can't approach the next Lawrence-Russell union, the comically-inclined period piece about a woman who hits it big with an unexpected invention, without a bit of interest. In theaters December 25.
Basically, it's time to start saving up your money to head in and out of the theater between now and the end of the year, because the sheer amount of amazing movies featuring amazing women that are about to hit the screen demands nothing less.
Images: The Weinstein Compay