7 Weird Things You Can Buy On Isolated Heroes Now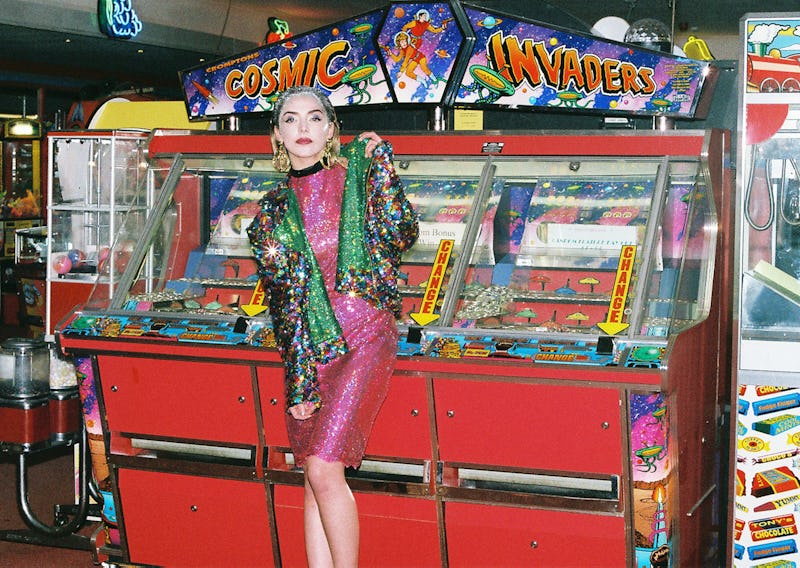 Let me introduce you to the sequin-heavy Scottish brand you've been missing your whole life: Isolated Heroes. To be honest, looking through its clothes makes me absolutely furious that I don't already own the entire current collection (as well as every other collection that has come before it). Most of its pieces are over the top, fabulously redefining tacky fashion. They're a combination of fluff and sparkle, but there are a few that are just one step ahead of the rest. Personally, I would sport all of these clothes as casual-wear as I pop over to the shop, just for the hell of it.
Although the prices are, well, pricey, all items are handmade in the brand's Dundee, Scotland studio and can be ordered from a U.S. size 2 to a 20. It's easy enough to see that no expense or details were spared in the making of these items. If you're looking to make a statement, this is definitely the store to help you do it.
Some of the plainer Isolated Heroes pieces may be something that you could get a lookalike of elsewhere, but the OTT garments are what truly make this shop so special. Here are the seven craziest, most magical things you can buy on Isolated Heroes now.
1. Silver Sequin Holographic Biker Jacket
Sequin Biker Jacket, $350.95, isolated-heroes.com
Wearing any biker jacket will make you instantly cooler, and that's a fact. Wearing a holographic sequined biker jacket, though? You'll be asking for infinite levels of fabulousness.
2. Pink Sequin Tears Dress
Sequin Tears Dress, $145, isolated-heroes.com
A see-through mesh T-shirt dress is pretty out there already, but covering it with pink sequins in slime and tear shapes will just take it that one step further.
3. Fluffy Lilac Clueless Ankle Socks
Fluffy Ankle Socks, $11, isolated-heroes.com
These socks are cheap, cute, and come in more than one color! They're the perfect pastel accessory for your ankles.
4. Hyper Yellow Cropped Fur Jacket
Yellow Fur Jacket, $168, isolated-heroes.com
Colorfully outrageous fur coats aren't usually that shocking anymore, but this acid yellow and red stripe combo definitely brings the shock factor.
5. Rainbow Split Sequin Maxi
Rainbow Sequin Maxi, $198, isolated-heroes.com
When I think maxi dress, I think flowing, plain Grecian style dresses. This dress takes the maxi in the completely opposite direction and I love it.
6. Neon Lilac Sequin Hearts Split Dress
Neon Sequined Hearts Split Dress, $228.50, isolated-heroes.com
There's just so much going on with this dress and it's all perfect. Without the sequins or the split, the dress would still wow me, but it's those additions that make it one of the coolest dresses you could possibly ever own.
7. Believe Long Sequin Coat
Long Sequin Coat, $502, isolated-heroes.com
Why don't I own this? Not owning this will haunt me until the day I die, I'm sure.
One day, I will exclusively wear garments covered in sequins. Until then, I'll just continue making lists of all the best sequined clothes I can find.
Images: Courtesy Isolated Heroes