6 Blow Drying Hacks For Lazy Girls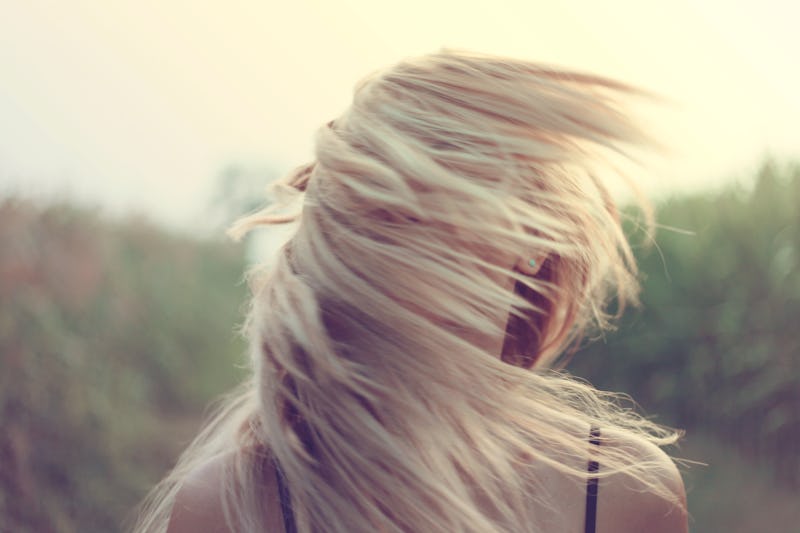 Whether you slept in until the last second intentionally or not, only having a few minutes to get ready for the day can be a little stressful. Fortunately, these six blow drying hacks for lazy girls (or girls "whose alarms broke" *cough cough*) have got you covered. As a lazy/broken alarm girl, I've tested almost all of them and can promise they're worth trying out!
There's no shame in being lazy, in fact, fashion and beauty trends for fall are definitely slanting toward #IWokeUpLikeThis vibe. The natural makeup beauty trend and makeup-free selfies have taken over IG, and top knots always looked best when "perfectly" messy. Similarly, the ballerina off-duty look is basically a way to look cool while wearing your pajamas in public. You won't find me complaining.
So go ahead, close your blinds, hit snooze, and sleep the heck in. The hacks below ensure that, whether you roll out of bed two hours or five minutes before heading for the door, you're gonna look good. All you need is a towel, a blow dryer, a brush, your handy fingers, and maybe a shoe to conquer these quick dry hair hacks. I promise you, you will never waste an hour of your life drying your strands again (unless of course you've got Rapunzel-like tresses, in which case, I'm sorry, I can't help you).
1. Towel Dry (Really, Really, Really) Well
One of the worst things you can do for your hair is go straight from soaking wet to blasting dry, hot air onto it. Shaking with a towel until your hair is more "damp" than straight up "wet" will not only save you major drying time, but reduce frizz.
2. Long Hair? Flip It Over
Beyond learning how to walk in heels, being a former pageant girl taught me the art of drying long hair super fast. Flip it upside down, and go from root to tips to keep frizz on the down low.
3. Section Off Hair
Whether short or long, drying your hair in sections is far more efficient than just sticking a blow dryer in your face and hoping for the best.
Drybar Full Pint Medium Round Brush, $40, Sephora
Reaching for a round brush will give you the volume of a salon blow-out every time. The shape also helps the hot air hit more hair at once so drying goes fast. I'm obsessed with my Drybar one!
5. Blow Dryer In Tennis Shoe
OK admittedly, this is the one I haven't tried but am definitely most curious about. Jillee shows how to concoct a hands-free blow dryer with a shoe, leaving you free to do your makeup and whatever else while your hair dries. I hope this actually works because it's freaking hilarious.
6. Finger Twist Curls
I legit used this strategy styling my sister's hair for her wedding last month! She Finds shared great details on how to get perfect finger twist curls, but basically you just mousse your hair quickly before drying, twirl sections, and blow dry the sections one at a time. You're left with gorgeous, beachy waves.
Image Credit: Splitshire/Pexels; Sodanie Chea/Flickr; Unsplash