'Empire' Season 2 Gets New Trailer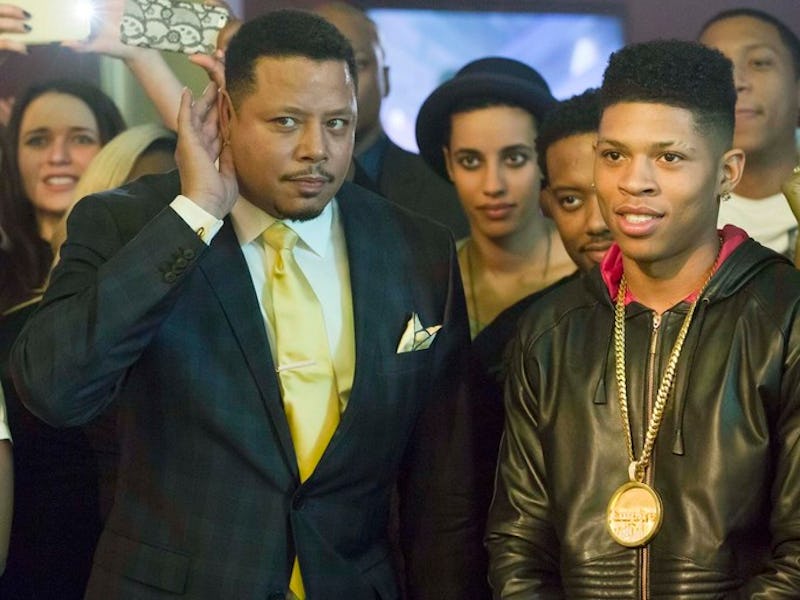 The days are growing shorter, the air is growing colder, and most importantly, our favorite shows are coming back from hiatus, which means Empire Season 2 is just a few short weeks away. Last season ended with an amazing cliffhanger, making it one of the shows I'm most excited to see make a return to my TV screen later this month. It's anyone's guess as to what's going on with the Lyon family — and Empire as a company — but one thing's for sure: It's going to be so, so good. If that wasn't already clear, it certainly is after watching the new Empire Season 2 teaser, which shows Lucious in prison, making music (and likely scheming to get out), as well as hinting at the battle for power going on within the ranks.
Lucious may have turned over control of Empire to the most unlikely candidate last season — Jamal may be the best for the job, but he certainly wasn't Lucious' first choice — but the audience clearly can't expect the rest of the Lyon family to take kindly to the news. Cookie wants what's hers, for one, and Lucious will likely want his company back once he's released, but that's just the beginning of Empire's problems. After all, if the family can't rule together, what hope do they have against outside sources?
It's clear from the new teaser that tensions are still running high between Cookie and Lucious, whose relationship is certainly not without some serious levels of dysfunction and messed up history. Empire relies on this tension, of course, since Taraji P. Henson and Terrence Howard are the undisputed stars of the show (not to diminish the amazing supporting cast, but you know it's true) and give the most intense performances. Personally, I think they're good together despite the terrible things they've done to one another in the past, and I love watching them together, for better or worse.
Is Empire's ultimate fate going to be in Jamal's hands? In Cookie's or Lucious'? Or will all the in-fighting and corruption eventually be the entire company's undoing — and the entire family's, to boot? The new teaser hints at some big storylines this season, but how the characters will fare by the end of it is still pretty much up in the air, and that's what makes it so compelling to watch.
Image: Fox