17 Books Every Funny Person Needs To Read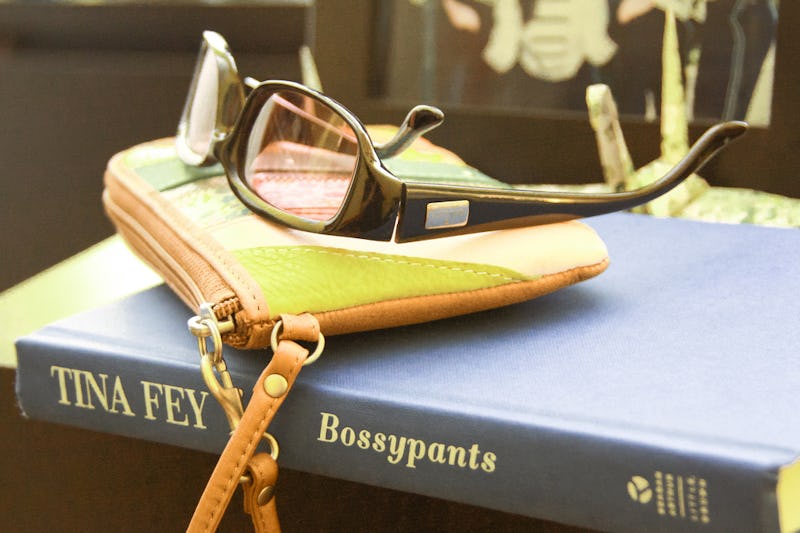 You have more than a few inside jokes, you tend to LOL at your own wisecracks, and you make jokes at inappropriate times. No one can tell when you're being serious, because most of the time, you're in sarcasm mode. Your "Watch It Again" category on Netflix includes Saturday Night Live, 30 Rock, and the latest Aziz Ansari stand up. Your favorite (and most played) album on Spotify is by Flight of the Concords. Face it, you are the Chandler Bing of your friend group. But it isn't always easy being the "funny one."
When you're expected to be hilarious all the time, you start to feel the pressure. From family gatherings to work happy hours to dinner with friends, there is always someone looking to you for the punchline. You're expected to show up to every get together with an arsenal of one-liners, "your momma" jokes, and anecdotes that start with "A man walked into a bar." People presume that you can be funny at the drop of a hat, but sometimes comedians run out of jokes, and even clowns get the blues.
Like with so many other ailments, books are the best medicine to feed a funny person's soul. They will reinvigorate your humor, inspire new jokes, and give you a brighter, more hilarious outlook on life. If you're a funny person, here are 17 books you need to read ASAP. Because even funny people need a pick me up sometimes.
If you want to know about comedy, who better to learn from than Steve Martin, one of the funniest men in the business? From his magic show at Disneyland to his years on SNL and his sold-out comedy shows to walking away from it all, Born Standing Up is Martin's poignant yet humorous memoir about honing his craft and finding himself. This icon's life story is truly legendary — and truly funny.
Mark Twain may be best know for his books about Tom Sawyer and Huckleberry Finn, but it's this autobiographical romp around the American west that will leave you in stitches. From Missouri all the way to Hawaii, Roughing It recounts Twain's adventures, the many characters he meets along the way, and the fortunes (and misfortunes) he experiences while trying to strike it rich. Wonderful storytelling and rich humor make this often overlooked classic a must-read for anyone who fancies themselves a humorist.
If you've always dreamed of talking to your favorite comedians and Hollywood funny people, then Sick in the Head is the next best thing. From Jerry Seinfeld to Spike Jones, Seth Rogen to Lena Dunham, Judd Apatow's book of conversations features some of comedy's greatest minds. An intimate and authentic insider's look at the world of comedy, this truly is, as the book's description says, Apatow's "gift to comedy nerds everywhere."
A novel in letters, Dear Committee Members tells the story of professor Jason Fitger, a once promising author whose career and personal life has taken a nosedive. Sarcastic, bitter, and downright hilarious, Fitger's letters will give you complicated feelings that land somewhere between loathing and empathy, but mostly, they will make you laugh out loud. This book is one funny people, especially the self-deprecating kind, will appreciate.
There are so many memoirs by comedians out there, but Sarah Silverman's The Bedwetter stands out from the rest. It's honest and revealing, personal and emotional, yet it is still roll around on the ground, pee-your-pants funny. If you've ever wanted to get inside the twisted head of a comedian, here's your chance.
Anyone who considers themselves funny should stock their shelves with books by Christopher Moore, including A Dirty Job. In this comic fantasy, Charlie, a very normal man trying to live a very normal life, finds out that he's been recruited for a new gig — Death. Wholly original and wonderfully imaginative, A Dirty Job makes even the grimmest subject laughable.
Everyone knows Rachel Dratch's Debbie Downer character from SNL, but not many people know about her career afterwards. Girl Walks into a Bar is Dratch's memoir about her life post- SNL , where she struggled to find worthwhile roles and instead found time for herself and even her dating life. When Dratch found out that she was unexpectedly pregnant at 44, her life changed forever. Girl Walks into a Bar features a backstage look at SNL and all the humor that goes with it, but it also has something different: a happy little love story. Kind of.
David Sedaris is one of the funniest essayist writing today, and the international bestseller Me Talk Pretty Someday collects some of his most brilliant work. From "Big Boy," a story about an un-flushed poop at a party, to "Go Carolina," Sedaris' recollection of his time at a speech therapist as a child, no subject matter is off-limits Each story, from the everyday to the unbelievable, is presented with wit, humor, and heart, and guaranteed to elicit laughter.
Comedian and actress Aisha Tyler doesn't hold back in her essay collection about her personal missteps, mishaps, and utter humiliation. Self-Inflicted Wounds is relatable as it is riotous, and each essay will have you laughing harder than the one before. Because even famous people make epic mistakes — just ask Aisha Tyler.
What would your favorite comedians give you for advice? Well, Mindy Kaling would tell you to kill off your mistress, and that only scratches the surface of this off-beat, dark, and snort-while-you-laugh book of advice from the writers, actors, and producers of shows and movie like The Office, Knocked Up, Flight of the Concords, The Hangover, and so much more. More of a coffee table book than anything, you will start by flipping though You're a Horrible Person, but find yourself completely consumed.
Kurt Vonnegut's fictional alter-ego Kilgore Trout may be one of the most ridiculous, most absurd, and most hilarious characters ever written. In Breakfast of Champions, Trout meets his biggest — and most deranged — fan who takes his fictional works as truths. What happens after is pure, Vonnegut-style madness. If you're a funny person, you'll delight in the comic genius of this Vonnegut classic.
The woman who brought you Liz Lemon and SNL's greatest Sarah Palin has also brought you Bossypants, a moving, inspiring, and uproarious memoir. From her awkward teen years in Pennsylvania to her years of improv in Chicago to finding her stride on SNL, Fey tells her story with heartfelt honesty and the signature humor that has made her the star she is today.
Not for the easily offended, Jenny Lawson captures those awkward, almost unbearable moments in life that you wished didn't even happen — like the moment your future husband and taxidermist father meet, for example. It's the kind of book that makes you laugh so hard at things you don't know if you should be laughing at or not, and it's great for exactly that reason. If The Bloggess has the kind of humor you appreciate, then you should also be on the lookout for Lawson's second book, Furiously Happy, which promises to be just as inappropriately hilarious.
Already miss The Colbert Report? Don't worry, you can relive it again and again in Stephen Colbert's outrageous book about everything that is wrong with America. No one and nothing is safe from his scathing pen — not Hollywood, not the liberal media, and not even nature. This is classic Colbert at his funniest.
Considered to be an American comedic masterpiece, anyone who considers themselves funny must add this to their TBR pile. Ignatius J. Reilly, the overweight and often misguided hero who still lives at home with his mother, finds himself caught up in one adventure after another on the New Orleans streets. Absurd and original, A Confederacy of Dunces is one you'll laugh the whole way through.
A companion to the indie film by the same name, Dear White People is a hilarious guide to inter-racial relationships and interactions. Featuring quizzes, decision-making trees, and conversational pointers, Dear White People examines race and culture with a comic eye that breaks down stereotypes and creates much needed conversations about modern racism. Because you can laugh and learn at the same time.
Dating can be a lot of things — challenging, rewarding, heartbreaking — but when you're talking about dating with Aziz Ansari, it can also be hilarious. In Modern Romance, Ansari, with the help of NYU sociologist Eric Klinenberg, turns his comic genius towards the ups and downs of finding love, from online dating to emoji-based communication. Part social science study, part comedy, this book will leave you laughing and maybe even leave you with some insight on how to find the one.
Image: Mity/flickr