What It's Like To Be A Professional Bridesmaid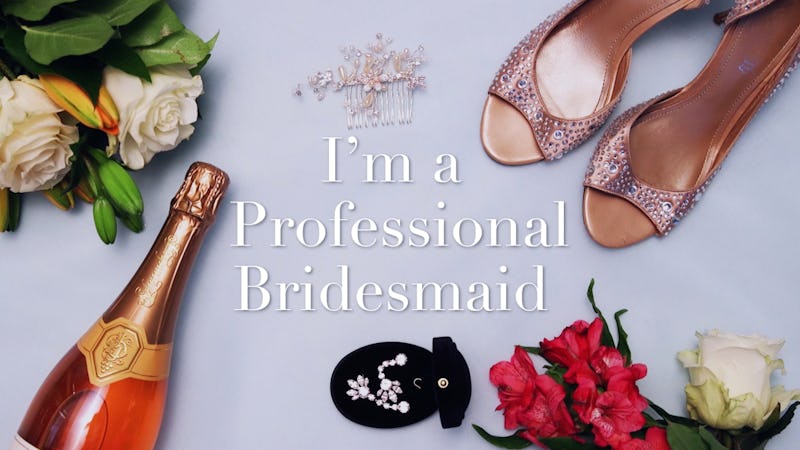 One woman is making weddings her business — and a thriving one at that. Bridesmaid for Hire Jen Glantz is a professional bridesmaid who has built an entire career handling all the dirty work that goes into making sure a couple's wedding runs as smoothly as possible. Whether she's planning the bachelorette party, or helping the bride hold up her dress during yet another trip to the bathroom (because those things can be heavy, y'all), Glantz is, as she claims on her website, "the gal pal you never knew you needed, on the day you need her most" — and she gets paid for it.
Is this all starting to sound like a storyline straight out of a dreamy rom-com to you? Make no mistake — being a bridesmaid is hard work, something anybody who has ever been in a wedding (or, you know, seen the movie 27 Dresses) can tell you. It requires someone who can commit to hours of preparation, pay painfully close attention to detail, and keep a cool head under extreme pressure. Glantz can do all that and more with a smile on her face — plus, she has plenty of experience to make her services legit. She got her nickname "the professional bridesmaid" after she was asked to stand in many of her friends' weddings, and performed her duties flawlessly — once, she was even asked to be a bridesmaid for two weddings in one day. This inspired Glantz to turn her talents into a bona fide business. Last summer, she posted an ad to Craigslist explaining her past experiences, and hawking her services as a stand-in bridesmaid for brides in need. Here's what that ad (which went viral, naturally) had to say:
So let me be there for you, this time if:
You don't have any other girlfriends except your third cousin, twice removed, who is often found sticking her tongue down an empty bottle of red wine.
Your fiance has an extra groomsmen and you're looking to even things out so your pictures don't look funny and there's not one single guy walking down the aisle by himself
You need someone to take control and make sure bridesmaid #4 buys her dress on time and doesn't show up 3 hours late the day of the wedding or paint her nails lime green.
Now, more than a year later, business is booming. This summer, Glantz was hired by bride Laura Massari, owner of The Flip Flop Bitch, to make sure everything went smoothly as she married her husband Pete Oris during a 300-person affair in Westchester, New York. Bustle had a chance to attend Massari's wedding, and watch Glantz work her magic. While Massari had a whole host of busy bridesmaids at her side, it was Glantz who saw that everyone was where they needed to be when it came time to walk down the aisle — including the couple's dog.
So what do Glantz's services entail, exactly? "Most people think this is a service for women with no friends, and that's not why I started it," she explains to Bustle. Instead, think of Glantz as a behind-the-scenes miracle worker. She busies herself with coordinating last-minute tasks and checking things off to-do lists, while the bride and her other bridesmaids can focus on other aspects of the wedding, like getting ready. Aside from actually being there during the big day for ground support, Glantz also provides one-on-one digital consultations, as well as help organizing pre-wedding events like bachelorette parties, depending on what bridesmaid package you choose.
As for Glantz's own love life? She may be a pro when it comes to walking down the aisle, but she's in no rush to take that trip herself. "You have to wait around for the right person," she tells Bustle. "You don't want to walk down the aisle with just anybody."
I, for one, cannot wait to see who ends up playing Glantz in an upcoming rom-com, because you know it's only a matter of time before her life story gets made into a major motion picture. In the meantime, check out this wonderwoman bridesmaid for hire in action in our video below.
Image: Katie Cropper Klein/Bustle