Will 'TWOT' Be Out In Time For 'GoT' Season 6?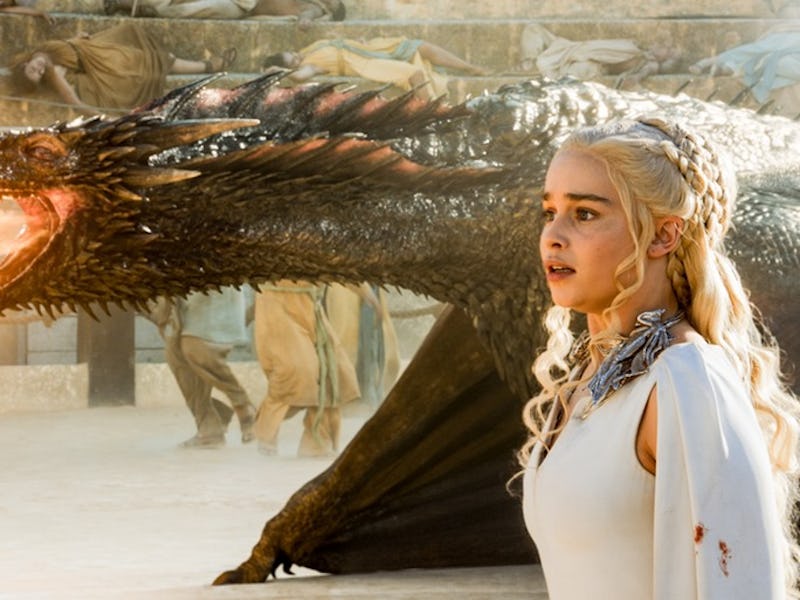 It has been over four years since A Dance With Dragons, the fifth novel in George R.R. Martin's A Song Of Ice And Fire series, was published — but the author has adamantly refused to offer any clues on when to expect the upcoming sequel, The Winds Of Winter. Apparently Martin has found time between playing with dolls and cameoing in Sharknado 3 to finally finish the most highly-anticipated fantasy novel in the world. According to Game Of Thrones fan site Watchers On The Wall, Alejo Cuervo, an editor with the publishing house that translates ASOIAF for Spanish readers, confirmed in a radio interview that The Winds of Winter is due to be released in 2016. The question on viewers' minds, then, is whether or not the book will be out in time to have any effect on Thrones Season 6.
This is an especially pressing question, considering that the HBO show is coming off its most-watched — but also its most controversial — season to date. Not only did Season 5 have the unenviable task of adapting A Feast For Crows and A Dance With Dragons, but it also had to spin its wheels and incorporate original material since it was the first season without any subsequent source material to adapt. All of that makes for a potent combination that's destined to dissatisfy some fans.
Audiences around the world are likely hoping that the news of TWOW's looming publication will help showrunners David Benioff & D.B. Weiss in Season 6. Unfortunately, that's probably not the case. Thrones usually premieres in early April; even if Martin was able to publish TWOW in the first three months of next year, it would be too late to have a major impact on the show. Filming for Season 6 is already well underway — it began in July — which means the 10 scripts for the season have been locked down for months. At this point, TWOW being released next year wouldn't have more of an effect on Season 6 than it already has; namely, by virtue of whatever plot points Martin chose to divulge to Benioff & Weiss in advance.
The real question fans should be asking is whether a 2016 publication date will be early enough to affect Season 7. I know that seems crazy — it won't even premiere until April of 2017! — but production for Thrones is so long and involved that planning for Season 7 is already in its early stages. Unlike most shows where episodes are written throughout the year as the season is filmed, all 10 scripts for Thrones have to be completed before filming begins, since all 10 episodes are shot simultaneously, out of order, with two separate units often shooting in completely different countries at the same time.
According to producer Bryan Cogman, the writers are already sketching the outline of the subsequent season while filming for the current one is underway throughout the summer/fall. Once filming is complete, the writers meet in January to combine their outlines and begin fleshing out real scripts. They then split up again to individually complete the episodes that have been assigned to each of them, a process which Cogman says takes about a month-and-a-half. They then "have all 10 scripts complete well before shooting starts."
So, to recap: outlining for Season 7 has already begun during filming for Season 6. The writers will meet in January of 2016 to fine-tune the shape of the season. Then all 10 scripts will be finished "well before" filming for Season 7 begins in July — so say sometime in March of 2016. That means that if the book is published in January of next year, before the writers split up to officially write their individual episodes, then it might have some impact on the course of Season 7. Otherwise, if it comes out in any of the 11 other months of the year, it will be too late... and the earliest The Winds Of Winter could possibly have any effect on Game Of Thrones would be in its eighth (and final?) season.
It's probably better for Thrones fans to just accept that the show and the books are two separate entities at this point. The narrow window Martin had in which to publish his remaining two novels in time for them to be faithfully adapted has unfortunately passed. The best we can hope for is that Benioff & Weiss will remain true to the spirit of Martin's saga... and maybe end up somewhere resembling the same place when the series finale — and Martin's A Dream Of Spring — roll around. After all, as Benioff stated before Season 5 even began:
There might be a few deviations along the route, but we're heading towards the same destination. I kind of wish that there were some things we didn't have to spoil, but we're kind of stuck between a rock and a hard place. The show must go on... and that's what we're going to do.
Images: Helen Sloan/HBO (2)