10 Caramel Recipes That Are Perfect For Fall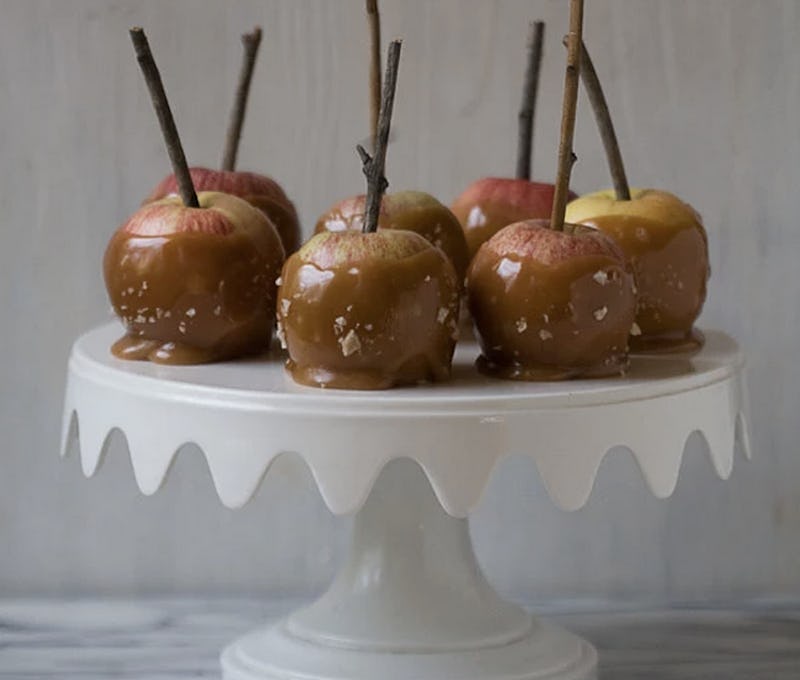 Fall cooking usually involves a lot of hearty comfort foods, soups, and in-season fruits and veggies like apple and pumpkin. But if you are getting a little sick of pumpkin spice, you can always revert to another tried-and-true fall flavor with one of these delicious caramel recipes. Drizzle it, bake it, and savor it to your heart's content. Caramel is truly the unsung hero of fall.
Caramel has always paired well with fall's go-to flavors like pumpkin, apple, pear, and, of course, all those lattes. Caramel is usually used in baking and sweet dishes, because it is naturally creamy and sugary, but you can also salt it up to go with more savory dishes. Either way, it's the perfect complement to autumn. Think about it — how many caramel apples and hard candies have you enjoyed over the years watching the fall foliage come into its own? Caramel is as much a part of the season as Halloween and high school football games, whether you make it part of your Thanksgiving feast, or enjoy it as a late night treat.
Here are a couple ideas to get your taste buds ready for all of the caramel goodness fall has to offer. Trust me when I say you are going to want to try them all.
1. Whiskey Date & Buttermilk Cake With Salted Pear Caramel Buttercream
Doesn't this cake look like something magical woodland creatures would enjoy? With so many hearty, warm flavors (hello, whiskey!), this recipe from Adventures in Cooking would be great for a fall wedding.
2. Caramel Apple Granola
A good option for breakfast if you want to have some signature tastes of fall in every bite. A Pastry Affair shows you how to infuse your granola with apple and caramel.
3. Bourbon-Spiked Caramel Apples With Smoked Sea Salt
These caramel apples are just for the grownups! The sweetness of bourbon and the sweetness of caramel go perfectly together, especially if you combine them with a tart apple. You can get the recipe from A Cozy Kitchen.
4. Caramel Glazed Doughnuts
If you're gluten-free, these donuts will be able to satisfy your sweet tooth and not upset your body. They're also nut-free for any people with nut allergies out there. Against All Grain has the recipe.
5. Pumpkin Bread Pudding With A Caramel Rum Raisin Sauce
Fall has quickly turned into the season of pumpkin everything, and this pumpkin bread pudding is sure to delight — especially once it gets colder. The caramel rum raisin sauce definitely elevates all the great fall flavors, too. You can get the recipe from A Pastry Affair.
6. Red Velvet And Salted Caramel Whoopie Pies
Don't these whoopie pies from Adventures in Cooking look amazing? They are perfect for holidays, or classroom parties for the kiddos.
7. Caramel Pear Pie With Oat Crumble
Take advantage of delicious summer pears and combine them with sweet caramel for a yummy pie, courtesy of A Cozy Kitchen. It's a perfect break from all of those apple and pumpkin pies you'll be eating in the next few months.
8. Chocolate Caramel Almond Bars
This recipe from Averie Cooks is so fast and easy, you'll barely have time to stop licking the spoon before enjoying these bars.
9. Spicy Caramel Bacon Popcorn
Just go with me on this one — popcorn + bacon + caramel = the best fall movie night treat you can imagine. A Cozy Kitchen tells you how best to combine all these amazing ingredients.
10. Peach Pistachio Caramel Crumble
Use up the last of your summer peaches to make this pistachio and caramel crumble from I Am A Food Blog to celebrate the changing of the seasons.
Looking for more great food ideas? Check out Bustle on YouTube.
Image: Adventures in Cooking ; Pastry Affair ; A Cozy Kitchen ; Adventures in Cooking ; Pastry Affair ; A Cozy Kitchen ; Against All Grain ; Averie Cooks ; A Cozy Kitchen ; I Am A Food Blog