10 Best Places To See Fall Foliage In The U.S.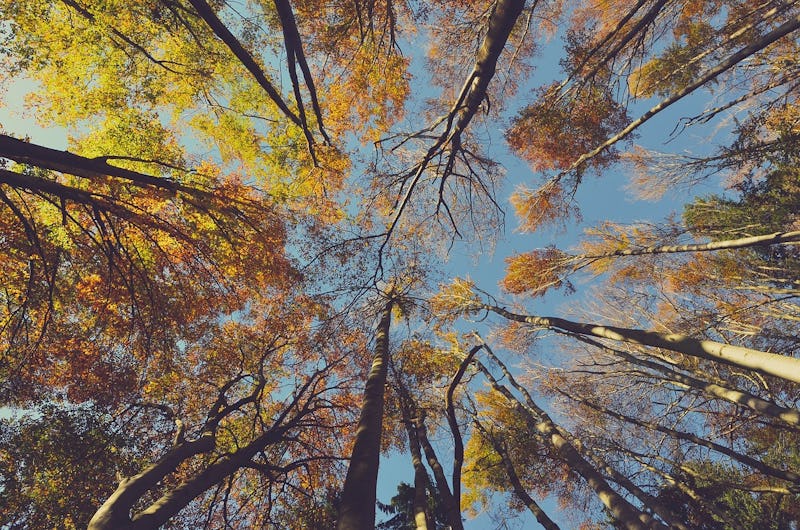 Fall is the amazing season of adorable boots, high school football games, and, of course, pumpkin spice everything. But it's also the season of changing leaves — you might be living in one of the best places to see fall foliage, and not even realize how lucky you are. Not everyone gets to experience four seasons, after all.
I live in southern California, where our seasons consist of summer, or slightly-less-hot-summer with some rain on occasion (fat chance of that right now, though, given this drought). But I was lucky enough to grow up in a place that yielded all four seasons — hot summers, cold winters, and mild falls and springs. There's something really magical about watching the leaves on the trees in your yard change from green to yellow, orange, and red, right? And there are few things more satisfying than walking to school or work or the bar, and stomping on crunchy, fallen leaves.
If you're a big fall foliage aficionado, or you happen to live in a place that doesn't really work for leaf watching, you could always plan a weekend getaway before the holiday craziness to enjoy the miracle of nature. Here are 10 places that are a must see for leaf lovers.
1. Central Park, New York
If you can't make it out of the city to upstate New York, you can always watch the leaves change in Central Park. There really is nothing quite like Central Park in fall — at least according to Wayne Newton. Late October is the best time to enjoy the city-centric fall foliage.
2. Manchester, Vermont
Really, you could go anywhere in Vermont to see incredible fall foliage, but Manchester is a good stopping point. Since the state is full of prime leaf peaking spots, you could plan a few good road trips to see all that Vermont has to offer during its peak time in early October.
3. Yosemite National Park, California
Fall foliage isn't just for the East Coast — Yosemite National Park promises plenty of gorgeous color, too. California weather can be unpredictable, but peak season usually starts in late October, with some of the best leaf peaking areas in the Yosemite Valley.
4. Grant County, West Virginia
Like most of the eastern seaboard, Grant County in West Virginia is no stranger to all four seasons. During the fall, you can watch the leaves turn in late September, and enjoy the small town hospitality of Petersburg.
5. Aspen, Colorado
Of course, Aspen is known mostly for its amazing skiing and swanky events, but it's actually a great place to see some fall foliage. Peak leave changing time is late September, so plan a trip soon so you don't miss it!
6. Branson, Missouri
The Ozarks feature plenty of spots to enjoy the fall leaves in late October, but Branson is particularly attractive. You can see all the fall foliage while visiting the cities wineries, while hiking or horseback riding, or even from above, if you fancy a parasailing adventure.
7. Gatlinburg, Tennessee
Just a stone's throw from the incredible Great Smoky Mountains National Park, Gatlinburg is a small tourist town that is happy to accommodate all the leaf peakers in early October.
8. Portland, Oregon
Oregon has beautiful woodlands all year around, but mid-October is primetime for fall leaves. The McKenzie-Santiam Pass in the surrounding Willamette Valley is a local favorite, since it has both gorgeous forests and some cool lava formations.
9. Door County, Wisconsin
You'll want to see the changing leaves before the harsh Northwestern winter strips the trees bare. The cool thing about Door County is that you can see the leaves from both the road and by boat on Lake Michigan in mid-October.
10. Lost Maples State Natural Area, Texas
There's plenty of hiking, bird-watching, fishing, and backpacking to accompany your leaf peaking at the Lost Maples State Natural Area. Fall foliage peak season in Texas is mid- to late-October after the summer heat finally subsides.
Images: Pixabay; arballoimages, virtualwayfarer, donahos, matthewpaulson, iansane, widnr, aznongbri/Flickr