DCOM Characters You Probably Forgot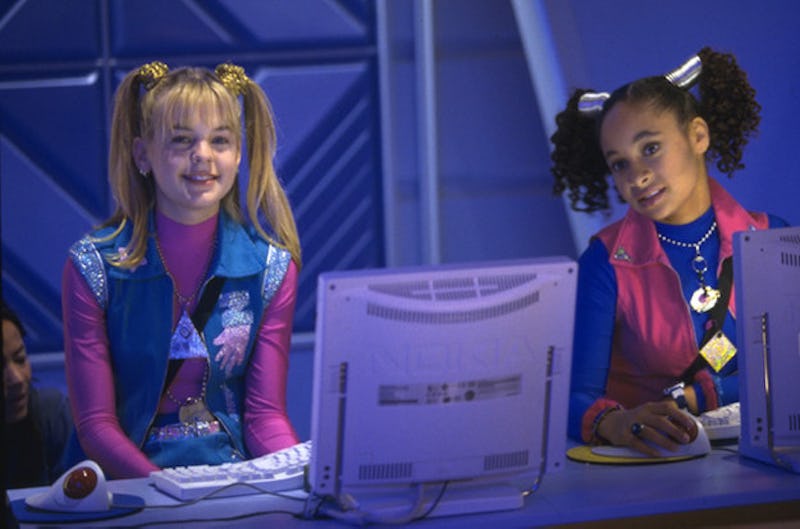 An ode to the Disney Channel Original Movie: For a five, maybe 10, year period, if we're being generous, Disney Channel produced what are objectively some of the best movies made around the turn of the century. Zenon: Girl of the 21st Century? Halloweentown? Cheetah Girls or Pixel Perfect? Even if you don't remember the plot particulars, you probably remember the accompanying songs ("Cheetah Sisters," "Supernova Girl," for example). DCOMs, as we all know them, were perhaps just as notable for their use of the same canon of actors in each and every film — one movie's romantic lead could make anything from a cameo to a sidekick in the next. Disney Channel Original Movie characters were their own universe.
But many of these characters, in the wake of the tragic decline and fall of the Disney Channel Original Movie, have been lost from the collective memory. In their heyday, they were our best friends, style icons, and family we didn't know we needed. These 8 characters, who range from stars to peripheral figures, will reignite your nostalgia for the bygone era of the DCOM and make you revisit Cheetah Girls (and the dance moves you know you perfected each time you watched it).
1. Nebula In Zenon: Girl Of The 21st Century
Zenon's best friend was played by a baby-faced Raven Symone, until she was replaced by Shadia Simmons for Zenon: The Zequel. (Did you think we wouldn't notice, Disney?)
2. Jackal Johnson In Cheetah Girls
Behind the scenes of the Cheetah Girls' strife, near-breakup, and eventual reunion was the scheming Jackal Johnson, the record producer who inflates Galleria's ego to astronomical proportions.
3. Jen In Get A Clue
Lindsay Lohan plays a teen journalist on the hunt for a missing, beloved teacher — Brenda Song plays Jen, her trusty sidekick and resident fashionista. Revisiting Jen now gives you a freeze-frame of what "fashionista" meant circa 2002.
4. Aggie In Halloweentown
You've got to love a lady who can rock a cape. Aggie set a standard for grandmothers everywhere when she swooped in to teach her granddaughter Marnie (what a witchy name) the ropes of witchcraft and sorcery.
5. Ethan In Halloweentown High
Speaking of Halloweentown, Ethan of Halloweentown High, a warlock and Marnie's nemesis, whose father is the menacing Edgar Dalloway, who wants to close the portal between Halloweentown and the mortal realm.
6. Bobby Flay In Eddie's Million Dollar Cook-Off
Baseball non-prodigy but definite cooking prodigy Eddie Ogden wows his family with his newly discovered skill — a skill he takes to a cooking contest judged by none other than Bobby Flay himself. The celebrity chef and steakhouse entrepreneur plays himself in Eddie's Million Dollar Cook-Off, and it's a cameo that may have escaped younger eyes. We live in a post-Paula Deen world, though, and celebrity seems to come with the territory of a chef de cuisine now. In a humorous parallel with the above scene, Flay actually asked for an Easy-Bake Oven for Christmas as a child (though his father thought a G.I. Joe would be more gender-appropriate).
7. Samantha In Pixel Perfect
Pixel Perfect gets its name from the blonde, beautiful Loretta, the hologram who fronts the band the Zetta Bytes. But lest you forget, Loretta was invented because Sam, the band's actual frontwoman, really just cannot dance. Still, you know you really wanted to be cool and offbeat Sam instead of peppy and glamorous Loretta.
8. Alt-Lizzie In The Lizzie McGuire Movie
It's not officially under the auspices of the Disney Channel Original Movie, but it's a spin-off of the beloved Lizzie McGuire show. And in case you needed a reminder, Hilary Duff plays two separate Lizzies — Lizzie McGuire, and her Italian alter-ego-mega-pop-star. They even perform a duet together! You know you knew all the words. You know it.
Maybe we've outgrown them, or maybe Disney just doesn't make 'em like this anymore — whatever the reason, you've probably forgotten about these beloved characters. If this hasn't sent you into fits of nostalgia (or something), I don't think I can help you.
Images: Disney Channel; Giphy (6)