Instant Home Cleaning Hacks For Lazy Girls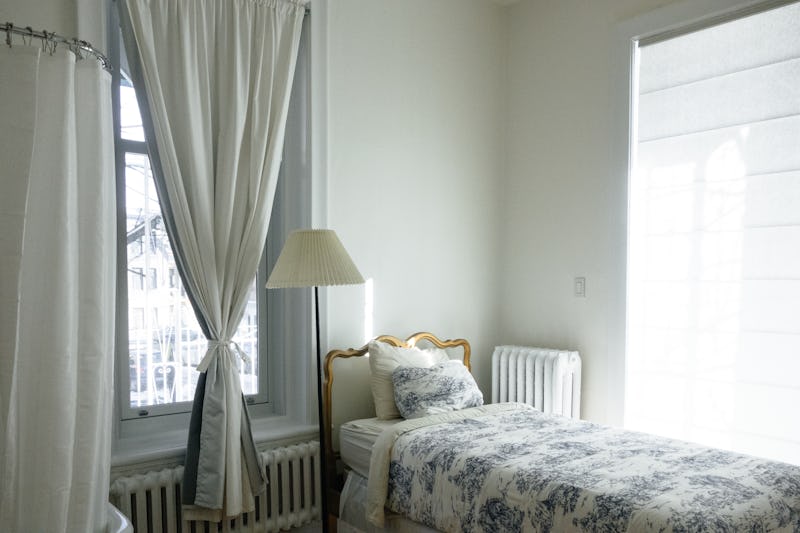 Cleaning is not my thing. Often the mere thought of it makes me want to have a cup of tea and watch True Blood instead. However, the sense of satisfaction afterwards makes me feel great. Over the years of forcing myself to clean, I've compiled a list of tricks to instantly clean your home, because I know I can't be the only twentysomething out there who hates cleaning.
To be honest, it's not actually the cleaning part that I hate, it's the thinking about cleaning that totally puts me off. I am my own worst enemy. I always find other jobs to do or make plans to meet up with friends, when really I should be at home vacuuming and scrubbing the tub. When I eventually get going and I've got my favorite music playing and I am watching my progress unfold, I actually feel great. However I often end up cleaning only when I need to because I can't stand the thought of spending my precious spare time on my hands and knees scrubbing the toilet — I mean, who really wants to do that?
So for anyone else out there who is a "I'll clean when I have to" kind of gal, here are seven speed cleaning tips for you.
1. Utilize Your Feather Duster
Guests coming within the hour? Hop to it with a feather duster and tackle all of those surfaces that are in plain sight. You're not going to need to worry about rooms which your guests probably won't venture into, so focus on the main living spaces and dust like you've never dusted before. You can do a deep clean when they've gone and you can vacuum up the dust which spills onto the floor — more on that point shortly.
OXO Good Grips Microfiber Delicate Duster, $6.99, Amazon
2. Vacuum Key Areas With A Cordless Vacuum Cleaner
As with the dusting, stick to the key areas, in particular the ones that people will walk over and potentially see crumbs and debris. If you don't have a cordless vacuum cleaner, I highly recommend you invest in one. My grandma has one and it's just awesome. Spill cookie crumbs on the floor? Whip out your cordless vacuum. Someone brought some dry mud in on their boots? Let your cordless vacuum make easy work of it. They're usually light and very convenient without having a cord to hold you back — you can reach different areas in your house without having to unplug and plug in again somewhere else. And some models don't even need bags. Genius!
Shark Bagless Navigator Freestyle Cordless Stick Vacuum, $89.99, Amazon
3. Take Out The Trash
Taking out your trash can instantly make your kitchen look (and smell) better. The same can be said for bathroom garbage cans or home office trash cans. I know it's tempting to leave your trash piling up until it's almost overflowing but for goodness sake, just take the trash out! There's a special place in hell for people who balance things precariously on top of the garbage just because they don't want to take the trash out. Spoiler: This was definitely me in college — sorry former roommates!
SimpleHuman Semi-Round Step Trash Can, $49.98, Amazon
4. Get Rid Of Bad Smells
Give your home an instant refresh with a natural, people and pet safe air freshener such as this Eco-Me Vitamin-Infused Air Freshener. Not only will it leave your home smelling super fresh with its minty scent but it is also infused with vitamin B. Many chemical based air fresheners just mask smells and some chemical air fresheners contain phthalates which may be bad for your health, according to TIME. Eco-Me's food-grade, plant-based formula cleans effectively and safely. If you haven't cleaned in some time, you may wish to do your thing and then spritz this handy air freshener around to make sure any lingering smells are eliminated.
Eco-Me Vitamin-Infused Air Freshener, $5.39, Amazon
5. Get Hot & Steamy
I don't currently have a steam mop, but it's definitely on my list of household items to buy. My auntie and grandma both have a household steam cleaning machine and they swear by it. You could shave valuable minutes off your time schedule by not having to fill a mop bucket, organize your preferred floor cleaning chemical, and then wring out the mop multiple times while you're trying to get to work. Just fill your water tank and switch it on. This model takes about a minute to heat up, so use this minute to clear your path and then get steaming! Plus it sanitizes with steam so you don't have to mess around with cleaning products; just whizz around with your steam mop.
Bissell PowerFresh Steam Mop, $89, Amazon
6. Declutter
Decluttering is the best way to make your home look clean in an instant. Start by throwing away any trash that may be lying around, and next move onto putting things away where they should be, including putting dirty laundry in the laundry basket, and make things look organized, clean, and in their proper place. Be honest and ask yourself, "Do I really need five pretentious-looking, heavy books lying on my coffee table?" Clutter is an easy thing to tidy up and it makes your home look much cleaner when it's tidied away. It's like a cleaning magic trick for lazy girls.
The Life-Changing Magic of Tidying Up: The Japanese Art of Decluttering and Organizing, $10.19, Amazon
7. Open Windows
Clean the air in your home just by opening a window. According to an article by Healthy Child, Healthy World, an organization that aims to make families healthier, opening a window can drastically reduce indoor air pollution, which occurs from a wide range of everyday household items such as cleaning products and furnishings, according to the U.S. Environmental Protetion Agency. This also gets rid of stagnant air, as well, and will make your home feel fresh and clean again.
Happy cleaning, fellow lazy gals. You'll feel better when the job is done.