Jake Gyllenhaal Didn't Want To Bust A Move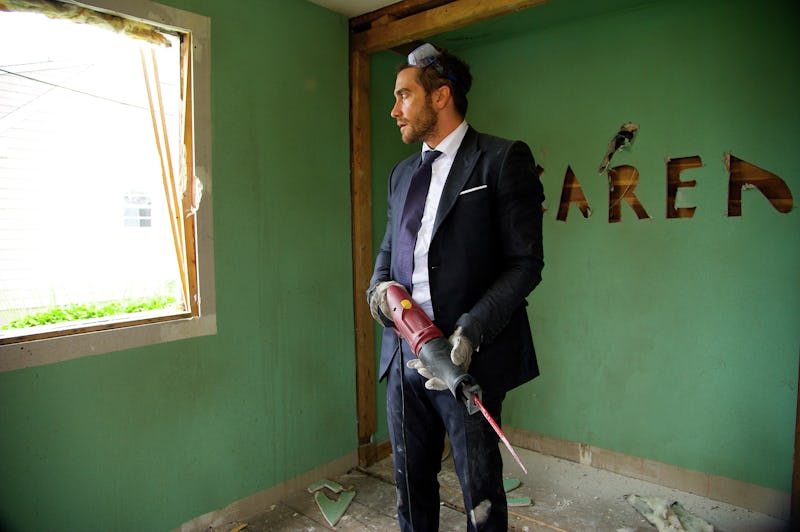 While his last Oscar nod was nearly 10 years ago in 2006 for Brokeback Mountain, Jake Gyllenhaal is churning out award-worthy performances, one after the other. From 2014's Nightcrawler, 2013's Prisoners, and 2012's End of Watch, every year is another Gyllenhaal slam dunk, or as Jean-MarcVallée, the director of the actor's latest project, Demolition , calls it, "The Jake Quake." Opening to a packed house at Toronto International Film Festival's opening night, Demolition "is my most rock n' roll film to date," the director boasts. "It's edgy, it's irreverent, provocative, and always deeply moving. Choosing your film is choosing your lifestyle. I wanted to do it badly," he says of Demolition.
"It's about a guy who doesn't know how he feels because he's been locked in convention for so long," says the bearded actor of his role as a man dealing (or not dealing) with the death of his wife. "A lot of times with an actor there's a... vanity... but with [Marc-Jean] you walk to set and you go in your trailer, put on your wardrobe, no makeup — nothing — and you arrive at set at 6, you shoot at 6:05," he explains. "There was no time for the brain to be involved in the process. Actors and directors spend so much time talking about how it's a dance, but it's literally a dance on his set."
And the Everest actor is speaking quite literally. Perhaps the most memorable scenes from the film, which doesn't hit theaters until April, are of Gyllenhaal dancing through the streets and subways of New York City. It's, in a word, glorious. "[Jean-Marc] made me this iPod and I didn't know any of the songs on it. He never showed it to me until I was supposed to start dancing," he admits. "I was always looking on the schedule as to when the dancing was going to be because I was terrified. I wasn't looking forward to the go, but as soon as the doors open... [Jean-Marc's] like, 'You ready to dance?' and I was like 'Oh shit!' and I started dancing among all the commuters. By the end I didn't want to stop... and he had to stop me."
Another unforgettable moment is when Gyllenhaal and his then 13-year-old co-star, Judah Lewis, rip apart a house that was built specifically for them to destroy. "We destroyed the house ourselves. [Jean-Marc] also destroyed a couple things," Gyllenhaal says with a grin. "He really looked forward to breaking some windows."
The writer of the script, Bryan Sipe, got his inspiration for the film's narrative from a background in construction. "I used to do demolition work, and I remember being in these burned out houses. People walk away from a fire, their furniture is there, their clothes are there..." he says. "I never understood how things were put together, but once I was able to pull it all apart... I couldn't build it, but I got it. My writer brain was already processing that analogy."
Gyllenhaal sums up the film, which addresses how people grieve in different ways, with this pearl: "Feelings don't come when we expect them to," he says. "It takes a keen eye to see what [Jean-Marc] is trying to do. It's not telling you the obvious in a conventional way, and that's beautiful because that's how we walk through life."
Demolition hits theaters April 8, 2016. Watch the trailer below:
Images: FOX Searchlight; YouTube