Paint With Donald Trump Is The Only Site You Need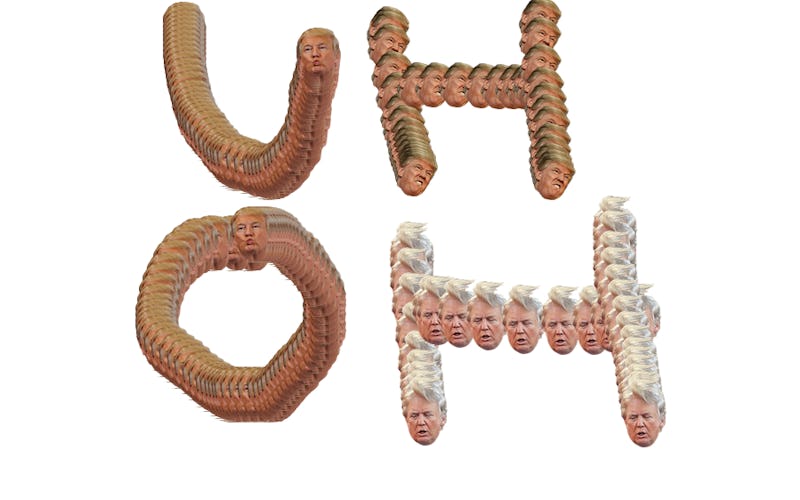 If you need to be saved from your current reality, never fear, because this Paint With Donald Trump website is here to save you. The man who went from being the butt of all our hair jokes who is now running for president is our daily reminder that we get the world we deserve. And if this is that, then we have a lot of making up to do. The site, meanwhile, is brilliant. It allows you to use tiny Donald Trump faces, in various emphatic expressions, to paint whatever the hell you want. Go forth and dick pic, young padawan.
Jon, who hails from the UK and works for an internet marketing company, is no stranger to creating such glorious content on the internet. He is also responsible for PaintWithNigelFarage.com, which he crafted in March during the UK elections. When Bustle asked him his inspiration for this new-fangled version, he wrote: "It went down well so thought 'why have another original idea when I can milk this idea a bit more. This is the internet after all!!'. And so it was born." Allowing people to do things like this, and make them bizarrely proud to be an American:
But Jon's aspirations for the site weren't those of fine art, but rather, fine cultural critique. "What I was really hoping to see was some cocks and balls, and ideally at least one ejaculating penis. So far I've seen close to 900 so I am over the moon," he wrote. Indeed, even though Donald Trump is running for President, most people who have at least half a brain still see him as a total joke, including Jon. The name Trump, actually, is a bit of a joke in Jon's homeland UK. When Bustle asked him if he could say one thing to Donald Trump, he explained: "In the UK a 'Trump' is a fart, so we will probably snigger at you [Donald] behind your back if you come on state visits. It's not your fault though." Here's my artists interpretation of Donald Trump making a speech:
If you're worried about spending too much time making crazy Donald Trump pictures, then don't worry, you're not the only one that's getting distracted by the site. When we asked Jon if there was anything else he'd like to tell us about the project he simply answered, "It has taken up far too much of my time." Now, let the rest of us spend the rest of our Friday thinking up new ways to insult Donald Trump using this amazing site.
Images: Paint With Donald Trump (3)