Fabulous Hair Inspo From The Middle Ages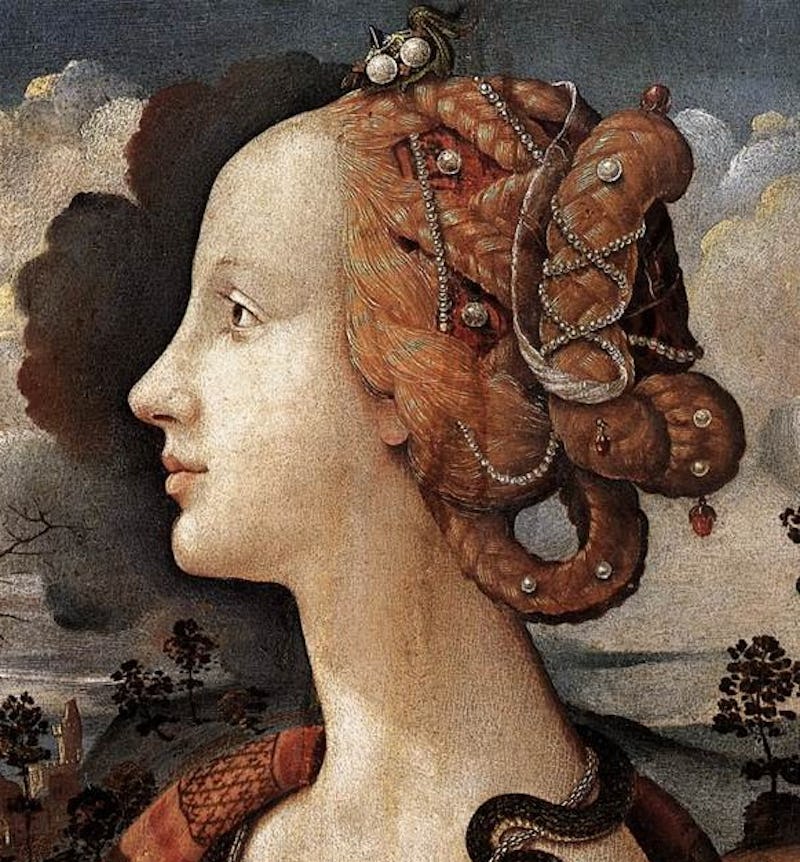 Inspiration is everywhere, if only you know where to look. And when it comes to trendy hairstyles, most jump to places like Pinterest or magazines to find modern trends. Obviously, Hollywood is all about the #hairgoals. Jen's classic cut? Check. Blake Lively's timeless locks? Check. Kylie's ever-changing mane of follicle goodness? Check. Popular Medieval hairstyles? Umm... check? The truth is that fabulous 'dos existed even before the dawn of starlets and makeup artists. Let me take you back.
The Middle Ages were wildly underrated in the world of chicness. Sure, women were forced into marriages and led oppressed, freedom-less lives. But their beauty tastes? On point. Styles were conservative and ornate — seriously, how was anyone ever able to use the restroom in those constricting gowns? It's like peeing while wearing a romper, except much, much worse. Regardless, they had a very feminine style sense when it came to both fashion and beauty.
In the Middle Ages, loose and exposed hair was considered overtly sexual. Women tied their locks up or covered them in headdresses and ornate headpieces. What lay beneath it was natural, uncut tresses that society simple would not have been able to handle. Here are seven Medieval-inspired styles to serve as inspiration for your next hair adventure.
1. The Beachy Waves
It's Middle Age Poland and exposed hair is scan-da-lous for married women, as painted by Stanisław Samostrzelnik. I can only imagine how shocking a hairstyle like this would have been at this time. And just imagine trying to twist a wand around that length. But now, it's 2015 and we do what we want. Here's how to beachify your hair to replicate these rule breakers.
2. The Crown
Yas. Kween. This painting is believed to be of St. Catherine and St. Margaret, who are rocking some envy-inducing crowns on their heads and a dragon at their feet. The crown is such a classic accessory. Why not bring it back for an extra empowering Tuesday? Here's how to style your hair so you can add a crown on top like a pro.
3. The Middle Part
I love taking some inspiration from the guys (boxers as shorts, anyone?), and John the Evangelist has got some serious hair inspo going on. A middle part with some ringlets is the perfect way to spice up a mundane hair routine.
4. The Head Piece
It might be all about the flower crowns and hair chains today, but hair accessories are hardly modern. This introspective portrait is believed to be Simonetta Vespucci, painted by Sandro Botticelli, in the late 1400s. She opted to knot, twist, and tie her tresses back in an intricate headpiece, complete with pearls and fabrics. Here's how to pull off a similarly intricate updo.
5. The Simple Updo
Ah, Italians sure do know their style. Girolamo Mazzola-Bedoli painted this "Madonna and Child in a Landscape," complete with some very angelic hairstyling. This intricate look is perfect for your next formal event, complete with curls and twists and braids. Serious question though: How many bobby pins does it take to make this one stick? Ditch the headband and use your own braided hair as an accessory.
6. The Bold Updo
Move over, Princess Leia. This is how you rock side braids. Margaret III, Countess of Flanders, kills the updo game in her portrait — with some seriously fleeky eyebrows to go along with that. Want to recreate the empress's look? This Leia-inspired hair tutorial will help you nail it.
7. The Faux Bob
Emperor Ferdinand knows what's up. Although his prepubescent bob (he was believed to be around 10 or 12 at the time of the portrait) is likely legit, you don't need to commit to a cut to score this look. Just follow these steps to rock a temporary version of this 'do.
Try one of these Middle Age looks if you're looking for a little adventurous inspiration or just want to get in touch with your ancestral roots.
Images: Wikimedia Commons