How To Use The Best Of Fall's Fruits And Veggies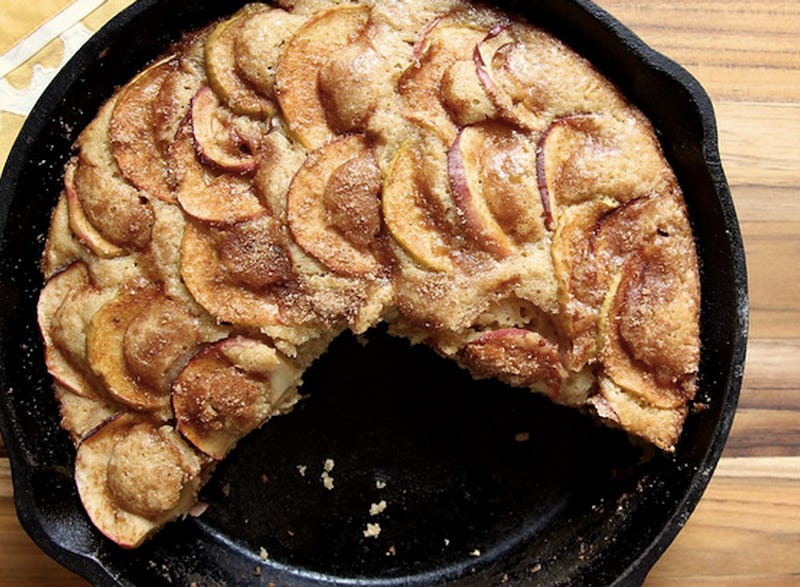 You know what fruits and vegetables are just as good as strawberries, watermelon, zucchini, and eggplant? Apples, figs, sweet potatoes, and broccoli rabe — some of fall's best produce. Summer may soon be ending, but that just means that fall fruits and vegetables will be taking over your farmer's markets, resulting in lower prices and better quality. If you have ever tried to buy a pomegranate in May, you'll know what I mean.
And why should summer produce have all the fun and love anyway? Fall's produce, like apples, pears, and pumpkins, are the building blocks to some of our favorite holiday desserts. And carrots, Brussels sprouts, and cauliflower make up some of my favorite side dishes. But if you're still craving summer produce like blackberries, sweet corn, and peaches, you're in luck for now — they are still in season come early fall.
Look to farmer's markets and co-ops to find fall's lesser known produce like quince and persimmons — you'll never know what your palate likes until you try new things, and fall produce has some of the most unique fruits and vegetables of all the seasons. But it doesn't have to end once December rolls around. To extend the life of fall produce come winter, look into pickling, jam-making, and freezing for preservation.
Here are my picks for fall's best produce, and the recipes to make with your bounty.
1. Figs
Figs are one of those fruits that feel at home in a variety of dishes: eaten fresh with cheese and charcuterie, folded into baked goods, wrapped in prosciutto, or frozen in ice cream. The delicate and aromatic fruit is best eaten through May and November. Try this roasted sweet potato and fig salad recipe by A Cozy Kitchen for a light, but filling lunch.
2. Fennel
You may know fennel as the spice that flavors sweet and hot sausage, but the plant from which it comes from can be used in soups, salads, or baked as a side dish. The anise-flavored bulb can also be shaved and used as lettuce. I like it in Climbing Grier Mountain's ciabatta fennel hash with a sunny-side egg.
3. Apples
Perhaps the best known fall produce, the apple is as delicious raw as it is cooked. In North America alone, there are more than 2,500 varieties of apples, meaning you're bound to find a kind you like. Try this cinnamon-sugar apple skillet cake by Joy The Baker the next time you make it to the farmer's market.
4. Winter Greens
Collard, mustard, and turnip greens don't get as much love as kale, but the nutritionally dense greens contain just as many vitamins, minerals, and antioxidants, if not more. Greens are great when simmered and seasoned for hours, but try this collard wrap with carrot hummus by Love and Lemons for a quick lunch.
5. Pomegranate
Pomegranates had their starring moment a couple of years back as an antioxidant-rich food. While the bottled juice at the grocery store may be expensive, the actual fruit this time of year will be a bargain. Try this spaghetti squash, pomegranate seed, and feta cheese salad by the Healthy Foodie.
6. Pears
Like apples, pears are known for their variety — more than 3,000 types exist. Anjou, Bosc, and Bartlett pears are the most well-known varieties in stores, and each has its own flavor profile and best use. Try this pear and chocolate tart by The Messy Baker if you have a sweet tooth.
7. Sweet Potatoes
The sweet potato is a starch-rich root vegetable native to the Americas. Often confused with yams and thought to be related to the potato, sweet potatoes are in a class of their own. Try this sweet potato and caramelized onion frittata by Big Girls Small Kitchen, ideal for brunch, lunch, and dinner.
8. Winter Squash
Butternut, acorn, spaghetti, and the popular pumpkin are just a few varieties of winter squash that are harvested in early fall, and enjoyed through winter. Looking for a twist on traditional meat and cheese lasagna? Make this butternut squash and sausage lasagna by The Kitchn.
9. Brussels Sprouts
If there is one thing on this list you should learn to make properly, it's Brussels sprouts. When oven-roasted, the vegetable caramelizes and takes on a slightly sweet flavor. Overcook it, and you'll get the nightmare of a vegetable you had as a kid. Master the sprouts with this roasted garlic Brussels sprouts recipe by Damn Delicious.
10. Broccoli
Sure, you'll see broccoli at the grocery store year-round, but its peak is between October and April. That's seven months to learn how to roast, sauté, and steam broccoli. Impress yourself by making this broccoli soup recipe by My Darling Lemon Thyme with tahini, lemon, and pine-nut za'atar.
11. Carrots
No one ever did mind getting carrots in their lunchbox (as long as there was a cookie too). While we're used to the bright orange variety, neatly trimmed, heirloom varieties can come in many shapes and colors — from white and purple, to long and stumpy. Try this carrot cupcake recipe with vanilla cream cheese frosting by Averie Cooks for a touch of nostalgia.
12. Cauliflower
The sister sibling to broccoli, kale, and Brussels sprouts, cauliflower is a versatile vegetable that can be served as a crudite, sautéed as a side, added to pasta, or steamed and pureed into a sauce. Try this simple weeknight meal: spicy whole-wheat pasta with roasted cauliflower, brown butter, and garlic.
13. Persimmons
The next time you're at the farmer's market or in a speciality supermarket, look out for these brightly hued fruits to add to your cakes, puddings, and salads. Eat these as a snack when they're fully ripe. If you're looking to add it to your main meal, try Adventure in Cooking's roast chicken with persimmons and sage.
14. Grapes
If you are a wine buff, you'll know that harvest comes in early fall, when the grapes have ripened and are ready to be made into wine. Although red and green grapes are found year-round, it is early fall when they reach their peak. Try Concord grapes if you can get your hands on them, and add them to this grape and ricotta focaccia recipe by My Name Is Yeh.
15. Beets
Beets may have a sour reputation for staining everything in sight, but that shouldn't deter you from cooking or eating raw this nutritional root. Start simple with this roasted beet and carrot salad by Naturally Ella.
Images: A Cozy Kitchen; Climbing Grier Mountain; Joy the Baker; Love and Lemons; The Healthy Foodie; The Messy Baker; Big Girls Small Kitchen; the kitchn, Damn Delicious; My Darling Lemon Thyme; Averie Cooks; Cooking for Keeps; Adventures in Cooking; My Name is Yeh; Naturally Ella