How to Make the Most Out of Your Fall Produce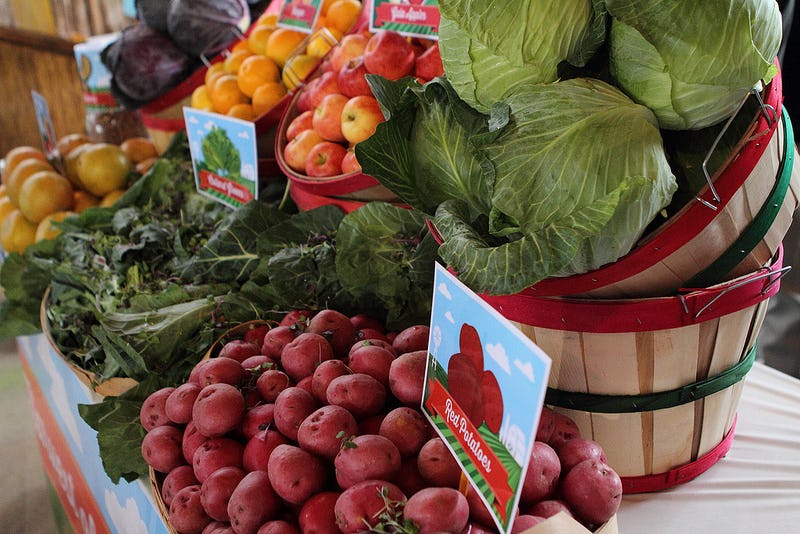 There is nothing quite like the farmers market in autumn: crispy greens, bright squash, and shiny apples all sitting next to one another in vibrant rows, just waiting to be made into a delicious fall meal. It kind of makes you wish these foods could stick around forever — don't get me wrong; summer produce can be light and refreshing and wonderful, but nothing beats the coziness that comes with fall cooking.
Unfortunately, our local markets can only remained stocked with fresh autumn produce for so long.The opportunity to make everything pumpkin-flavored and enjoy just-picked veggies only lasts for a couple months, so you've got to make the most of it while you can.
One of the reasons fall is the best season is because its harvest includes nutritious greens, sweet fruits, and comforting starches. The possibilities to make entire meals out of completely seasonal ingredients are endless — and also delicious. Although your favorite foods may not be locally grown year round, you can still enjoy your farmers market produce months after the season ends. Whether you try your hand at more traditional methods like freezing, canning, and pickling, or you choose to bake your fruits and veggies into ready-made pies, chips and more, here are 10 tips to help you stretch those delicious fall flavors far into the winter (because, hey, it's never too early to start thinking ahead).
1. BLANCH AND FREEZE VEGETABLES
Frozen vegetables are a freezer essential because they're easy to add into quick meals, like stir-fries and mac n' cheese. Instead of waltzing to the freezer aisle to stock up, chop up fresh veggies like carrots and broccoli before blanching your vegetables for a few minutes (which is basically a fancy way of boiling them to preserve flavor and nutrients). Then, store them away in your freezer. Once winter hits, you'll be prepared with a freezer full of ready-to-defrost local veggies.
2. USE SPARE VEGGIES TO MAKE BROTH
Carrot tops and turnip greens may not be the easiest things to incorporate in an autumn meal, but that doesn't mean you should throw them away. Save them up to make your own vegetable broth from scratch. The Kitchn has a good recipe to get you started.
3. BAKE FRUIT INTO PIES
There's nothing like the smell of a pie baking in the oven, and farm-fresh fillings like pumpkin and apples make the experience all the more magical. For a perfect treat to enjoy long after apple picking season ends, assemble your pie, cover it with foil and freeze it instead of baking. When you're ready to eat it, just pop in the oven and bake. Here are some apple pie recipes for inspiration.
4. MAKE SOME JAM
Long after local fruit trees have dropped their leaves, homemade jam can seem like a bit of a miracle. Get canning now so that the sweetness lasts into chillier months. This "How to Make Fruit Jam" tutorial by The Kitchn makes it so, so easy.
5. FREEZE SOUP FOR CAN-FREE GOODNESS
Fall veggies make for some creamy, comforting soups. Keep the coziness going by freezing soup, and defrosting whenever you need a warm pick-me-up. Try one of these 11 fall soup recipes — there's something to suit your every mood.
6. STORE POTATOES THE RIGHT WAY
That also goes for onions and garlic. Safely store your potatoes and other non-refrigerated produce in a dark, cool spot to prevent rotting, so the mashed potato frenzy can go on for months. Don't keep potatoes in the refrigerator — doing so tends to turn their starch into sugar and makes them taste overly sweet.
7. GET PICKLING
Think beyond the cucumbers. Plenty of fall produce gets extra oomph with some briny flavor. Grab some beets, radishes, peppers, and more for a vinegar-filled feast. Look no further than the Farmer's Almanac for a step-by-step guide to pickling.
8. DEHYDRATE FOR DRIED SNACKS
Investing in a food dehydrator means that you can make your own apple chips, crunchy veggies, and more in just a few hours. Your fresh food will last longer and you'll be left with healthy, cheap snacks.
9. BAKE INTO CHIPS
I know I'm still an advocate of kale chips, but even if you're over the leafy green, plenty of other fall foods such as beets, turnips, and parsnips can be thinly sliced and then baked (or fried) into chips for the perfect finger food. Head on over to A Beautiful Mess for a foolproof vegetable chip recipe to try at home.
10. BREAK OUT THE BLENDER
Sure, smoothies have a definite summery feel to them, but think of all the wonderful autumnal flavors you can make: cinnamon apple, pumpkin spice, and of course, fresh fall kale. Make sure you get your daily dose of fruits and veggies by starting off the day with a smoothie — just freeze fresh produce and blend. This green smoothie with pumpkin puree by Happyolks at Food52 is especially delicious.
Image: U.S. Department of Agriculture/Flickr, Giphy (10)