Why 'Over The Garden Wall' Is The Emmy-Winning Show You Need To Start Watching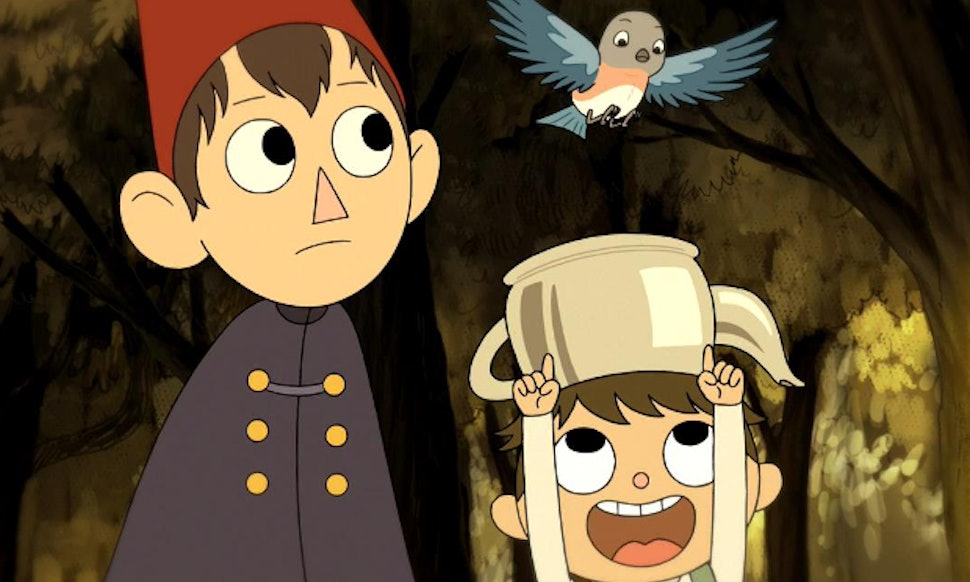 While the Emmys won't air until September 20, the Creative Arts Emmys have already been handed out and Cartoon Network's masterpiece of modern folklore Over the Garden Wall won Best Animated Series. Honestly, there was no question whether or not the short-run series would win. There has never been anything quite like Over the Garden Wall on television before. The haunting and addictive series was easily one of the best shows, period, last season, never mind the animated bit. Now that Over the Garden Wall has a shiny Emmy to call its own, it is time for you to venture into The Unknown with brothers Wirt and Greg. Trust me, with fall coming your way, there is no better time to watch this short masterpiece, but in case you need more convincing, then please read on.
Whether or not you love animated television or you haven't watched a cartoon since you stopped wearing footie pajamas, Over the Garden Wall will charm you and unsettle you in equal measure. The series is funny, full of original music, and also legitimately scary — especially as the reality of what is happening to Wirt and Greg is slowly revealed. With an old-school animation style, a healthy slice of the darker side of Americana, and a frog with a great singing voice, the 10-episode miniseries is perfect for marathoning on a chilly, fall evening. Here are seven reasons why you need to see this year's Best Animated Series winner.
1. The Music
TikiTheSneaky on YouTube
The series features original songs from The Blasting Company, and the band takes the series from folk music to jazz and every genre in between. The music is so particular to the series that it is a character unto itself, adding a classic 1930s feeling to a show that already feels part fairy tale, part Depression-era rambling.
2. Greg
Cartoon Network on YouTube
If they gave out Emmys for cuteness, Greg would win them all. As the little brother, Greg's big imagination and poor sense of danger gets him into all kinds of trouble, but the kid has a pet frog and giant eyes, making it impossible not to want to hug him. Many of the show's most memorable lines come from Greg, including this observation about frog president George Washington: "What's with George Washington being naked?" Oh, Greg.
3. The Brotherly Bonding
Cartoon Network Australia on YouTube
Without saying too much, the heart of Over the Garden Wall can be found within Wirt's reluctance to accept responsibility for his half-brother Greg. Wirt is often extremely self-centered and reluctant to allow himself to accept how important Greg is to him. The brothers bonding gives the story its arc and takes the series from good to great.
4. The Mythology
Cartoon Network Australia on YouTube
If you thought Lost's mysteries were complex, wait until you delve into the mythology behind The Unknown. While the miniseries does offer a satisfying answer in the end, there is plenty of room to pick apart the symbolism and ponder the deeper meaning behind Wirt and Greg's journey. If you like heady, thought-provoking television, Over the Garden Wall is your next obsession.
5. Beatrice
Cartoon Network Australia on YouTube
Who doesn't need a bossy, sarcastic talking blue bird voiced by Melanie Lynskey in their life? Beatrice is a standout character with an intriguing backstory that unravels over the course of the series. Mostly, though, she provides all the best commentary.
6. The Scares
Erii Tea on YouTube
This series is scary. I don't mean little kid scary, I mean pumpkin-headed townspeople with dead eyes, beasts roaming the woods, matters of life and death scary. With Halloween just around the corner, watching Over the Garden Wall is the perfect way to get yourself in the mood for the season.
7. The Style
Cartoon Network on YouTube
The animation style is a throwback to the old-school early animated films that once aired as shorts before movies. By adding in a heavy dose of American folklore, weaving in the music, and adding a few modern touches, the creators produced a story that is wholly unique unto itself even as influences from Disney, Warner Bros. cartoons, and even Betty Boop shorts can be felt. Because the style is so distinct, watching Over the Garden Wall is an immersive experience right from the start. It's disorientating in the way it makes you feel as if you are somewhere out of time, and yet it sucks you in so fully you will not want to leave The Unknown by the end.
I hope I have convinced you to check out this Emmy-winning series (now streaming on Hulu). If for nothing else, do it for Greg. How could you let this face down?
Images: Cartoon Network; overthegardenwallgifs/Tumblr