This Chocolate Toothpaste Will Set You Back $100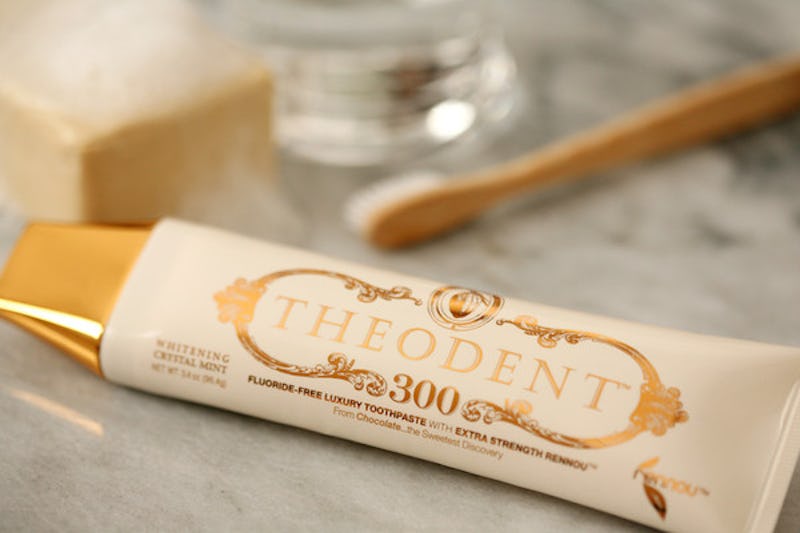 You know that saying "million dollar smile"? Well we may just be closer to it thanks to Theodent 300, a toothpaste with chocolate, or rather, cocoa bean, as one of the ingredients in it, retailing for $100. That's some expensive toothpaste, even for the fanciest of fancy pants.
So you're not actually brushing with bits of chocolate chocolate. Cause like, imagine the dentist bill, not to mention the status of your teeth? According to Theodent, this fancy paste "harnesses the power of patented Rennou™, a nontoxic proprietary blend of a naturally occurring extract found in chocolate blended with other minerals that help to strengthen the enamel surface of human teeth." I mean, I'm not going to say no to putting chocolate in my mouth.
If you're not familiar with Theodent, it's actually a company that's "a revolution in oral care," according to its website. It sells three products. Theodent Classic Whitening Crystal Mint, which "harnesses the power of the cocoa bean" and uses a nontoxic alternative to flouride, the Rennou™ mentioned earlier. The Theodent 300 is basically the same as the former, but the extra-strength version. Does that mean more chocolate? Sign me up. Finally, Theodent Kids is for, you guessed it, the kiddos in your life. Since according to the Theodent website, studies show that kids swallow between 30 to 75 percent of their toothpaste, this particular alternative is fluoride-free, making it safer for children. Plus, if you tell them there's chocolate in it, they'll probably rush to brush their teeth.
It's been a longtime debate whether fluoride is good or bad for your teeth, so if you're against it, this might be the toothpaste for you. But would you shell out the $100? Can't say it beats my $3 toothpaste I use now, but with this chic gold-and-white packaging and a promise for a healthier smile, I may just consider it. I'm a sucker for pretty packaging, and if it will satisfy my sweet tooth (see what I did there?) sign me up!
To shop all three, check out the website at www.theodent.myshopify.com.http://theodent.myshopify.com/