Johnny Depp Is Earning Oscar Buzz For 'Black Mass'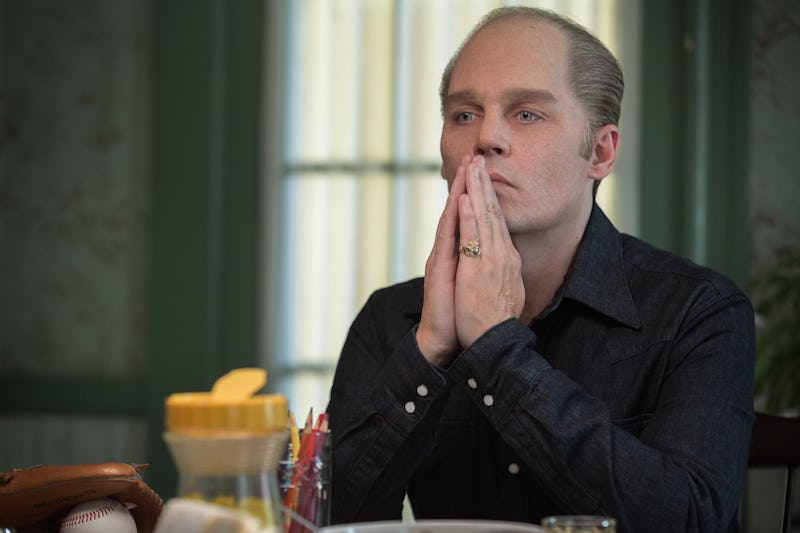 Johnny Depp has been nominated for an Oscar three times throughout his 30-year career, all for Best Actor in a Leading Role. In 2004, he earned his first Best Actor nomination for Pirates of the Caribbean: The Curse of the Black Pearl. One year later, he was nominated for his performance in Finding Neverland, and his last nomination came in 2008 for his role in Tim Burton's Sweeney Todd: The Demon Barber. In the years since, Depp's career and critical standing has taken a bit of a hit. Films like the universally panned The Tourist (2010) and the box-office bombs The Lone Ranger (2013) and Mortdecai (2015) have sullied Depp's reputation as one of Hollywood's most talented actors. But it seems Depp is back in form with his new film, Black Mass. The drama, directed by Scott Cooper, earned rave reviews after premiere at the Venice Film Festival, and early Oscar buzz is already building for Depp, who stars as the infamous American gangster Whitey Bulger. All the positive reviews have people wondering, could Johnny Depp win an Oscar for Black Mass ?
One look at the media's response to Depp's performance in Black Mass (out Sept. 18) puts the odds squarely in the actor's favor. Mere days after the film's premiere, Vanity Fair ran an article declaring, "Johnny Depp's Oscar Campaign Just Kicked Off." Collider's Adam Chitwood declared Black Mass "Depp's best live-action performance in over a decade." And Variety's Scott Foundas praised Depp's performance in Black Mass as "career-best work," adding that it was a return to form for the actor.
Even Depp himself seems aware of the invigorating effect Black Mass is expected to have on his career. During an appearance at the Toronto International Film Festival, where Black Mass is screening out of competition, Depp joked, "I can only thank Scott for reviving my career!"
Jokes aside, Depp's role in Black Mass has all the makings of an Oscar win. Unlike his previously nominated roles, in Black Mass Depp plays a historical figure, and the Academy is known for its love of biopics. Add to that Depp's physical transformation to play Whitey Bulger — the actor used heavy prosthetics and makeup to achieve the Boston gangster's look — and you've got two of the Academy's favorite things.
In contrast, Depp's previous nominations were for much more fantastical, stylized roles. This is especially obvious given his first and most recent nominations for Pirates of the Caribbean and Sweeney Todd. In those blockbuster films, Depp also favored heavy makeup, but with a different goal. Instead of using makeup to transform Depp into a real person, makeup in Pirates and Sweeney Todd was used to create out-of-this-world personas. After all, neither Captain Jack Sparrow nor Sweeney Todd exist in the real world. Of course, using that logic, Depp could very well have won for his portrayal of J. M. Barrie in Finding Neverland, but he was beat out by Jamie Foxx, who won for playing Ray Charles in Ray (another biopic win handed out by the Academy).
It's still very early in the year for Oscar talk. And, even though many in Hollywood may feel Depp is owed an Oscar for his years of excellent performances (this past decade aside), there is no guarantee Black Mass will be his ticket to Oscar domination. After all, according to the most recent Oscar buzz, Depp's main competition for that 2016 Best Actor in a Leading Role Oscar is fellow longtime actor, and five-time nominee, Leonardo DiCaprio, whose film, The Revenant , will open in December — prime Oscar season. With months left before the actual awards, who knows if another performance will come along and knock Depp or DiCaprio out of the race. But, for now, it looks like Depp might have to start getting his tux ready for Oscar night.
Images: Warner Bros. Pictures; Giphy (2)