We Followed Model Rain Dove Around NYFW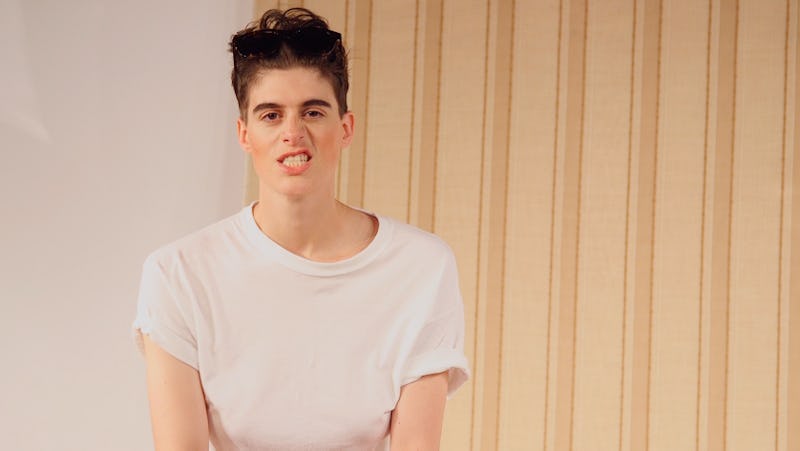 The face of fashion is ever-changing, but one woman who is redefining evolution in this industry is gender capitalist and runway model Rain Dove, the subject of Bustle's latest documentary short. Dove's androgynous look has landed her several high-profile runway shows and ad campaigns (as both a male and a female), yet it seems that there is still a long way to go for her and other models who break the gender binary to reach the same level of success as their straight counterparts. However, Dove explained how being a genderqueer model has opened the door for her to represent the community.
"A gender capitalist is someone who takes advantage of opportunities given to people based on their perceived sex or gender," she said. "When I'm a gender capitalist in the fashion world, I basically can go to any casting that I want to, as long as somebody likes my face."
Dove invited Bustle to New York City to join her at various model castings, at her workout routine feeding cattle, and even at her apartment, which she built herself after learning carpentry, plumbing and electrical work from her father. Along the way, the viewer will learn some surprising tidbits about the Fashion Week casting process, such as how being 6'1'' is considered too tall, or how it helps to tell casting agents your Instagram following. Though her typical day as a model doesn't seem very glamorous at all, Dove recognizes the purpose of her "imperfectly perfect" features, and her how to break down barriers as a gender capitalist.
"If the world doesn't need me, then it's totally cool. But I feel like there's a reason why things are happening right now. I'm only doing this, not because I want to wear pretty dresses and things like that, but because of the visibility I get to talk about a better future … If it becomes something that people don't want to see or hear, then I'll probably do something else."
Get to know — and fall in love — with model Rain Dove in our video below: