Androgynous Model Rain Dove Walks Men's NYFW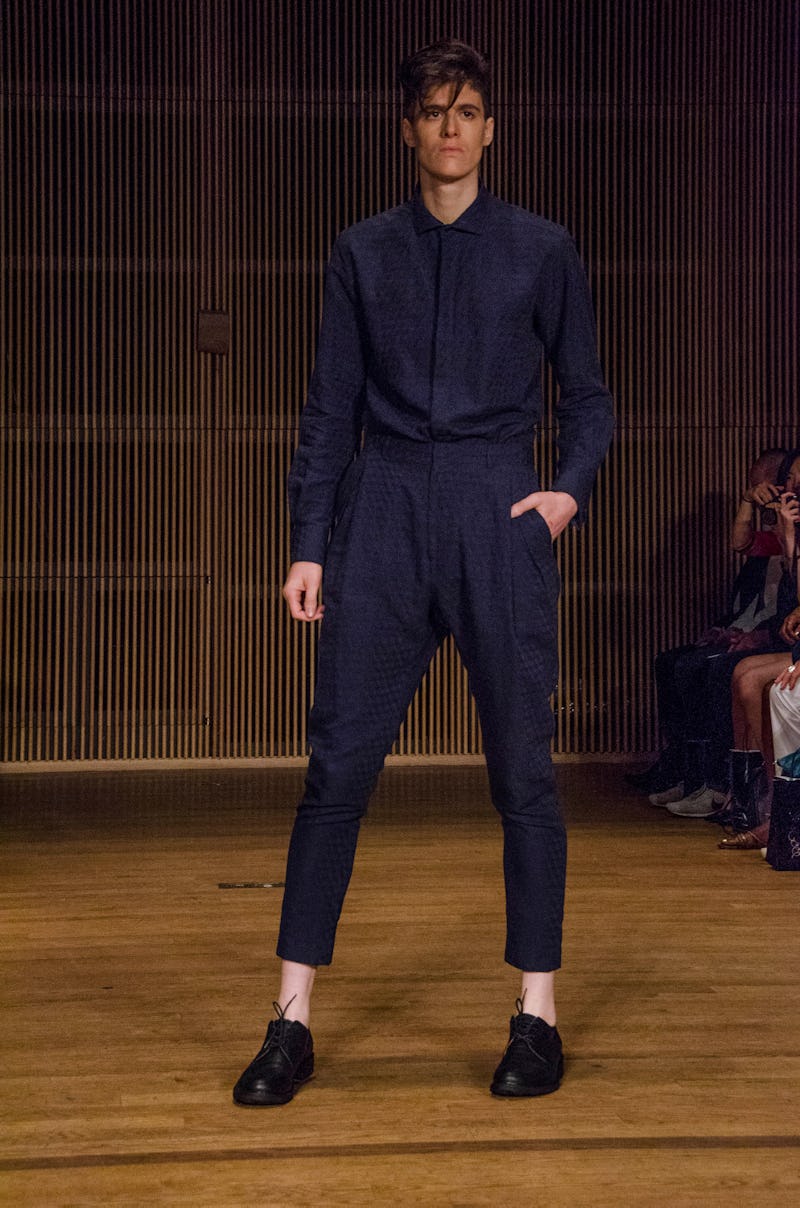 In case you've missed it - and we hope you haven't - there's a face inn the fashion scene that's truly unlike any other, and she's causing quite a fantastic stir this week in particular. Rain Dove's androgynous model looks have catapulted her into the fashion spotlight as of late, and now, Dove has walked four shows at New York Men's Fashion Week in New York over the past few days. Basically, Dove has yet again proven that the gender binary means nothing, and should mean nothing. Hopefully, the fashion community will continue noticing Rain because she's one hell of a talented model and an incredible voice for gender nonconforming individuals and personal authenticity.
We first caught wind of Dove's incredible fashion activism (because that's exactly what it is) when she was interviewed by the Huffington Post. The interview perfectly explained how Dove's a-gender presence can impact the industry as a whole. In the piece, Dove says, "To be a 'visible androgynous model,' well it means something is being done right and that I have the opportunity to make a sizable dent in how the world sees fashion. There will never be another Rain Dove. There will never be another YOU." Rain is definitely a 'visible' androgynous model. She's worked with genderless underwear company PLAYOUT on a campaign featuring the LBGT survivors of breast cancer who have had double mastectomies, and just recently, she was featured in an amazing Ace Rivington Menswear campaign with fellow androgynous model Cory Wade.
Now, Dove is flipping the gendered fashion script again. The stunning model walked in not one but four shows during New York Men's Fashion Week this week! Dove walked the runways of Boyswear, Malan Breton, Loris Diran, and Edwing D'angelo. Having Dove involved in this many runways at Fashion Week just proves that her impact is being felt in the fashion world. Dove says:
I'm not trying to pretend to be a man when I wear menswear. I'm trying to be myself. Because I would buy these styles and therefore I am the target market too, and deserve to be represented as a human. For me I don't feel like I'm breaking gender barriers. I feel it's more like addressing personal barriers. The walls we put up around ourselves to bar ourselves from different experiences and explorations because of fear, fear of societal opinion and impediment of success. My goal with my career is simple, to encourage people to live the life they love limitlessly.
While Dove, in this case, may not see herself as breaking gender barriers, she's for sure challenging the very binary fashion world that we still see today and bringing much needed diversity into fashion. Her humanitarian efforts outside the catwalk, vocal support for a-gender peoples, and desire to impact the fashion world are inspiring, and we hope to see more of her very soon!
Check out some of the behind the scenes and runway shots of Dove killing it at Loris Diran and Malan Breton this week, and keep up with Rain over at her Instagram.
Images: Rain Dove/ Instagram; Andrew Werner; Christian Neonchaos; courtesy of Fascinate Media