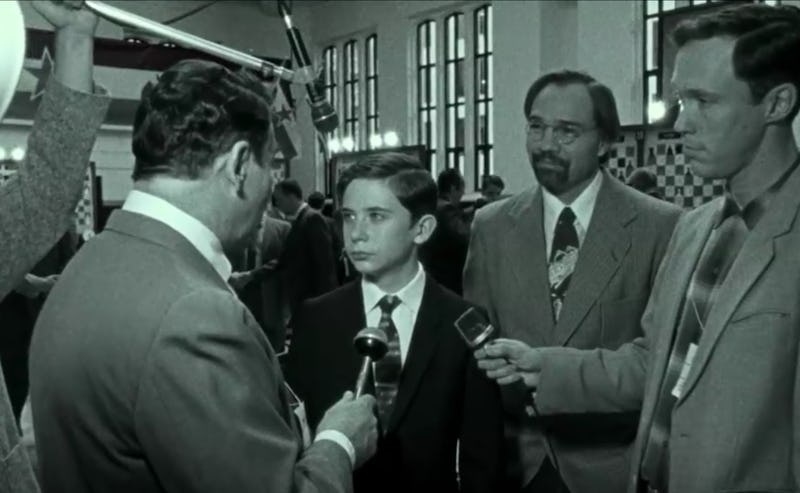 Tobey Maguire is back on the big screen with Pawn Sacrifice, a film based on the true story of Bobby Fischer, known as one of America's best chess players. Though the film mainly focuses on Fischer as an adult (played by Maguire) and his famous match against Russian champion Boris Spassky (Liev Schreiber) in 1972, it also features scenes from Fischer's childhood, from when he first started playing chess to when he became known as a national treasure as a teenager and was named the youngest grandmaster at age 15. Even with his boyish grin and ageless looks, Maguire, who acted as a producer on the film, probably couldn't pull off playing both young and adult Fischer. Instead, two young actors were cast as child Bobby Fischer and teen Bobby Fischer. Both share Maguire's pale skin and dark hair in the film, but the actor who plays teen Bobby in Pawn Sacrifice , in particular, bares a striking resemblance to the Spider-Man actor, who was an established child actor himself.
But who is the talented teen? His name is Seamus Davey-Fitzpatrick. At 16, the actor has already appeared in half a dozen television shows and a handful of feature films. Since beginning his career in film and television in 2003, he has starred alongside Ethan Hawke, Robert De Niro and Olivia Wilde. In fact, his very first television appearance was on Sex and the City, where he was credited as "Singing Toddler." Here are a few things you might have seen Seamus Davey-Fitzpatrick in before.
The Omen
If while watching Pawn Sacrifice, you get that nagging feeling of having seen teen Bobby Fischer before, it's probably because you have. Davey-Fitzpatrick became an instant sensation when, at age seven, he earned a leading role in The Omen (2006). Yep — little Bobby from Pawn Sacrifice was formerly known as the demon child Damien form The Omen . Sweet dreams. (Fun fact: Liev Schreiber, who also stars in Pawn Sacrifice, played Davey-Fitzpatrick's father in the popular horror flick.)
The Black Donnellys
Davey-Fitzpatrick appeared as Matthew in this short-lived NBC drama about four Irish brothers navigating the streets of New York City.
Everybody's Fine
Davey-Fitzpatrick shared a scene with Robert De Niro in this family drama, in which he played Young Robert — modern Robert was played by Sam Rockwell.
Moonrise Kingdom
Davey-Fitzpatrick played a young Khaki Scouts named Roosevelt in Wes Anderson's 2012 film about a pre-teen love story.
Catch Davey-Fitzpatrick as a young Bobby Fischer in Pawn Sacrifice (out Sept. 16) and see the rising star in action.
Images: Bleecker Street; 20th Century Fox; Focus Features